3 At-Home Teeth Whitening Options Worth A Closer Look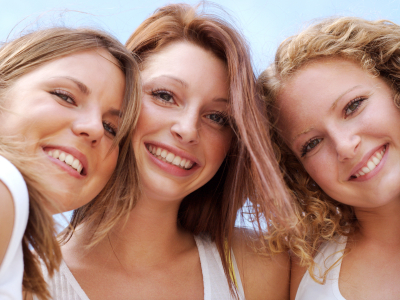 We all want a dazzling white smile and it's become easier and easier to achieve a more beautiful smile with the variety of treatments and products available at both the doctor's office and on retail store shelves. When it comes to at-home options, there are many choices for at-home use and they are easy to use, easy to find and relatively inexpensive (compared to doctor office treatments).
Among the many options for at-home use are teeth whitening toothpastes, gels, trays and rinses. WebMD confirms that teeth whitening is ideal for people who have healthy, unrestored teeth (no fillings) and gums. Individuals with yellow tones to their teeth respond best. But this cosmetic procedure is not recommended for everyone and you should speak to your doctor before trying one out.
If you decide to go ahead with an at-home teeth whitening option, we've pulled together three popular picks.
Crest 3D White Whitestrips Luxe Professional Effects Dental Whitening Kit: These fast-acting strips deliver professional-level results at home. Enamel safe and easy to use, Crest claims you'll start to see a whiter smile after three days.
Sensodyne True White Toothpaste: Made for sensitive teeth, True White toothpaste works to whiten teeth in a less abrasive formulation by gently lifting stains and creating a shield to help prevent new stains from forming.
Hello Oral Care Activated Charcoal Epic Whitening Fluoride Toothpaste: Activated charcoal can help whiten teeth and freshen breath naturally. Available in both fluoride and non-fluoride.
---
---
SUBSCRIBE NOW
Free to join! Get the hottest fashion, beauty and celebrity news, enter exclusive subscriber giveaways and be the first to receive the full digital version of REAL STYLE magazine.
JOIN NOW!