"The Faith Diaries" Actress Breeda Wool On Her Makeup And Skincare Tips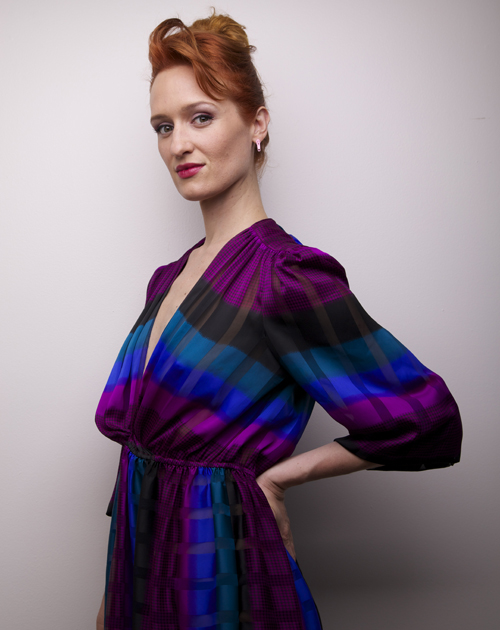 With her flame-hued locks and glowing complexion, The Faith Diaries star Breeda Wool manages to stun while defying conventional beauty norms. We spoke to the quirky actress, who stars as titular character Faith in the Lifetime web series, about her regimen for everyday primping and pampering. Here's what Wool had to spill about her makeup bag must-haves, natural skincare routine and favourite celebrity beauty icon.
The Faith Diaries airs online at mylifetimetv.ca
Real Style: What are your favourite beauty products?
Breeda: I use organic Aura Cacia Jojoba Oil. I've also been using South Beach Skincare LifeCell, I really like that stuff. I also did a promo thing with Nexxus, so I'm trying out all of these Nexxus products on this short hair that I have now. I'm a big fan of Burt's Bees, it has been a constant in my life for years and years, and so has Lush. They have a very small makeup line, but I use their foundations. They're very light, for everyday use, they're absolutely beautiful.
Real Style: You've got fiery red hair! Are there any tricks or tips to maintaining your signature hair colour?
Breeda: That would be Russell Hart, my stylist. It's so funny, I just wandered in off the street and I knew I looked like a ragamuffin. I was like "Hey, can you fix my hair?" and he was like "Yeah!" That was six years ago, and I've been going to him ever since. We've gone through blond, and I one time had to dye my hair a trailer park bleach blond. He had to paint roots on my hair. I don't even know what my real hair colour is, honestly!
Real Style: How do you keep your skin looking flawless?
Breeda: I eat a lot of turmeric. I take concentrated turmeric pills every day, and I stay out of the sun. La Roche-Posay has a broad spectrum tinted moisturizer. I've been using that, it's awesome. I also use sunblock, and I do oil pulling with coconut oil.
Real Style: If you had to choose, who would be your absolute favourite beauty icon?
Breeda: Nathalie Kelley from UnREAL. She has the most interesting, elaborate and perfectly designed for her beauty measurements. I consider her to be one of the most beautiful women in the world. She uses all essential oils, all natural oils and she really had perfected a system for herself. She's a shockingly beautiful woman.
Photos: Carlo Alberto Orecchia
---
---
SUBSCRIBE NOW
Free to join! Get the hottest fashion, beauty and celebrity news, enter exclusive subscriber giveaways and be the first to receive the full digital version of REAL STYLE magazine every month.
JOIN NOW!