"The X-Files" Actress Aliza Vellani On Multicultural Beauty, Skincare Secrets & More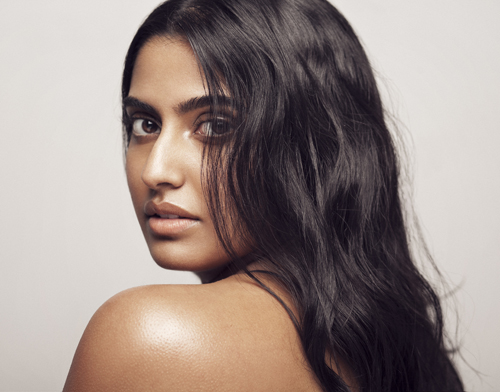 With her luxurious raven locks and rich caramel complexion, 24-year-old Vancouver actress Aliza Vellani is a natural beauty as Sandeep on The X-Files. With FOX's revival of the science fiction series set to air tonight at 8 p.m. ET/7 p.m. CT, we caught up with the emerging star about her beauty regimen. Here's what Vellani had to share about her favourite product picks, multicultural makeup buys and skincare routine for maintaining her flawless skin.
Real Style: What are your five favourite beauty products?
Aliza: I love the St. Ives Apricot Scrub, I use it every single time after I take my makeup off. It always gives my face such a fresh look, and I really make sure that I take all of that makeup off at the end of the day. I use a lot of Jane Iredale for my foundation. It's been great because when I was on set on Little Mosque on the Prairie, I was between 14 and 19. I would break out a lot, and that powder foundation really stayed on your face but didn't really clog your pores. It stayed natural, and I never broke out at the end. I've been using that for years.
Also, Burt's Bees lip balm. I like to keep it simple with my day to day makeup regimen. I have a red Bobbi Brown lipstick that I absolutely love. Every time I want to go for a bold lip, that's my go-to. It definitely stays on. I've used a lot of BareMinerals eyeshadow; it really keeps it on natural-looking. It's not too heavy on my eyes. I don't play a lot of with colours, so I mostly have a lot of browns and dark purples.
Real Style: Do you have any top makeup products for tan or multicultural skin tones?
Aliza: I definitely use MAC Liquid Foundation. That one, I've found, it's a lot easier to find your skin tone and to have different varieties. It worked great when I wanted to go out and I wanted makeup that stays on a little bit longer. A friend of mine showed it to me, and I was like "Wow, this is amazing!"
Real Style: Describe your skincare regimen.
Aliza: In the morning, I definitely wake up and use St. Ives Apricot Scrub. It really takes all the extra gunk off my face to give me a fresh look in the morning. Depending on where I am going that day, I may just put a little extra moisturizer and then Jane Iredale powder, just to give my face a clean look. By the end of the day, I use a lot of witch hazel to remove my makeup, or use it as a toner. It's always really natural on my face, it moisturizes really well. Then after that, I use the apricot scrub again.
Real Style: How do you maintain your thick, lustrous locks and keep them looking healthy?
Aliza: I've actually never dyed my hair. As a kid, my dad never wanted me to colour my hair, so I never did. Then eventually, I kept getting all these compliments that my hair was so healthy. I wanted to stick to that. I've kind of created that idea for myself to "never dye your hair, stick to your natural hair". That's kept it really healthy. I don't blow dry it; I mostly dry my hair naturally. Every once in a while if I am going out (I naturally have wavy hair), I just take a straightener and I use that to make a more natural curl. That usually stays in quite nicely, with a little bit of hairspray.
I'm glad that I've always had an amazing group of people who have told me to stay true to who I am, and always be comfortable being yourself. That's the ultimate goal, no matter how much makeup you wear or don't wear, just be comfortable in your own skin. That's ultimately what makes you feel beautiful.
Real Style: If you had to choose, who would be your favourite beauty icon and why?
Aliza: I love Selena Gomez's look right now. I love different looks that she has, but it is very natural a lot of the time. She's not afraid to go with a completely natural look. Every once in a while, she decides to have a bold lip or have smokey eyes. It just looks so glamorous.
Photo: Liz Rosa
---
---
SUBSCRIBE NOW
Free to join! Get the hottest fashion, beauty and celebrity news, enter exclusive subscriber giveaways and be the first to receive the full digital version of REAL STYLE magazine every month.
JOIN NOW!