Charcoal Invasion – Toronto Restaurants Hopping On The Carbonaceous Bandwagon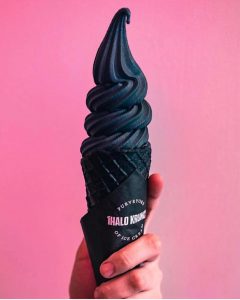 Photo: ihalokrunch on Instagram
Lately, it seems like every other restaurant is adding a charcoal infused dish to their menu. Why? For one, it makes for interesting snaps. Try walking into an ice cream parlour serving charcoal-infused ice cream without spotting someone taking a selfie with their inky black frozen treat. It's nearly impossible. Charcoal is not only being infused into ice cream, it's being baked into pizza crusts, glazed onto donuts, and pressed into juice. The charcoal trend has us so infatuated that we've forget it's basically rocks and dirt. Some believe that charcoal has health benefits and detoxifying properties. Unfortunately, there is no research to back up this claim. However, if your interested in putting the rumours to the test or taking a cute Instagram picture, we've tracked down a few restaurants located in the Six for you to do just that.
Charcoal Drinks
CutiePie Cupcakes & Co., located at 235 Spadina Avenue, has created a Himalayan Salted Charcoal Latte. This spooky drink is ironically the complete opposite of the shop's first famous drink, the unicorn latte which features rainbow colours.
The mysterious Black Mamba is a flaming shot served at the Carbon Bar. The shot consists of charcoal-infused Olmeca Blanco tequila and St. Germain and can be found on the restaurant's secret menu. Your server will set the shot ablaze using an oil spritzer containing alcohol and a lighter. This drink is definitely not for the faint of heart.
Revitasize is one of the many Toronto juiceries bottling charcoal-infused pressed juice. The Charcoal Lemonade, a best seller, is made with hand-crushed raw sugar cane, Echinacea, trace minerals, lemon, and alkaline water. Although Revitasize does not advertise the drink as a hangover cure, many seek out the drink in hopes that it will banish their post party pains. You can find the murky lemonade at any of Revitasize's several city locations.
Pizza
Masseria is home to the charcoal-infused pizza, which is listed as the Carbone Pizza on its menu. The crust is made with activated charcoal, which leaves both your pizza and your mouth an ashy shade of black. You can find the Carbone Pizza at 577 King Street West.
Ice cream
iHalo Krunch offers Asian-inspired soft-serve ice cream in charcoal black cones. The quaint spot just outside Trinity Bellwoods Park is famous for dark cones and coconut flavored black charcoal ice cream. The shop, located at 813 Queen Street W, is known to be quite busy, especially on the weekend. However, customers claim it's well worth the wait.
Death in Venice Gelato Company also serves up an inky treat that will leave your mouth stained black. The Kraken Black Summer Skream is made with spiced rum and is intended to be a shot in the form of dessert. This gelato parlour is situated at 536 Queen Street W., only a few minutes drive from iHalo Krunch.
---
---
SUBSCRIBE NOW
Free to join! Get the hottest fashion, beauty and celebrity news, enter exclusive subscriber giveaways and be the first to receive the full digital version of REAL STYLE magazine every month.
JOIN NOW!