The Illusionists Return To Toronto In A Family-Fun Event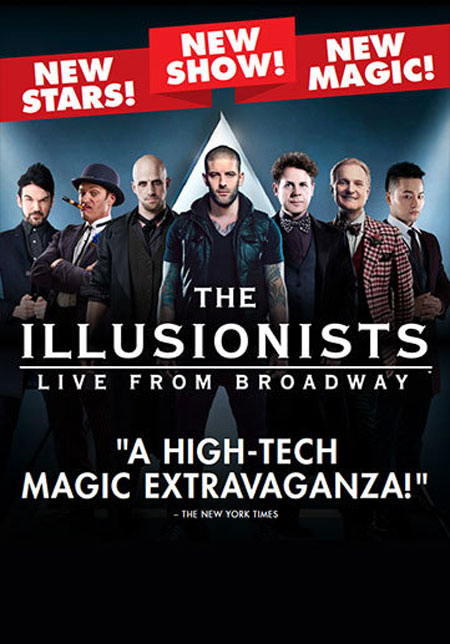 The Illusionists Live From Broadway premiered their Toronto show last year over the holiday season, and tickets were hard to come by thanks to a wonderful word of mouth campaign. For their return this year there are some familiar faces on the stage, with some new players mixed among them. The nearly two and a half hour event (with a 20 minute intermission thrown in the middle) is a great way to spend time with your entire family this holiday season.
One of last year's most charismatic illusionists, Darcy Oake, is known as the Grand Illusionist for his tricks that make you want to keep your eye on every movement he makes. Even though his act hasn't changed from last year (in fact he performs the exact same tricks he did last year), it's still fun to catch a second glimpse and try to figure out how he does it. We interviewed this young star for our Winter issue of Real Style last year (which you can check out here). Also returning is Jeff Hobson, otherwise known as the Trickster, who once again is kind of your host for the evening. He mixes in different tricks with ones he performed last year, but his jokes have mostly been updated to reflect the latest stores in the news. An Ha Lim (The Manipulator) will once again perform is amazing slight of hand card tricks that have earned him several awards, and Colin Cloud (The Deductionist) will once again try to read your mind. It's the new illusionists that really stole the show this year though, because if you saw the show last year, the returning illusionists don't really offer much new. Charlie Frye is known as The Eccentric, and shortly after he appears on the stage you will see why. His act will take you back in time to the days of vaudeville. From juggling, to ring tricks and just plain clowning around, he will get you laughing. His wife Sherry joins him on stage as his assistant, and really adds to the act. Raymond Crowe is an oddball magician known as The Unusualist, and though he will astound you with his acts of ventriloquism and miming, it's his shadow puppetry that will be the most heart warming thing you will see in the show. And then we come to the final performer, Jonathan Goodwin, The Daredevil. Goodwin's act will make you hold you breath as he fires a crossbow as his assistant while blind-folded, escapes a straight-jacket while hanging upside down and on fire, and has a cinder block smashed by a sledgehammer while laying on a bed of one nail (you just have to see it to believe it). You'll want to look away, but will find that you can't.
While some of the jokes will go over your little ones' heads, they will enjoy the show regardless. For most of the performances they will sit there with their mouths hanging open and afterwards they will want to try the tricks themselves. You might have to stop them from tugging on your arm, or calling out your name due to excitement at what they are seeing, but it's well worth it to see them having fun. Your teenagers on the other hand will act like they are too cool for it all, and pretend to know how everything is done, but if you look over at them while the acts are on stage, you will see that they too are enjoying themselves and letting their guards down just a little bit.
All of the performers offer different things, and while all them them may not be for all people, there really is something for everyone in the show. The Illusionists Live From Broadway is well worth the price of admission. It's playing now at the Princess of Wales Theatre until January 7th.
---
---