The Aurora Winter Festival In Toronto Is A Beautiful Escape From The City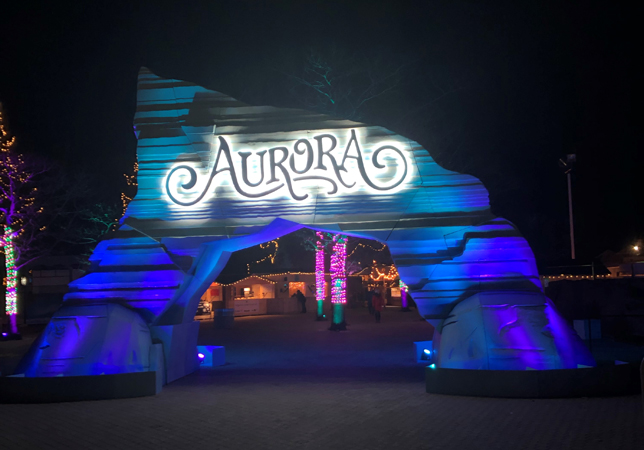 You can tell when winter, and more specifically the Christmas holidays have arrived when winter festivals start popping up all across Canada. Some have been running for many years, yet each year new ones start appearing. Starting today The Aurora Festival in Toronto at Ontario Place makes its premiere, and its a beautiful way to spend an evening out with the family.
The Aurora Winter festival is being advertised as a a hidden village, and in a way it does feel that way. After all Ontario Place is just on the outskirts of the downtown core. You never forget you are in Toronto though, as you can see the cityscape lit up in the distance no matter where you are in the park. It's a beautiful site that just adds to the enchantment of the experience. Since Ontario Place is on the shore of Lake Ontario, you should make sure to bundle up, as the cool breeze makes the evening a chilly one.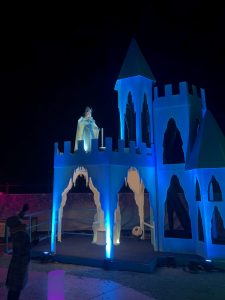 The park is split up into several different sections, including a main street market where vendors sell various keepsakes and clothing, a food gardens where you have several food trucks to choose from, an amusement rides area that includes a Ferris wheel and a tube park, and a frozen pond for skating. The area that is definitely the highlight though is what they call Mystical Worlds. It's an artistic garden full of lights, where people are dressed up in costumes and even has a castle in the middle. Children will have a blast getting their photos taken with an ice princess and a Yeti, or one of the several other characters roaming about. The entire Mystical Worlds area is a photographers dream to be honest.
While the Aurora Festival does have its own special charm, getting there can be a little difficult and time consuming. Lake Shore isn't exactly the easiest area of the city to get around, and even if you take the TTC it can still take a bit of time to get there. Tickets cost $19.99 for adults, $14.99 for children, or $59.99 for a family of 5, which is a little pricey considering you have to pay for food, rides, skate rentals and other things once you get inside the park. And the park isn't really all that large to begin with. Not including the time to eat or ride the rides, you can tour it all in under 30 minutes.
While it's pretty, and will definitely help get you in the holiday spirit, The Aurora Winter Festival needs to grow a little bit before it becomes something families will truly mark down as a must-go-to-event every season. It runs from today until
December 30th.
---
---