Makeup Artist Shalini Vadhera Discusses Inner And Outer Beauty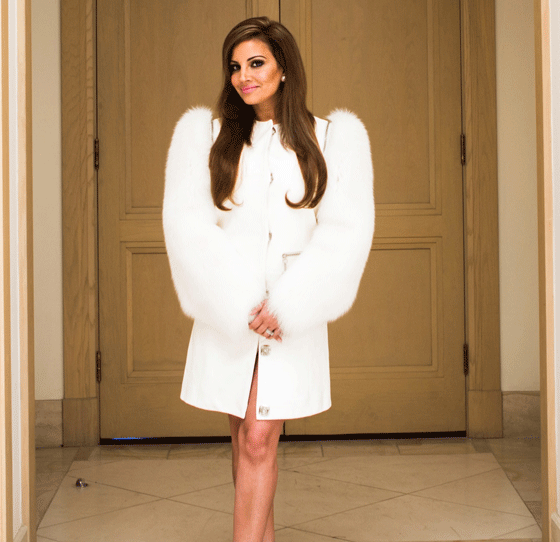 As a San Diego-raised, Los Angeles-based makeup artist, Shalini Vadhera certainly knows a thing or two about looking your best. However, the beauty expert and lover of travel also looks beyond the surface, and draws inspiration from her global journeys to fuel her passion for skincare and wellness. Vadhera, who has sold her brand through Sephora and QVC, has painted the faces of Emmanuelle Chriqui and Brooke Burke Charvet. Away from the lights of Hollywood, she has also ventured to Spain and Thailand, where she has discovered local beauty secrets. Recently, Vadhera was in Toronto to discuss her new internationally inspired Passport to Beauty line. Real Style spoke to the talented and thoughtful cosmetics entrepreneur about finding positive energy, achieving natural beauty and much more.
Real Style: In 2014, you were driving your car during a thunderstorm, when a bolt of lightning suddenly shifted your energy. You've said that this changed your life. Tell us more about this experience.
Shalini: I had gone through a ton of trials and tribulations as an entrepreneur, especially with my first brand that was in Sephora and on QVC. I had to exit, and then I had a spiritual awakening. I met this Korean master, and I learned all these Korean techniques for meditation and tapping. Fast forward a few years, and I get a call at 4:30 in the morning from his people. They are like "You have to come to Sedona [Arizona], he's here in the United States." I hadn't realized that he was one of the top 15 spiritual leaders in the world, but I found that out later. I get my husband to come to Sedona with me, on the way; our car gets struck by lightning. I'm holding my cellphone, which is plugged into the car. It conducted the charge, and just ripped right through me.
When I get to Sedona, the Korean master looks at me and said to me "That was for you, that was for your brain. These are the next five things I need you to do." The fifth thing he said I would know at the end of the week, and it was my homework. I went and hiked the mountains he told me, and ended up getting these crazy messages. At the end of the week, I knew that in my quest for empowering women through beauty, it needed to be much deeper. [It needed to be] mentorship for women by women, and helping women balance their lives.
I launched a women's platform called Power Beauty Living, and then I took that global to the United Nations in 2016.
Real Style: Do you personally have any beauty icons who have inspired you?
Shalini: A lot of the inspiration for the brand came from my childhood travelling the world and seeing these gorgeous flight attendants who were like Barbie dolls to me. Also, from travelling and seeing what women would do in different countries- whether it was mixing elixirs in the morning to drink, or just the way they would oil their hair. In Thailand, I met this entire bachelorette party on a flight from Phuket to Bangkok, and they were taping their eyes to give themselves a crease. It's really the women of the world, who over a lifetime, have been an inspiration. Beauty is so much more than just lipstick and mascara.
Real Style: What are your best beauty secrets?
Shalini: The best beauty secrets are free. So that's a good sleep, lots of water and a great attitude and having a positive outlook. That doesn't cost anything. One of my best beauty secrets is from the Dominican Republic, and it's from stronger than acrylic nails. They chop up fresh garlic and put it in a bottle of nail polish, and then they let it stew for 7-10 days. When they polish their nails, it makes them harder than acrylic nails.
The other is a wellness secret. If there's some stagnation in your life or you can't move forward, it's literally putting your hands together and tapping your chest. It's really starting to move all that bad energy and emotion that gets stuck, and then sweeping it off. You're literally sweeping off anything that doesn't serve you.
Real Style: Do you have any dream celebrity clients?
Shalini: I would love to work with Michelle Obama and Angela Merkel, women leaders who are inspirational. Just being able to do their makeup and also have a conversation with them would be incredible.
Real Style: Tell us more about your upcoming projects in skincare and makeup.
Shalini: We just launched our Passport to Beauty luxury box. For me, that's taking all the elements of my favourites- travel, beauty and then the wellness component, and actually curating a box that comes to your doorstep every quarter. It's based on a city, so we just launched Barcelona. I went to Barcelona and I found out all these amazing beauty secrets from women. I went to my lab with my chemist, and we created three products. One is a face flash, which is a secret that they do in Spain. It's why they don't need to wear foundation. They flash their face with vitamins. We also created the Spanish Riviera Sea Salt Scrub, because sea water is really good. I was able to curate a beautiful saffron hair oil that is coming from the fields of Spain.
Real Style: Is there a favourite product that you can't live without?
Shalini: Our 22 karat Gold Radiance Face Mask. I fly with it all over the world. It's one of our best selling products. I infused it with a ton of rose oil and collagen. What I do is I actually pour the serum out of the mask, and then I use it on my face, neck and hands.
Real Style: You're so well-travelled. Do you have any favourite global destinations?
Shalini: Barcelona and the South of France. We go to Cannes Film Festival a lot, and also Paris. Buenos Aires is also one of my most favourite places in the world, and Thailand. Every country has some amazing thing to show you. I literally am having a love affair with the globe.
Photo: Shalini Vadhera
---
---