Top Ways To Make Your 2023 New Year's Eve Party A Memorable One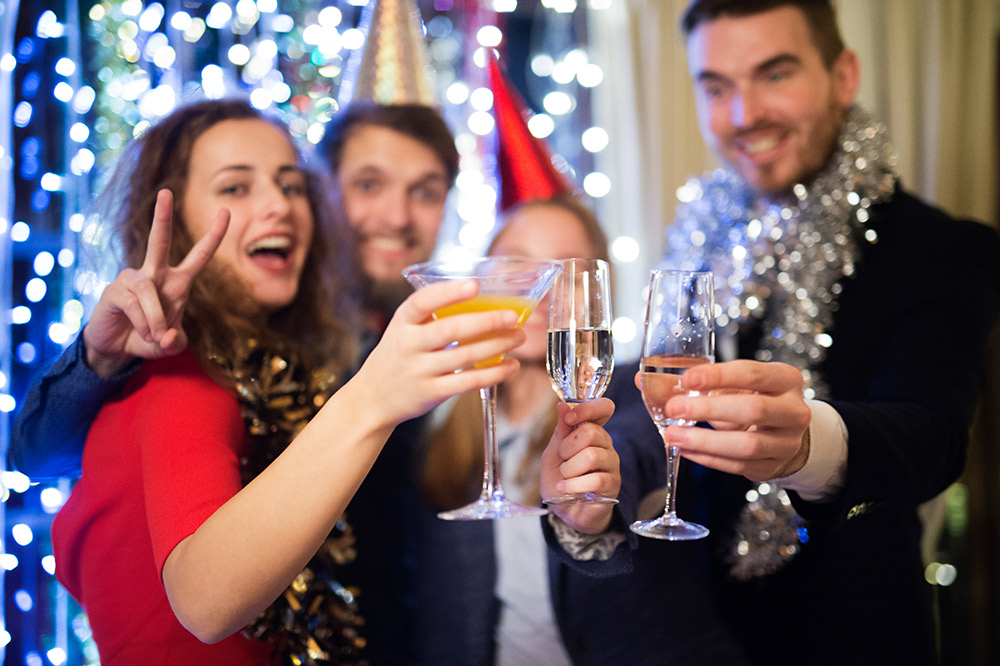 The holiday season is coming into full swing. Whether you're celebrating with an intimate dinner party at home, or attending a full-fledged New Year's Eve party at a venue, odds are you are looking for ways to make it a special, and memorable occasion. Here are some fun ideas to help make your countdown to midnight an amazing soiree with friends and family.
Party Theme
Admit it, almost everybody likes a fresh start, and what better time to do that than New Years. To quote an old cliché–New Year, new beginnings. What better way to say goodbye to this year than setting up a unique and thrilling New Year's Eve party that sets the stage for an exciting 12 months. Go with the classic and traditional loud music pumping, sparkling streamers, watching the ball drop when the clock strikes midnight or make it extra fun with a theme. Use your chosen theme to inspire your décor, food and dress code. Here are few top party themes you can use:
Glitter Fest: Shine as bright as the Times Square crystal ball with a full-out glitter party. Encourage guests to wear anything and everything that sparkles, from bedazzled dresses and suits to sequined bow ties, hats, and shoes. Fill your confetti poppers and balloons with loads of glitter to add even more shine. And don't forget a wall full of streamers so everyone can get their picture-perfect glitter photo.
Masquerade Party: The mystical magic of masks is sure to trigger the ultimate fun and entertainment for the night. Ask your guests to dress up in fancy clothes and face masks for a dazzling soiree and have the guests unveil the masks only at midnight.
Karaoke Party: Sing and dance the night away with some drinks, tasty food, and a karaoke machine. You and your guests can spend hours jamming to tunes from your favorite musicals, movies, and artists. Raise the stakes by turning it into a friendly competition with teams and prizes. But when midnight comes around, everyone can join forces and sing "Auld Lang Syne" together!
Pajama Party: Ditch the high heels and put on your fuzzy slippers for an evening of pure comfort. Spend the entire night lounging around in your soft and cozy pajamas by the warm fireplace. Tell everyone to wear their most snug PJs or their most ridiculous ones, or get matching sets for those cute family photos. Make it extra special by making some hot chocolate and watch the ball drop from your big comfy couch.
Party Invitation
Every party starts with an invitation and while the holiday season can be a busy time, sending out New Year's Eve party invitations well in advance (at least 3 weeks) is key. Go old school with a paper invitation or digital invitation from a site like Evite which have several New Year's party invitation templates.
Book or Prepare your Venue
During the pandemic lockdown, getting together for a party was difficult and venues were not even open. It shouldn't be the case in ringing in 2023, with lifted restrictions, people are excited to go out rather than stay at home. If your guest count is big, book a venue to host your celebration. A private party room, theatre space, loft or banquet hall will help you make this year's event memorable and safe, and save you from the post-party clean-up.
Food Set-up
Combine simplicity with creativity for your New Year's Eve food. Instead of serving a full course dinner, offer guests delicious foods that are easy to grab and don't require much serving by preparing small bites. After probably consuming heavy food during Thanksgiving and Christmas, opt for a menu of finger foods and small bites for your party. Foods that are easy to eat create less of a mess and keep you out of the kitchen. You can also save money by asking guests to bring a dish. This is an easy and affordable way to reduce costs when planning out your New Year's Eve menu. Just be sure to mention this on your party invitation so all of your guests get the memo.
Set Up A Photobooth
Creating an Instagram-worthy backdrop can add an exciting décor element to your event and let your guests capture some great photos. You can make it DIY or take a more professional approach and hire an event photographer to fully document the event and set up a state-of-the-art photobooth. Encourage your guests to share their photos with a party hashtag or upload them for all your guests to enjoy the day after.
Serve Fancy Cocktails
You can certainly make your party BYOB and call it a day, but you can always level up your party by offering up a New Year's Eve signature cocktail or two. You can hire a bartender or mobile bar if you'd like to make the cocktails a focus for the evening or prepare batched drinks for a self-serve bar. Make your drinks extra special with patterned straws, fun cocktail sticks and fancy garnishes.
New Year's Eve Toast
While some guests might enjoy sipping champagne throughout the evening, having a group toast at midnight is a wonderful way to ring in the New Year. Serve all your guests a glass of bubbly (include a non-alcoholic offering) just prior to midnight so you can all raise a glass together.
---
---