Breezy Summer Beach Books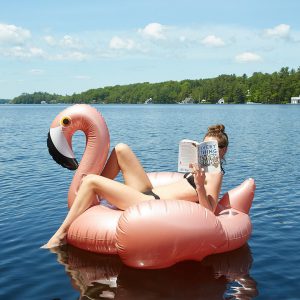 Photo: chaptersindigo on Instagram
Are you looking for an easy beach read? We've got you covered. This list includes some old classics as well as some fresh releases and all promise to entertain you as you soak up the rays or sit sipping mojitos in the shade. Whether you're lounging by the pool, the lake, or the ocean you'll want one of these books in your hands.
When Life Gives You Lululemons by Lauren Weisberger
The author who gave us The Devil Wears Prada delivers another exciting story featuring a familiar character. Weisberger tells the story of Emily Charlton as she attempts to rebuild her career on the small town of Greenwich, Connecticut. When Life Gives You Lululemons is available at Indigo for $14.32.
Ill be Gone in the Dark by Michelle McNamara
As a non-fiction novel centered around a serial kill, Ill Be Gone in the Dark does not appear to be a typical beach read. However, this book is sure to be a thriller as Michelle McNamra details her final life's work of uncovering the identity of the Golden State Killer, whose murders took place in 1970s-80s California. The author's obsession with finding the Golden State Killer is contagious as readers site being unable to put this book down, which explains how it has made its way onto the beach. McNamra's novel is available at Indigo for $13.58.
The Tip of the Iceberg by Mark Adams
As you relax on the beach, allow Mark Adams to take your mind on an adventure as he retraces the steps of the 19th century Alaskan gold rush expedition. Adams' thriller is available in hardcover at Indigo for $32.67.
Crazy Rich Asians by Kevin Kwan
The soon to be major motion picture details Rachel Chu's unusual introduction to her boyfriend's family on a trip to Singapore. Chu is shocked to learn that her boyfriend's family resides in a palace like estate, travels on private plane, and is has wealth beyond her wildest dreams. With a target on her back she tries to navigate this unfamiliar world of high society and win over her boyfriend's mother's approval. This fabulous light read is available at Indigo for $10.50.
The Sun and her Flowers by Rupi Kaur
The author of Milk and Honey's second collection of poetry details a path of personal growth and healing. Rupi Kaur places emphases on connecting with one's ancestral roots in order to find a home within one's self. This collection of sort thought provoking poems make for a great read by the water. The Sun and her Flowers is available at Indigo for $11.79.
Shelter in Place by Nora Roberts
Nora Robert gives a suspenseful heroic tale of a mall shooting outside Portland, Maine. Roberts details the aftermath of those who survived the eight-minute shooting, the long lasting effects, and the paths their lives took. As these survivors start their healing process they learn that a new unidentified conspirator poses a threat. Robert's novel is available at Indigo for $18.25.
The Mars Room by Rachel Kushner
Rachel Kushner brings a compelling blood pumping novel about an American life gone wrong. The novel is set in 2003 and follows Romy Hall, a woman beginning two life sentences at the California Stanville Women's Correctional Facility. Hall is confronted by the realities of prison life as she is cut off from his San Francisco life and young son. Kushner humorously describes the absurd events that happen within the confines of the prison, making for a funny yet interesting read. The Mars Room is available at Indigo for $22.36.
All We Ever Wanted by Emily Griffin (release date: June 26)
If you can recall spending a summer with you head stuck in one of Griffin's other novels, which include First Comes Love and Something Borrowed, then this might be the perfect book for you. All We Ever Wanted follows the story of a photograph dividing a community in Nashville and intertwining three people from that community in scandal. All We Ever Wanted is set to be released on June 26th and will be available at Indigo and on Amazon.
Two by Two by Nicholas Sparks
The most recent novel from the skilled romance writer Nicholas Sparks unsurprisingly appears to be a tear-jerker. Sparks introduces 32-year-old Russell Green, a man who seems to have a perfect life. Green's world is quickly turned upside down as he loses his wife, job, and becomes the single caretaker of his young daughter. Two by Two will take you on Green's terrifying journey that puts his abilities and emotions to the test. This Sparks novel is available at Indigo for $18.54.
---
---
SUBSCRIBE NOW
Free to join! Get the hottest fashion, beauty and celebrity news, enter exclusive subscriber giveaways and be the first to receive the full digital version of REAL STYLE magazine every month.
JOIN NOW!