Independent Art Galleries In Toronto To Visit Now
When it comes to leaders in Toronto's thriving art scene, we tend to think of major venues such as the AGO or the ROM first. Though the city has its fair share of amazing major galleries, there are also a number of smaller galleries that are making a big impact in the art world. Whether you're photography-obsessed or interested in local creative forces, the 6ix has something to offer for every type of art lover. We've rounded up a few independent art galleries in Toronto.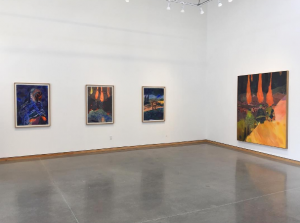 Photo: angellgallery on Instagram
Angell Gallery
Since opening its doors 20 years ago, the Angell Gallery has dedicated itself to representing artists who are known for taking artistic risks and challenging norms. Located in the Junction, this unconventional gallery showcases a variety of mediums, including painting, drawing, sculpture, photography, video, and digital. Perfect for lovers of artworks that are slightly outside of the box, the Angell Gallery is known for its unique and progressive curation. From October 14-29th, the gallery will showcase Kim Dorland's solo exhibition, "I Know That I Know Nothing," in which Dorland discovers his wife Lori through art.
Daniel Faria Gallery
Though this gallery opened as recently as 2012, its owner, Daniel Faria, has quickly become a big name in Toronto's artistic community. As the representative of artists such as Shannon Boul and Douglas Coupland, it's no surprise that Faria's gallery draws in exhibitions from leaders in contemporary art. Located in the Bloordale neighbourhood, this bright gallery space is housed in a renovated automatic shop, though you wouldn't know it upon stepping inside the sleek and elegant setting. Up next for the gallery is "Thrummer,"an exhibition of the works of Toronto based artist Jennifer Rose Sciarrino.
Photo: stephenbulgergallery on Instagram
Stephen Bulger Gallery
When it opened its doors in 1995, the Stephen Bulger Gallery was one of Toronto's first galleries that exclusively showcased photography. Though he studied the subject at Ryerson, Bulger decided he was better at curating photographs than actually taking them, and since then, his gallery has played a critical role in the growth of Toronto's photography scene. Located on Queen West, this gallery has an impressive inventory of over 15,000 photographs. The space is also home to a lounge with a private screening room, which hosts free screenings every Saturday afternoon.  Beginning October 22nd, the Stephen Bulger Gallery will present "Aboretum," an exhibition of work by Canadian artist Sara Angelucci.
Mercer Union
Mercer Union is unique in that it is entirely artist-run and has been since its establishment in 1979. The gallery's primary focus is the advancement of contemporary art. Though Mercer Union is known for its innovative art exhibitions, they also host exciting events such as lectures, performances, and in-studio visits with artists. Though the gallery's name stems from its previous location on Mercer Street, they are now located in Bloordale Village in a beautiful 19th century building designed by Casa Loma architect E.J. Lennox. Now on at the Mercer Union is Diane Linklater's "From Our Hands," an exhibition that utilizes installation, performance, film and photography to address cultural loss, recovery and sovereignty in Canada.
---
---