Beloved Designer Betsey Johnson Stands By Her Lipstick, Diamonds, Champagne And Rock & Roll.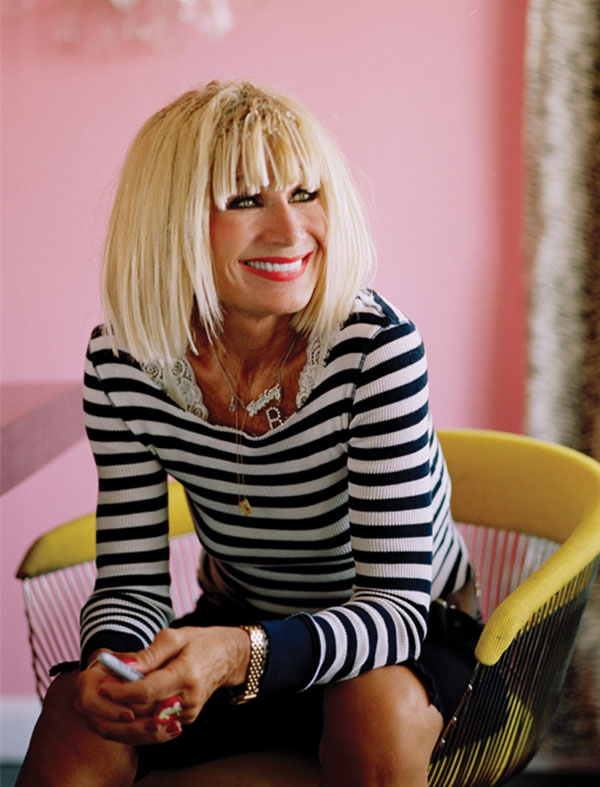 This article originally appeared in the Spring 2014 issue of Real Style magazine by writer Heidi Hofstad. Become a Real Style subscriber and get the hottest fashion, beauty and celebrity news, enter exclusive subscriber giveaways and be the first to receive the full digital version of Real Style magazine every month. Click here to subscribe for free!
Pop. Fizz. Clink.
"I go from the cheap, sparkling wine, up to a couple sips of Cristal," says fashion designer Betsey Johnson, sharing her impartial love for the bubbly. "Champagne is very up. It's like an energy drink." If that's the secret to the 71-year-old's hustle, spunk, optimism and trademark cartwheel, we say pop that bottle.
Of designers past and present, it seems Johnson is singular in the goodwill that surrounds her. Even before her starring role in the Style Network television show XOX Betsey Johnson, she was known as much for her brightly hued, #allpinkeverything designs as for her exuberant personality and striking appearance: funky, blond hair, dark eye makeup and a swipe of bold red lipstick.
Popping onto the scene after winning Mademoiselle magazine's Guest Editor contest in 1964, she launched the Betsey Johnson label in 1978 (with partner Chantal Bacon), and the rest is herstory. "I don't move with the industry; I spin my own wheels. I never studied fashion design, or took a business course—I've operated on pure common sense, logic and simplicity," says Johnson, reflecting on her decades in the biz. "You stay yourself, but you're flexible…or you're a real bitch and you finally get your way because they realize that's your job," Johnson says, noting that she is far from the latter.
Years of vintage clothing, design samples, accessories and shoes cram the designer's workspace in New York City's Garment District. With space on rows of clothing racks at a premium, tulle skirts are hung from the ceiling. A rainbow of costume-like pieces finished with sequins, ruffles and loads of flounce display Johnson's signature playful aesthetic. If Johnson's clothes were a character in a novel, she would be bright, smell of rosebuds (one of her trademark prints) and wouldn't be afraid to take chances.
Originally from Wethersfield, Connecticut, Johnson dreamed of being a Rockette after taking dance classes, and was inspired by her instructor, who happened to be an amazing costume designer. "I'm pretty much the last person in the world you'd think was a fashion designer," confesses Johnson, who describes her personal style as, "Ragged on the edges. Anything goes, as long as you love it. Wear what you want. At the end of the day, I like comfort—psychological comfort, and physical comfort."
Likening her current designs to a vegetable soup of inspirations from throughout her career, Johnson has always succeeded by making what she wants to wear. "It was really amazing to have a work life that pretty much came from my life. Now I'd just like to be more young than old, and dress more young than old," she says, laughing.
In the same way that Johnson has never really strayed from her trademark beauty look, her designs are also quintessentially Betsey. "I stick to what got me here and just tweak it," says Johnson. "People don't change that much, so if you stick to your look, your customer will stick to you." In a very competitive industry, she remains true to her design formula. "No matter how much you try, you can't produce anything that isn't you—there is always someone else who feels it, and can do it better," says Johnson.
Hers is a look that celebrities and label hounds alike flock to, if not for the punky designs than for the affordable price point. "I remember when Katy Perry just started and she would come by and go through my vintage," says Johnson. "I would get to meet my favourite people because they wanted to meet me and wear my stuff."
Affordability is top of mind for Johnson, and she believes the same goes for her customer. She has always maintained that anything with a price tag above a round-trip ticket, hotel included, to Puerto Rico was not worth buying. "There were people who went into my stores and even now that will pay anything for stuff, but that doesn't keep me in business," she says. "Even I'd rather go to Puerto Rico than buy a dress."
Unfortunately, Johnson's loyal fans couldn't keep her out of the red. Amid financial woes, in 2010, footwear retailer Steve Madden took over as the parent company of Betsey Johnson after paying off a defaulted loan. Then in 2012—the same year Johnson celebrated her 70th birthday with a Spring/Summer 2013 Retrospective Fashion Show during New York Fashion Week—the Betsey Johnson retail chain declared bankruptcy, closing all 63 of the designer's freestanding boutiques. "I didn't intend to go bankrupt, but that's okay. The transition from bankruptcy to back-in-action as Creative Director was difficult, but I'm very happy again," assures Johnson. "Of course in the middle of it, I didn't think that was so wonderful."
Now available in 2,000 specialty stores—including department stores Bloomingdales, Nordstrom and Macy's, plus online at BetseyJohnson.com—the designer is hardly slowing down, even as she turns 72 this summer. (Johnson was awarded the Timeless Talent Award by the Council of Fashion Designers of America in 1999, and received the National Arts Club Medal of Honor for Lifetime Achievement in Fashion in 2009.) "It's in my DNA. My energy usually comes from panic, or competition, or nervousness. In New York, you work and just keep spinning and you have to keep a certain energy level or you just can't make it here. Only when I go on vacation, after a couple of days, do I realize how I really feel."
No longer involved in the business side of her label, Johnson is solely focused on the creative aspects of the brand, including certain areas she won't release control over: fashion shows, BetseyJohnson.com, showrooms and editorial photo shoots, to name a few. "It has to be my way or the highway enough of the time. I know it's a volume brand, but I needed to carve out when they're killing me and when I'm happy," she says, adding, "Because I'm not that grey person in between."
Married three times, it's her first husband Velvet Underground musician John Cale—whom she was married to from 1968 to 1971—that Johnson still expresses love for. But it seems one of her longest relationships may just be with Brandon Aldridge, her assistant of almost 11 years. Throughout our interview Johnson includes Aldridge in the conversation, requesting input on responses, and sharing a laugh while contemplating a new, potential energy drink. "Could you imagine, Brandon, if I put champagne and Red Bull together? I've never had a Red Bull. I'm scared. It makes you start flying."
Johnson's appreciation for her extended work family is obvious. "I've always lived by the golden rule: Do unto others as you would have them do unto you. Be nice out there, and you get nice back," she says. "I don't wine and dine and schmooze with the industry people at all. I just think you should work happily with the whole team, because it takes the team to make it all happen."
Far from being a prima donna, Johnson tells stories of freelancing everywhere and of sitting down at sewing machines to produce garments at factories in places like India, Morocco and China—small acts that helped Johnson gain respect for knowing the job behind as well as in front of the runway. "You have to be able to do it all yourself," she explains. "And give out the vibe that you're excited, because if you don't make it good for everyone, you don't make it good for yourself."
Johnson's eternal optimism seems to always be on her side. Of her bout with breast cancer in 2000, Johnson says she takes the good with the bad, adding that she chooses positivity over prayer. "It's better to wake up and be positive, even when you're not feeling that way at all. I'm just happy to be alive another day," she says. "Its sounds dramatic, but it's a good thing to remember."
Skip to her Spring/Summer 2014 show, and Johnson is wearing a T-shirt emblazoned with the words: Lipstick, Diamonds, Champagne and Rock & Roll to close the runway show, hand in hand with her daughter Lulu and adorable granddaughters, Layla and Ella. Of the T-shirt, Johnson explains: "I never pop without red lipstick. I have one diamond bracelet, but that's like a dream item. Champagne's totally necessary—I'm a 5 o'clock somewhere kind of girl. And rock & roll is absolutely necessary. Those are the four important things in life. Then we could add grandchildren, but that would be the grandma T-shirt."
Johnson shares that her favourite designers include Alexander McQueen, Vivienne Westwood and Jean-Paul Gaultier. She treasures a pendant she bought her daughter. "She was about five. I decided to buy her this beautiful Bvlgari gold, astrological, round pendant. Now I wear that every day," says Johnson adding, "I rarely find anything exciting enough to want to buy it."
She names being on the runway with her family as her biggest thrill—a tradition Johnson has kept alive since Layla was born. But for everyone else, it's her infamous cartwheel/splits combination that she executes every show that make her runway appearance so memorable. "It's the scary point in the show for me. The cartwheel can be crooked, or off balance, but the splits I never worry about—I was an acrobat, so I never really tightened up."
Even though Johnson has managed to remain relevant for more than 30 years, she decries trend chasing as a fashion rule. As we wrap our interview, she offers up this big-sisterly advice: "Don't try to copy Vogue Magazine's fashion pages. The biggest mistake is trying to be too trendy and not really loving what you're wearing. I love fashion when it enters a time of doing your own thing; wearing things the way you want to. There are no rules. Be yourself, don't copy, and don't be the fashion wannabe…or do it, but enjoy it." Of course, with the ever-rollicking Betsey, if it's not fun, it's not worth doing.
---
---