Best Fashion Spring Cleaning Tips To Refresh Your Wardrobe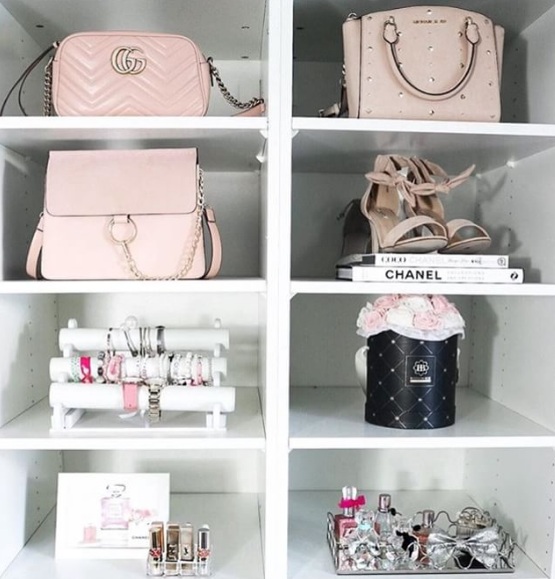 Photo: wardrobegang on Instagram
Now that spring has officially sprung and we are heading into the early weeks of summer soon enough, it's officially time for that hotly awaited wardrobe cleanse. While it's always tempting to hit the shops or log on to your favourite online boutique and make some splurge purchases, shopping your own closet can be just as fun. After all, cleaning out your wardrobe can allow to keep in mind that some styles from the previous year remained on trend, while others went down the drain. Here is an official guide of what you should keep and what can be donated, as fashionistas everywhere prepare to refresh their summer wardrobes.
Out: Clear Shoes
As a popular footwear fad last summer which experienced a fleeting moment among the Hollywood set, clear shoes toed a line between tacky and Cinderella come to life. This year, we are going to bid adieu to our fairy tale princess fantasy, as it's been proven that the clear shoe is often a fashion miss. It's time to part with the super sweaty and uncomfortable Lucite heel in favour of slides, slingbacks, and platform sneakers with a more classic look.
In: Slides
This comfy casual sleepwear-chic trend appears to be here to stay as brands such as Zara, Stuart Weitzman, and Gucci continue to drop newer styles in flashier patterns. Trade your clear pumps for a pair of slides, and your summer is sure to be a lot more stylish.
Out: Gigantic Hoop Earrings
If you can fit your fist through them it's time to retire your oversized hoops. This trend often goes in and out of style, so make sure to tuck them away somewhere safe to pull them back out, once the hoop earring resurfaces again on the runways.
In: Ear Parties
Ear parties include a cluster of dainty earrings such as threaders, mini hoops with charms, and studs decorating ones ears.
Out: Skinny Jeans
Your stomach will thank you for taking a break from your favourite pair of constricting skinny jeans that sometimes prevent you from ordering dessert. Denim is always on trend but these babies can stay tucked away this summer. Instead, the season's loose and comfy jeans will allow you to have a second slice of that cheesecake, and perhaps save some room for a midnight snack as well.
In: Mom Jeans and Flares
Mom jeans are still on fire and flared jeans have come to join them as the weather warms. Throw on a cute wedge or block heel sling back and a pair of flare jeans,and your look may help you achieve a supermodel off duty vibe.
Out: Bedazzled Bags
Handbags never truly go out of style. However, for the time being you might want to give your studded, embellished clutch a break, and go for a simple saddle bag instead.
In: Fanny Packs
Once considered an ugly vacation staple of the 1980s and 1990s, the bum bag or fanny pack appears to be here to stay, at least for a while. The fanny pack has been spotted on the catwalks, and can translate into ordinary life quite well. From your phone and keys to perhaps a snack (now that you can enjoy those calories, after tossing your skinnies aside!), the fanny pack can easily work for either the club or an afternoon at the park.
---
---