TAMGA Designs Founders Yana Barankin and Eric Dales Talk Eco-Friendly and Sustainable Fashion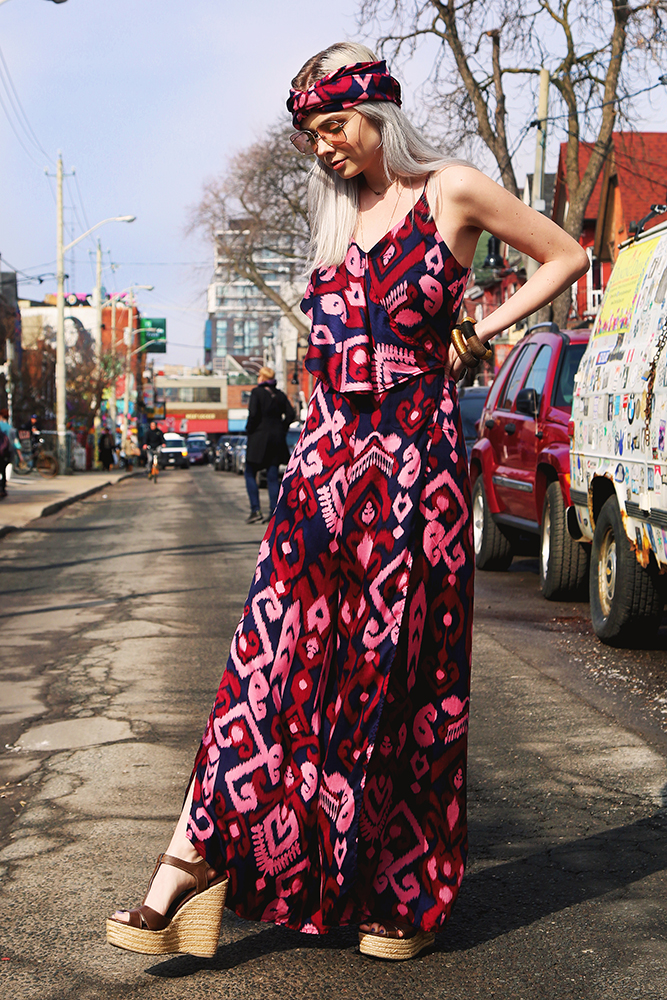 Photo: Tamga Designs
Yana Barankin and Eric Dales were working in Bangladesh when they established TAMGA Designs in 2014. The two had been working in the field of international development when they saw first-hand the negative effects the fashion industry had on the community and environment. With this in mind, they set out to create an eco-friendly and sustainable clothing line that reflects a global and travel inspired lifestyle. Barankin and Dales started working with a group of tailors in Dhaka, Bangladesh who were paid fair wages, had clean working conditions and were properly trained. Within a year, they received positive feedback from customers and the business became profitable. In fact, TAMGA donated $2,000 of profits to the FPP orphanage and school for street children in Dhaka. Last year, they ventured to Indonesia and set up shop to produce an entire women's range. Today, with their designer Anna Valero and Indonesian suppliers, artisans and organizations, TAMGA is continuing to grow and expand. Recently, Real Style had the opportunity to chat with Barankin and Dales at the 2017 Green Living Show in Toronto. The co-founders spoke to us about their expansion, creative challenges and the sustainable garment industry.
Real Style: What inspired you to create a sustainable and eco-friendly line?
Yana: I think Eric and I are very outdoorsy kind of people and we feel our best when we are in nature and are connected with nature. We lived in Bangladesh for three years doing aid work and we kind of saw the negative environmental impact that goes into the process of clothing production. When we decided to create TAMGA and upscale it, we knew we had to do it right, from the very first stage. We only have one planet, we recognized that and we recognized the problems in the fashion industry when it comes to environmental impact. So we really set out to prove that you can create great clothing from great materials that are natural with very little impact on the environment as a result.
Real Style: What are some challenges you have faced as you established your brand?
Eric: One main challenge that a lot of small brands will face is the order quantities. We operate with really innovative and progressive materials. Generally those materials you have to put in orders of quite high quantities because the machinery and setting up can be quite costly. So our strength really lies in negotiating with our suppliers in order to do smaller quantities and be able to test the market. That being said, another challenge we have is getting the word out. We have a great product for a great market but the internet is a really crowded space these days. It means we're working day and night to really share the story of TAMGA with people, and share the fact that it's possible to have clothing that doesn't have exploitation of people and the environment involved.
Real Style: Your main supplier right now is in Indonesia, do you have plans to expand to other suppliers around the world?
Yana: Yeah, I think in the future we'd like to have suppliers in Vietnam, Cambodia, in Bangladesh for sure, we'd like to go back work with our suppliers where we started.
Eric: In Indonesia right now , here's quite a bit of room for expansion. But we started producing in Bangladesh, so in 2018 we do plan to go back and producing some of our items in Bangladesh because we have a really great supplier there, an ethical group of tailors. We really got integrated into that community when we were living there. Potentially at one point we'd like to produce some items in Canada as well.
Real Style: What inspires the patterns and designs of your pieces?
Yana: As a travel inspired brand, we thought it was really important to highlight the country where production takes place, which is Indonesia. While we were in Indonesia, travelling around for about eight months, we met a lot of amazing artisans and amazing weavers. We learned a lot about the traditional techniques of textiles that they have there. So, our prints are inspired by traditional ikat weaving, as well as hot wax stamping batik style. We did like a modern take on them and added a lot of colour, so it's more modern woman and welcoming.
Real Style: Tell us about your latest Spring/Summer 2017, and also what is next for TAMGA.
Yana: We're currently sampling our next collection. We have the prints all ready and we're working on the following collections, so there's definitely a lot in the works. There's going to be a lot more beautiful colours and beautiful prints, so that's exciting.
Eric: You'll be seeing a lot more in October for our next line. Moving into the future, we'll be doing more men's and we're experimenting with some really cool new technology in terms of dying and fabrics as well.
---
---
SUBSCRIBE NOW
Free to join! Get the hottest fashion, beauty and celebrity news, enter exclusive subscriber giveaways and be the first to receive the full digital version of REAL STYLE magazine.
JOIN NOW!