FashionCAN Fall 2017 Runway Roundup- Day 1
Yesterday, FashionCAN hosted their second runway showcase at Toronto's Yorkdale Shopping Centre, in partnership with the Canadian Arts and Fashion Awards. The Canadian runway shows highlighted some of our nation's most talented designers, from established names to emerging stars. Real Style was in the front rows at Day 1 of FashionCAN, and had the chance to see the latest and greatest of the Fall 2017 and ready-to-buy Spring 2017 collections.
At Tara Rivas for TMR, up-and-coming Toronto designer Tara Rivas made her catwalk debut. Rivas, who is known for bringing Scandinavian and Latin American influences into her designs, claims to use locally sourced materials. For her latest collection, the rising talent unveiled a series of clean, fluid silhouettes. Basic black creations and black and white graphic prints were interspersed with pops of brilliant fuchsia. Models strut the catwalk in silky blouses, flared trousers and fitted mid-length dresses. With a focus on simplicity and elegance, TMR's collection was versatile with a hint of sex appeal.
Serbian-born and Toronto-based designer Bojana Sentaler, who is earning a reputation for her structured outerwear, also stayed true to a ladylike aesthetic. With Sentaler pieces spotted on the likes of the Duchess of Cambridge and Sophie Grégoire Trudeau, the rising luxury label has experienced a winning start. For Fall 2017, Sentaler opened her collection with ballet on the runway. Much like the artistry of the dance performance, her coats managed to be both strong and delicate at the same time. From the signature Sentaler pale pink wrap coats to shawl collars and plush fur accents, girlish charm was in the air.
At Jennifer Torosian, the Toronto brand remained loyal to its sporty yet stylish theme. Torosian and her husband and co-founder, Raed Ali, sent flowy frocks emblazoned with blue and red floral prints down the runway. Meanwhile, oversized fur coats and vests made an appearance in intriguing mustard hues. The statement pieces were layered with classic black trousers and blouses, proving that the occasional vivid hue can truly speak volumes.
Co-designers José Manuel St-Jacques and Simon Bélanger of UNTTLD have been experiencing a whirlwind moment in the spotlight. The Montreal-based fashion house was awarded the Mercedes-Benz Start-Up Award in 2015, and have been making a bold impression ever since. For their latest collection, St-Jacques and Bélanger captivated on the catwalks with tailored black and white frocks. Bringing the European runways to mind, UNTTLD's take on the classic dress included modernized ruching, illusion necklines and ruffles. Meanwhile, flirty floral hair ornaments reigned supreme, with pretty red and white blossoms offering a hint of romance and drama.
Closing the evening's shows was Montreal outerwear giant Rudsak, headed by creative director Evik Asatoorian. Once again, Rudsak featured a line of trademark vampy leather jackets. From belted trench coats to seductive strap detail and fitted bombers, a rebellious spirit with a typical Canadian practicality ruled the Fall 2017 lineup.
Tara Rivas for TMR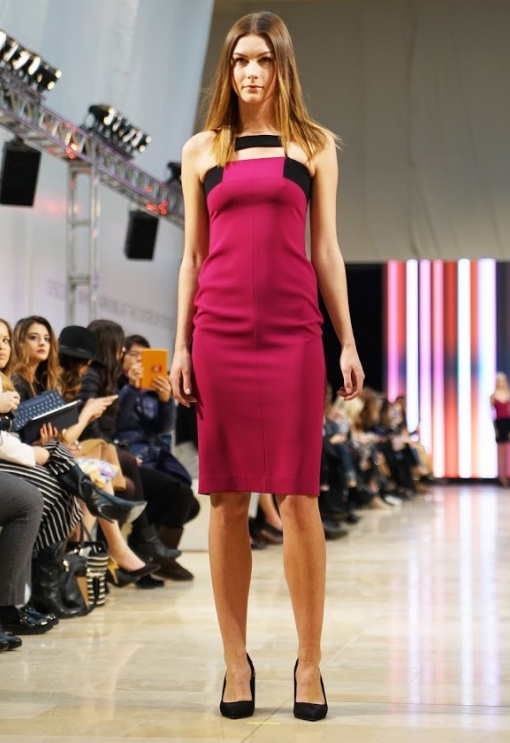 Major Looks: Streamlined silhouettes, classic fitted frocks, pops of fuchsia, basic black and white
Sentaler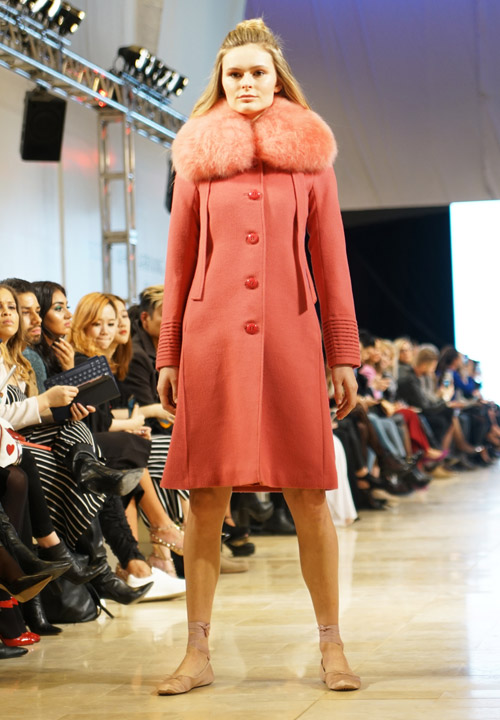 Major Looks: Ladylike luxury, plenty of pink, fur collars, wrap coats
Jennifer Torosian
Major Looks: Mustard and military tones, fur outerwear, minimalist frocks, athleisure inspiration
UNTTLD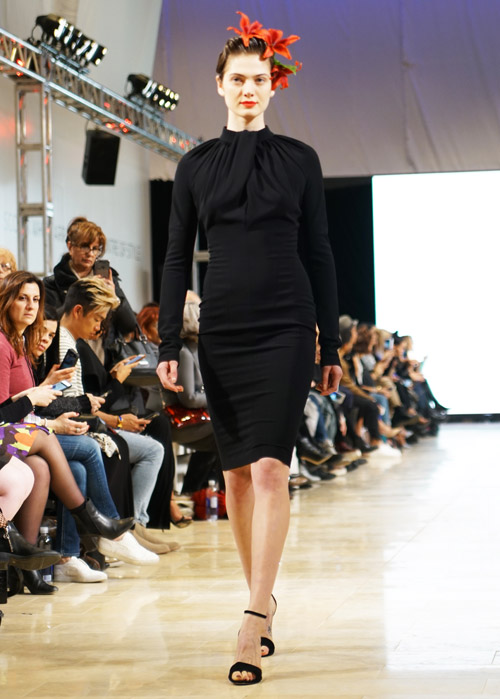 Major Looks: Ruching, little black dresses, floral hair accessories
Rudsak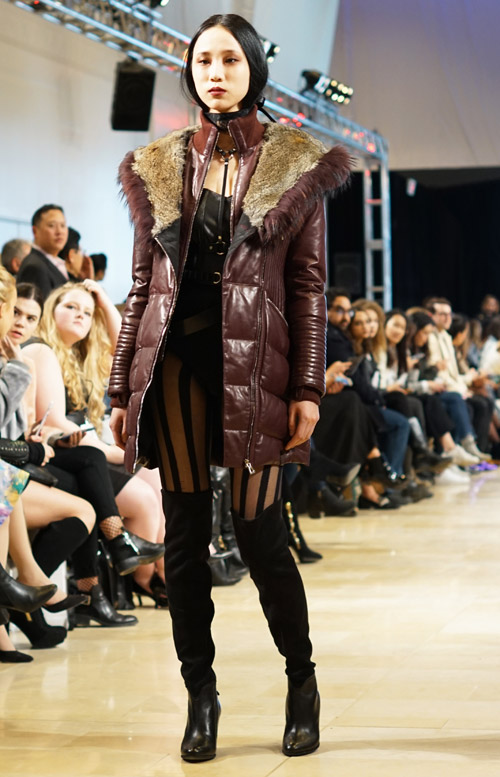 Major Looks: Rebellious leather, darker hues, funky strap accents
Photos: Amanda Skrabucha
---
---