Q & A With Holistic Nutritionist & Wellness Expert Erin Levine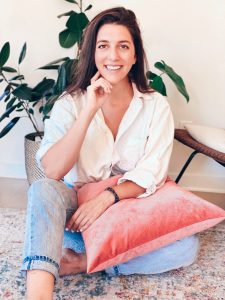 In the latest issue of Real Style Magazine, Holistic Nutritionist & Wellness Expert Erin Levine talks healthy living, personal wellness and more. Read an excerpt below.
Q: What are some of your wellness/self-care tips for summer?
A: My approach with wellness very much lies in simplicity. I notice so many people are stuck in an "all or nothing" mentality and go full throttle when it comes to health, wellness, and personal development. And, honestly? It's just not sustainable. We add in or restrict a million things, it doesn't last, and then we feel bad about ourselves. So, with that in mind, here are just a handful of simple suggestions for summertime wellness. Take what resonates and leave what doesn't!
Hydrate. This one seems obvious, but more people are dehydrated than not. Just a 5% drop in body fluids can make your energy levels drop as much as 30%! Find a water bottle that you're pumped about using. There's no magic number of litres than you should be drinking but it does usually range between 2-4L depending on your size, sex, exercise level. I usually say to drink enough water until your urine is a really faint yellow. Some medications and supplements do change the colour of your urine so keep that in mind too.
Body Care Product Audit. Change of season is the perfect time to declutter your body care products and remove anything that's old or full of ingredients that you can't pronounce.
Get Outdoors: Pandemic or not, most of us spend upwards of 90% of our time indoors. Outdoor air quality is much cleaner and there are dozens of studies showing the physical, mental, and emotional, and social benefits of being in nature. Make it a priority to spend minimum 20 minutes of time outside daily! Sunshine stimulates the pineal gland in the brain which helps to produce melatonin at night, a hormone that plays an important role in a healthy sleep cycle.
Eat Veggies! I'll probably mention this more than once, but summertime often means more indulgent meals, drinks, experiences. Which I love! Instead of restricting yourself from things you enjoy, make an effort to add in ample vegetables too. I love adding a bunch of chopped veg to a charcuterie board.
Increase Fibre. Summer is the season of happy hours, seasonal cocktails and beach beers. Our liver is a powerhouse and is responsible for filtering everything that enters our system whether by digestion, absorption, or inhalation. Alcohol, processed foods, and even high amounts of stress all contribute to a sluggish liver. This can lead to toxic buildup that may be expressed through the skin, digestive complaints, hormonal imbalance, and sleep disturbances. For fibre, look to chia, flax, vegetables, fruit, and whole grains like oats and quinoa.
To read the full article, click here: Real Style Magazine
---
---