The Fitbit Versa Is One Of The Top Smartwatches On The Market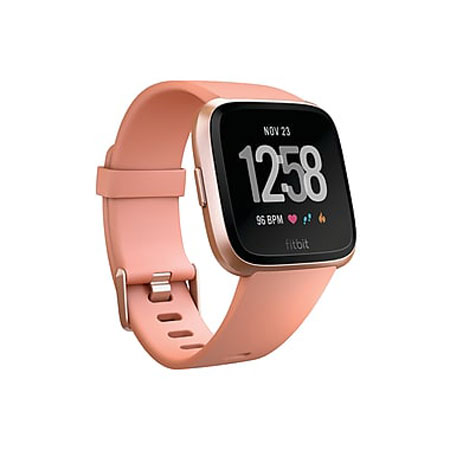 Shopping for a smart watch can be a confusing thing, and if you are wanting to make sure not to break the bank when picking one up, yet still manage to get versatility, functionality and reliability, the Fitbit Versa may just be for you.
Unlike other Fitbit trackers, the Versa first and foremost looks like a watch and not just a wristband. At first glance some may even think you are wearing a watch, but it is so much more than that. Like other Fitbits it syncs up with your smart phone, and keeps track of your daily steps, or swimming strokes, or distance travelled on a bike. You should wear the Versa as you sleep as well, as it will give you data on how well you slept, how much time was spent in deep sleep or REM, and constantly keeps track of your heart rate. You can wear the Versa in the shower too if you so desire, as it is water resistant up to 50 meters, but there really is no benefit to doing so. It's more of a 'if it gets wet, you don't need to freak out' sort of deal. You can also set it to give you notifications if you haven't moved in awhile, or use it to give you guided workouts and show you how to breath better. All the information it tracks is stored in the Fitbit app as well, so you can use it to improve your health and increase your overall activity. And that's just scratching the surface.
What is unique about the Versa are all the other things you can't find on other Fitbits. For instance, the Versa allows you to download and store music that you can stream back through your smart phone or wireless headphones, download apps such as Starbucks and Yelp, and accept phone calls and send quick replies to text messages. It's a smartwatch, but one that you want to make sure you don't confuse with other devices on the market.
If there is a downside to the Versa, it's the fact that it doesn't offer everything you can find in more expensive smart watches. For instance, there are no speakers or microphones, so it can't accept voice commands, and you can't talk to people through it after you answer your phone. While you can send quick replies to text messages, you can't be specific or type out full length responses. And when you set an alarm, there is no sound, so if you are not wearing it to feel the vibrations, you won't know the alarm is going off. And running music through the Fitbit does drain the battery quicker, so instead of needing to recharge the Versa every four days, you would have to do it every 3 instead.
The Versa comes in several different colours, and if you don't like the band it comes with, you can always buy a different one. The plastic band may not be for everyone after all, but there are leather and nylon options available. You can even change the clock face to whatever you'd like, whether it's one of the options preloaded, or one you design yourself.
The Fitbit Versa is a smart watch option that is better than a lot of its competitors, including ones that are more expensive. It's easy to set up, looks good, and does pretty much everything you'd expect it to do. While there are some features that aren't available to it, you won't be disappointed by not having them, and will be happy with everything you do have.
---
---
SUBSCRIBE NOW
Free to join! Get the hottest fashion, beauty and celebrity news, enter exclusive subscriber giveaways and be the first to receive the full digital version of REAL STYLE magazine.
JOIN NOW!