"Four In The Morning" Star Michelle Mylett On Her Beauty And Fitness Secrets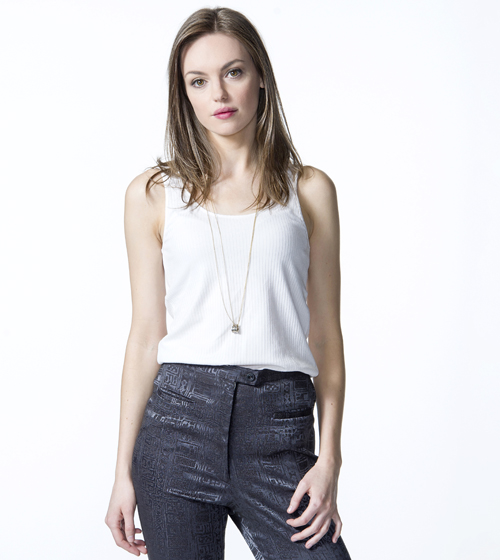 As Jamie on CBC's new series Four In The Morning, actress Michelle Mylett plays a young woman coming to terms with her life in Toronto. The 26-year-old Canadian beauty may depict an edgy, insecure character on the small screen, but she also has a perfectly down-to-earth attitude away from the set. This extends to her usual beauty regimen, which includes a natural visage and carefree, flowing hair. We spoke to the Ladysmith, British Columbia-born star about her must-have products, fitness routine and trademark makeup look. From the one beauty tool which never leaves her side to her favourite rebellious icon, Mylett shared her best kept grooming and skincare secrets with Real Style.
Watch Four In The Morning on Fridays at 9 p.m. ET on CBC
Real Style: What are your five favourite beauty products?
Michelle: Eyelash curler for my very straight eyelashes, waterproof mascara, Ren Night Face Serum (it's all natural and smells really good), coconut oil for everything and Burts Bees Rose Water Toner.
Real Style: How do you stay fit and in shape?
Michelle: I take dance classes or yoga classes, and I also walk around Toronto a lot.
Real Style: Describe your skincare regimen for maintaining a flawless complexion.
Michelle: I definitely don't have a flawless complexion but I always try to wash my face and put on some sort of oil or serum before I go to bed. Drink lots of water also, that's a big one.
Real Style: What are your tips and tricks for healthy and luxurious hair?
Michelle: I'm pretty lazy with my hair to be honest. I just don't do anything? I wash it and let it air dry and that's it. I have, however, been given a salt water spray, which sounds fun.
Real Style: Do you have a celebrity beauty icon?
Michelle: I love me a 90s Kate Moss, but who doesn't!
Real Style: Describe your signature makeup look.
Michelle: Simple on the skin and eyes, but with some sort of lip [colour]. Pink or red are my favourites.
Photo: CBC 
---
---
SUBSCRIBE NOW
Free to join! Get the hottest fashion, beauty and celebrity news, enter exclusive subscriber giveaways and be the first to receive the full digital version of REAL STYLE magazine every month.
JOIN NOW!