Get A Braided Low Bun For Summertime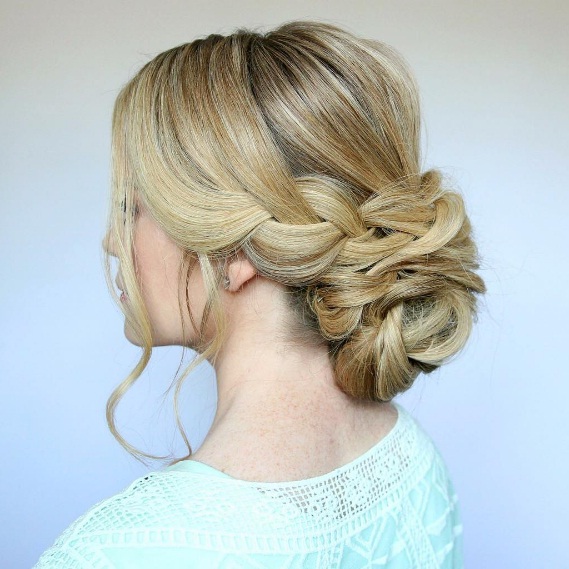 Photo: missysueblog on Instagram
For beauty addicts who are looking to update their locks for the season ahead, the timeless low bun is a perfect way to style your tresses. Whether you have a jam-packed schedule at the office or you're escaping on a summertime retreat, try incorporating a braided bun hairstyle into your daily look. Here's how to master this simplistic yet perfectly sophisticated hairdo in a few simple steps.
1) Use a wide-toothed comb to keep your locks sleek: In order to maintain the look of flawless tresses, try working through your tangles with a plastic wide-toothed comb. Take a section of hair from the front of your visage and pin these strands in place with a hairstyling clip.
2) Pin your tresses back into a half-up and half-down hairstyle: Next, pull even sections of hair back from each side of your visage and arrange these segments into a half-up hairstyle. Once you've pulled your strands back, use bobby pins to keep the hair in place.
3) Create three low ponytails: For your next step, separate the pulled-back section of hair into a trio of low ponytails. Keep each of your ponytails in place with clear elastic bands, and then style the last pony into a twisted braid. Use your fingers to gently loosen the segments of the braid.
4) Wrap the first braid around the two ponytails: To bring your hairstyle to the next level, carefully wrap the completed braid around the two ponytails. Next, transform another ponytail into the same twisted plait, and do the same for the final ponytail. Wrap the twists together to form a newly crafted low bun.
5) Take a face-framing section of hair and pin it into your hair: For a finishing touch, bring one of the free-falling sections of hair from your visage and integrate this into your hairstyle. Gently braid the face-framing wisps on the opposite side of your visage, and leave a few strands falling loose for a delicate effect.
---
---