Pretty Nail Art Ideas To Get You Ready For Spring
Although the winter season had us bundling up our fresh salon manicure in knitted mitts, we can soon look forward to displaying our well-groomed tips and polished talons without freezing our fingers. For beauty lovers, looking to prep for the warmer temperatures of spring, here are a few nail art ideas that will give your tired talons a refreshing makeover. From soft pastel ombre tips to bright pink floral nails, these pretty nail art ideas will have your nails covered for the season.
Photo: essiecanada on Instagram
1) Pastel blue and pink ombre tips: Rock Pantone's colours of the year with this sky blue and bubble gum pink ombre nail look. The light hues complement each other and with its gradient design, it gives your talons a soft finish. To achieve this look start by painting the nails a sky blue-lavender shade and once dry, layer a pastel pink lacquer colour on top and lightly buff the edges with a makeup sponge to blend the colours together.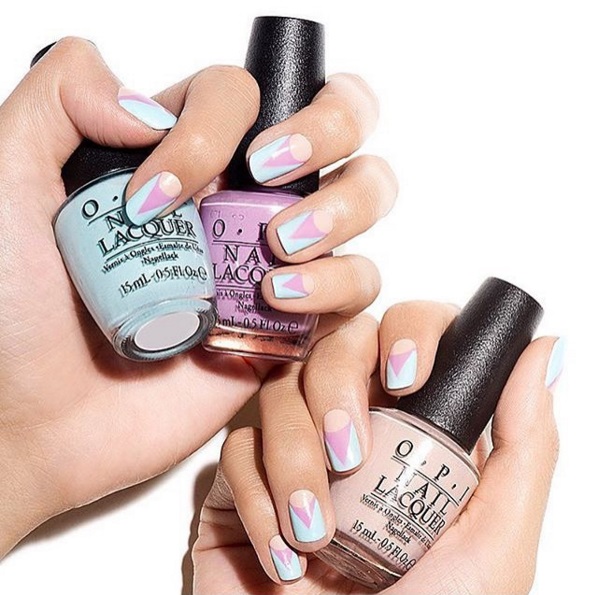 Photo: opicanada on Instagram
2) Soft geometric-printed nails: Adorn your nails with a cool geometric pattern to give your tips a pop of print. The desired look requires soft pastel shades to create a bright colour-block statement. Start by applying a sky blue lacquer colour on the base of your nails. Then with a dusty rose nail polish, create a triangular shape from your cuticle close to the tips. To achieve straight lines, map out the shape using tape for precision. Once this layer dries, paint a half moon shape on the tip of your cuticles to complete the look. The combination of colours brings a striking effect to plain talons.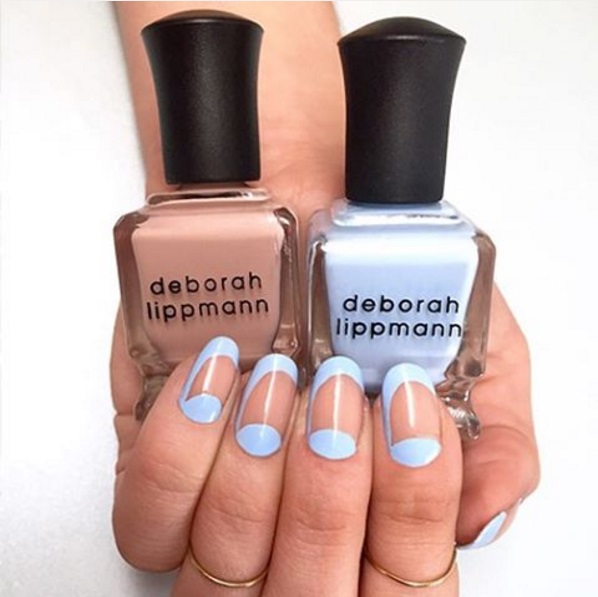 Photo: deborahlippmann on Instagram
3) Neutral brown nail polish with icy blue edges: Update a classic French manicure with this simple nail art to give your natural tips a refreshing twist. With its warm toffee shade and striking icy blue accents, this easy nail design is perfect for minimalist beauty lovers who want to add a subtle hint of colour to their everyday manicure. Apply a few coatings of the toffee nail polish as the base colour then line the edges of the nail with an icy blue shade to complete the look.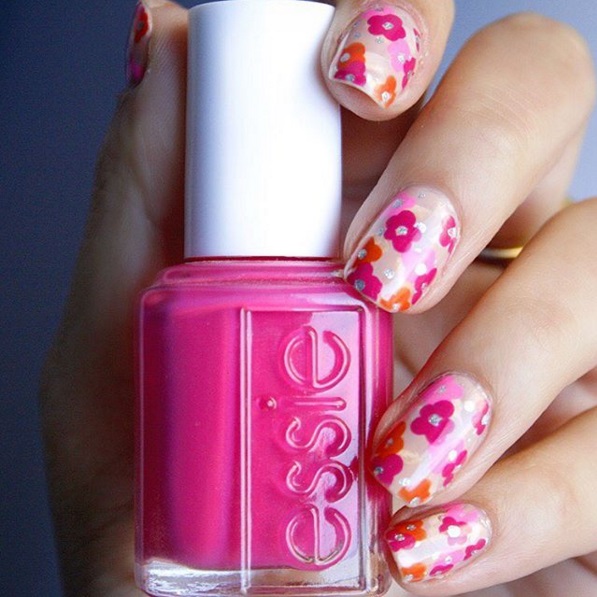 Photo: essiepolish on Instagram
4) Hot pink florals: Nothing says spring more than flowers and this season, look pretty in pink with this pretty floral manicure. The ladylike floral print with hot pink hues and pops of pumpkin orange create an eye-catching design perfect for the ultra feminine. To craft the flowers, simply dot on the polish to create the shape and top it off with a metallic silver dot in the centre. Apply a top coat for a glossy finish.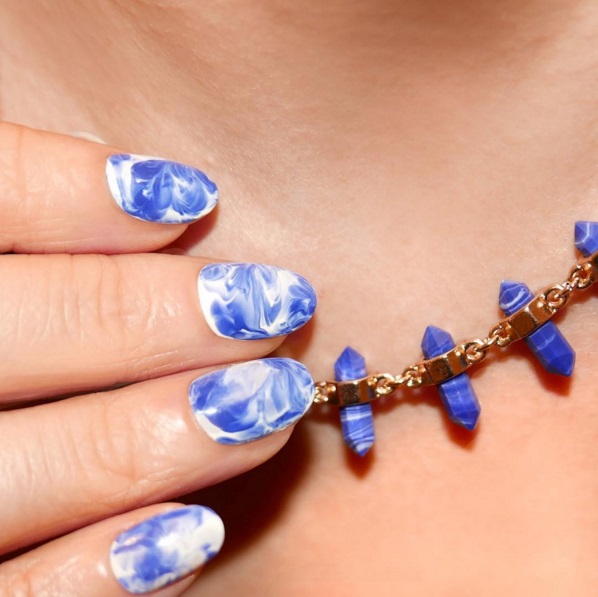 Photo: aliciatnails on Instagram
5) Royal blue marble nails: For a lavish touch, give your nails a makeover with this jewel-inspired marble nail design for a glamorous lacquer statement. The rich royal blue polish blended with the creamy white shade creates a stunning glaze pattern. To achieve this look at home, first apply a layer of base coat on your nails. Then, in a small glass bowl filled with warm water, add a couple of drops of the royal blue nail polish into the bowl then a few drops of the white polish and with a toothpick, simply mix the two colours together by lightly stirring the toothpick around to create the swirling design. Lastly, dip your nails into the bowl, removing the residue around the nails afterwards, and finish it off with a top coat.
---
---