Johnny Depp Self-Portrait Goes On Sale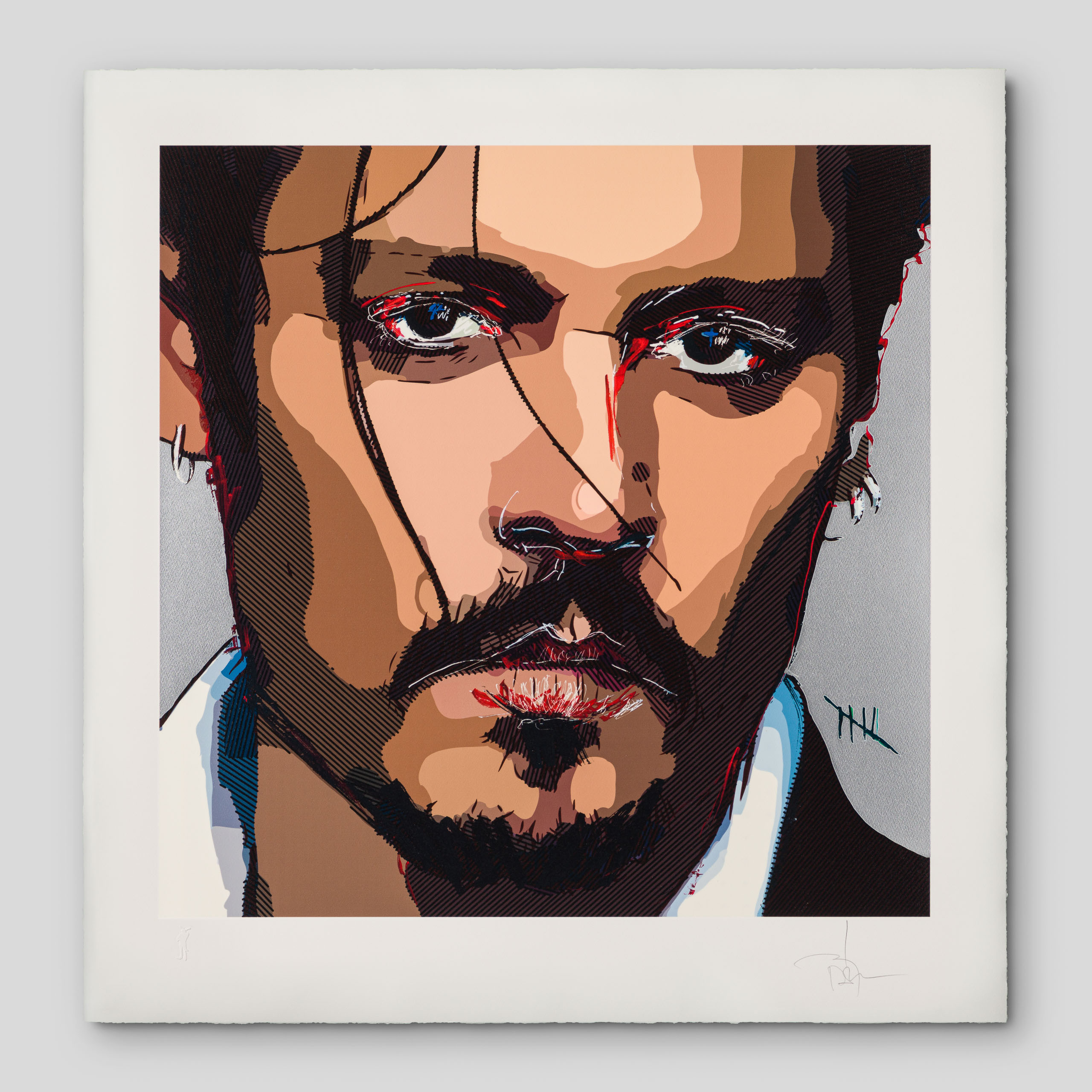 If you are looking for a piece of art that is part of pop-culture, you might want to take a look at this. Johnny Depp placed a self-portrait on sale yesterday that he started painting in 2021 while caught up in the middle of court cases relating to his marriage to ex-wife Amber Heard. Depp didn't complete the painting, called "Five", until earlier this year.
In a video that was released along with the painting the 60 year-old Depp said the painting was inspired by a photograph taken of him in 2015 when he was the face of a Dior menswear perfume. The painting itself  was conceived in 2021 in the studio of British illustrator Ralph Steadman. "That whole time, as much as it was painful, Dior stuck to their guns and that was incredible," Depp said.
Depp goes on to say that "This self-portrait, it was created at a time that was… let's say a bit dark, a bit confusing." He didn't finish it until just recently however because "I looked at it and I don't know why, I thought it needed something else. It needed further information… essentially I just wrote five on there cos I was just about to enter into the fifth year of the madness."
Depp of course married Heard in 2015 after a quick romance started on the set of the film The Rum Diary. It didn't last long however, as Heard filed for divorce a year later. Soon afterwards two nasty court cases followed. Depp lost the first case in Britain where he sued the Sun tabloid for libel after they called him a "wife beater". Last year however Depp won his defamation trial against Heard in the U.S and was awarded 10.3 million US dollars in damages.
Depp's self-portrait is on sale for a limited time on the Castle Fine Art website for $2500 Canadian. Castle Fine Art describe the piece as "Hand-signed by Johnny Depp, each artwork is made to order, uniquely numbered, and emboss stamped by hand with Johnny's personal mark of authenticity, The Bunnyman. The number of editions produced will be limited by demand during this time. This image captures the emotional exhaustion Johnny was feeling when he completed the artwork in 2021, as he was about to enter the fifth year of a very difficult period of his life. He added the "five" tally-mark annotation in recognition of this moment in time. The original reference for the art is a still from a shoot for Dior's 'Sauvage', directed by Jean-Baptiste Mondino. Johnny chose this particular image in honor of Dior and the loyalty they've always shown him. To Johnny, the image symbolizes the importance of truth and the steadfast support of those who remain close to you during challenging times."
Because the artwork depicts Depp when he was at his lowest, the Hollywood star has pledged that $200 from the proceeds of each sale will be donated to the non-profit organization Mental Health America.
"Five" the is part of Depp's "Friends & Heroes" collection, where he has painted portraits of Elizabeth Taylor, Al Pacino, Keith Richards and Bob Dylan. All have been sold by Castle Fine Art over the previous few years.
Photographic reference: Nathanial Goldberg on the Castle Fine Art website.
---
---