Fun Ways To Celebrate St. Patrick's Day In 2023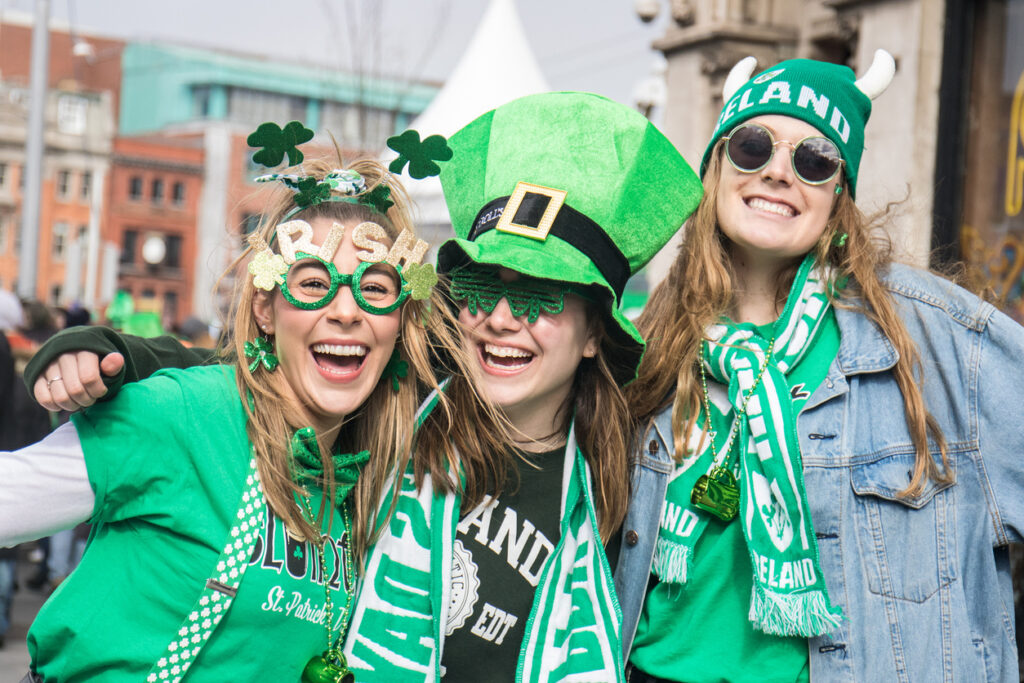 You know Spring is almost here when St. Patrick's Day arrives on March 17th. This year it takes place on a Friday, which means plenty of people will probably be skipping work and heading to a pub instead for a pint of green beer. While many people around the world celebrate the day, it's the Irish who have been observing it as a religious holiday for over 1,000 years. Traditionally they attend church in the morning, and celebrate the anniversary of the death of St. Patrick in the afternoon and into the evening. Interestingly enough, even though it falls in the middle of the Christian season of Lent, the prohibitions against eating meat and drinking are typically ignored as the Irish eat, drink and party the day away. Even if you aren't Irish, it's a good day to let you hair down and have a bit of fun as winter starts to wind down. Here are a few fun ways to celebrate St. Patrick's Day in 2023.
Prepare a Traditional Irish Feast: From the basics such as corned beef and cabbage, shepherd's pie, potato soup and braised greens, to the more complex such as soda bread, Irish stew, colcannon and champ, and black and white pudding, there are several dishes you can try making at home to celebrate St. Patrick's Day. The best thing of all, even the most difficult dishes to make are generally made with simple ingredients, giving your food that rustic touch most families enjoy.
Enjoy a St. Patrick's Day Parade: You don't have to go to Ireland to see a great St. Patrick's Day parade (although there is one in Dublin). Several cities around the world are known for them, from Toronto and Montreal in Canada, to Boston, Dallas and Chicago (who dye the entire river green) in the U.S., and London, Montserrat, Perth and Munich in other locations around the world, you are sure to find a parade near you to help celebrate all things Irish.
Make A St. Patrick's Day Shake: While finding a McDonald's shamrock shake is getting harder and harder to do each year, you don't need to rely on the popular fast food chain to have one. All you need is some mint ice cream, a blender and some milk, and you are off to the races. If you want to be fancy and include a topper, get yourself a shamrock shaped cookie cutter and use it to sprinkle some cookie crumbs or chocolate chips on top.
Wear Green: Tradition holds that if you aren't wearing green on St. Patrick's Day you will get pinched. Depending on who you ask, the location of that pinch can change. You don't need to go full out if green isn't your color, but adding a touch of it to your wardrobe is enough to show off your Irish spirit. Even if you don't go out, or are working from home, it's fun to get into the spirit of things.
Drink A Green Cocktail: While many people think of having green beer on St. Patrick's Day, there are plenty of other beverages you can enjoy. In fact all it takes it a bit of green dye to turn your wine, vodka martini, screwdriver or other cocktail green. And if you aren't into alcoholic beverages, the green dye works just as good in anything else you drink.
Wear A Four Leaf Clover: While finding a real four leaf clover in winter may not be an easy thing to do, there's nothing stating that it has to be found in a field somewhere. Buy a four leaf clover piece of jewelry, paint one on your face or arm, or dress in a clover-printed garment.  Be creative, and perhaps the luck of the Irish can be your luck too!
---
---