Unique Canadian Restaurants You Must Try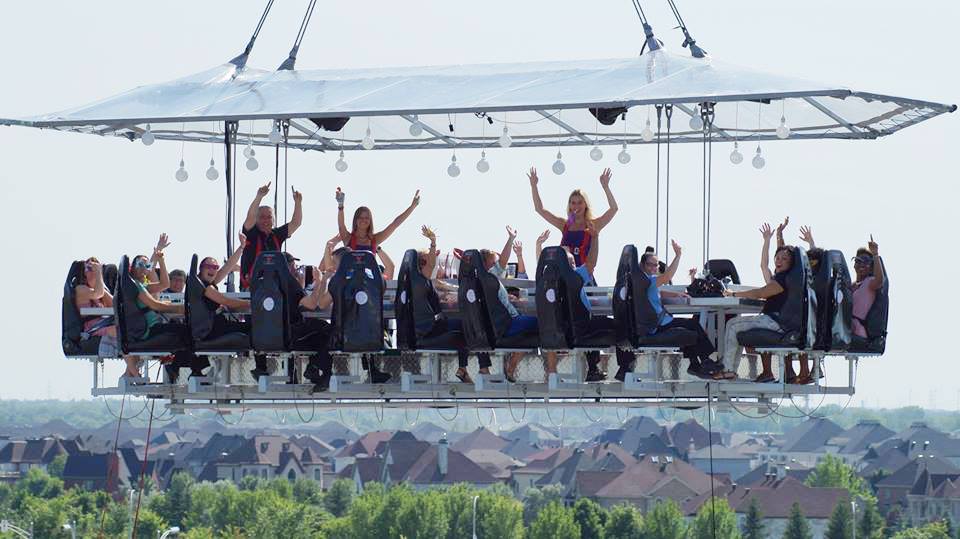 When you think of fine dining experiences you might automatically think of restaurants in the United Stated, England, France or Italy. Travel agencies offer culinary tours of these countries, and they are all well know for having multiple restaurants with Michelin stars. Canada isn't a place people automatically think of when it comes to culinary experiences, and until last year, the country didn't even have a single Michelin star restaurant. That doesn't mean however that Canada doesn't have a fine selection of unique restaurants you should try. No matter where you go in the country you will be able to find eateries with one-of-a-kind menu items in restaurants that offer unforgettable views, exceptional service and more. Here are some of our favourites.
The Diner Entre Ciel et Terre – Montreal, Quebec
Have you ever heard the phrase "strap in" before being served a five-course mean? Neither have we. The Diner Entre Ciel et Terre not only gives their guest a delicious, and expertly prepared five-course meal, but they hoist them 50 metres into the air to serve it. They call the experience "dinner between sky and earth", and while you can typically find it in Quebec, they offer pop up service across Canada. 22 guests, along with a chef, two waiters, their table, chairs and cooking area, are lifted by a 120 ton crane, to have a gourmet dinner. Now that's what we call a thrilling meal.
Dutch Drive In – The Pas, Manitoba
In the 50s drive-in restaurants could be found everywhere, but by the 80s they were all but vanished. Dutch Drive In never went away however. For over 60 years this Manitoba institution has been serving burger, fries, shakes, hotdogs and more. For those who remember drive-in restaurants it will feel like a blast from the past, and for those who don't, it's an experience they will be talking about for a long time to come. And don't worry, if you don't want to eat in your car, you can take your food to one of the nearby picnic tables.
Savour the Sea Caves: Ocean Floor Culinary Adventure – St. Martins, New Brunswick
When you think of the east coast the first thoughts that come to mind are probably the ocean, sea food, and coastal hospitality. For those who've visited the region they might even think about the incredible feelings they got from walking on the ocean floor during low tide. Savour the Sea Caves can do them one better. They offer the opportunity of sitting down for a five course meal on the ocean floor during low tide.  "The Kilted Chef," Alain Bossé serves his locally-inspired culinary creations to a communal table located in the St. Martins' sea caves, which are part of the Bay of Fundy. It's a once in a lifetime experience you won't want to miss.
Altitude Restaurant – Jasper, Alberta
If eating at sea level isn't really your thing, how about having a meal perched at the edge of an ancient ice field glacier? The menu is Canadian-inspired, including bison burgers, wild bore paté, smoked duck breast, and more, but it's the breathtaking view of the towering peaks of Jasper Provincial Park you are sure to remember for your lifetime.
O'Noir – Toronto,Ontario & Montreal,Quebec
At first you might feel a little off when entering O'Noir, after all there are no lights and you won't be able to see a thing.  That's the entire point however. The restaurant's goal is to create a better understanding of what it's like to live in a sightless world. They want you to experience what it's like eating with heightened senses, which their entire wait staff does each and every day.
---
---