Top 10 Romantic Things To Do With Your Loved One On Valentine's Day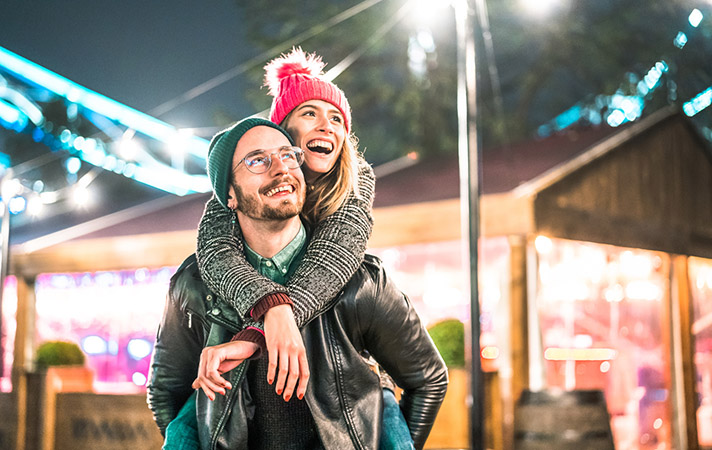 Valentine's Day is only two weeks away and while it's great to make sure your significant other or partner knows how much you love them, planning an exciting experience or activity on February 14 is a great way to truly show how you feel beyond the usual chocolates and flowers. Get creative and pull some inspiration from these Valentine's Day activities that make for creative and unique experiences your loved ones will definitely appreciate. Whether you want something super romantic, low key or you'd prefer to break a sweat and get outdoors, this list comes in handy.
Workout Together
Nothing is better than scheduling a day off together and putting in some exercise first thing in the morning. If a day off is not possible, at least enjoy getting your sweat on, go to the gym or on a run together. You can even sign up for a class and then go get coffee after.
Skate Date
While most people envision a romantic evening of candlelight dinners and romantic movies, you can never go wrong with doing something a little more active and much less expensive such as a skate date. You and your significant other can forgo the expensive, cliche Valentines Day activities and just skate, listen to music while sipping hot chocolate. This activity is not only great for couples but also great for families and group of friends who want to celebrate Valentine's Day together.
Cook up Some Romance
If you enjoy eating and cooking, why not incorporate both activities with a Valentine's Day cooking class? A great way to spice up your skills is to plan a romantic, private cooking class for a date night. For an even more fun and creative environment, consider large group cooking classes where you can enjoy the experience with other couples and friends. Cooking a gourmet dinner for your date is easily one of the most romantic date night ideas. You'll still be cooking for your date without the potential disaster in the kitchen and you can be sure the end result is not only edible but delicious.
Drive In Movie
Drive-in dates are often a double feature which makes them twice the fun. Enjoy an intimate date night in private and in the comfort of your own vehicle. Seriously, this is how to cuddle at a movie in a way that's socially acceptable!
Go to a Concert
A concert is a perfect place to enjoy some great music and quality time with your Valentine. Going to a concert is difficult to forget, it is also a great way to make happy memories. Seeing bands live and in action is like no other experience and it stays recorded as a great memory, even more so when shared. Watching a concert gives you the opportunity to enjoy your time together in an energetic environment while singing and dancing along to the songs.
Go Sledding
Squeeze in some time to bundle up and get those endorphins flowing with a trip to the sledding hill. Break out the old toboggan if you've got one or head to a tubing place that pulls you back up if you don't want to hike to the top each time. If you're up for a thrill, this is the perfect excuse to get close to your date. The best thing about going sledding is that it requires absolutely no prior experience. Just grab a sled, find a snow-covered hill, and you're all set!
Sing your Heart out with Karaoke
Got a karaoke machine? Sing your special duet song together. After all, science has proven that singing together with a partner helps bring you closer together. Whether you have a rocker voice or not, this is another date idea for Valentine's Day that would be fun to do even with a group of friends, especially after a few drinks!
Scenic Drive
Put together a road trip-worthy playlist and hit the road, even just for a spin around town. There's something about driving that gets conversation flowing. The best romantic road trips for couples are the ones that give you the space and privacy to focus on nothing but yourself, your partner and the open road. Get off the beaten path and get lost together. Couples who travel together form lifelong memories and share experiences that can bring them closer together – not to mention having a whole ton of fun with each other in the process.
Recreate your Favorite Date
Take a trip down memory lane by recreating your favorite date, whether that's the first time you went out together or the one where you really fell for each other. If you can't go to the same restaurant or location, get creative by cooking up the same meal at home.
Dine in, Drink Wine and Be Merry
If you are one of those couples who like it low key and don't really opt for the big gifts, flowers or chocolates in a traditional sense, this Valentine's Day idea is great especially for those who have young kids at home who just want to eat, drink and be merry, and part of this entails just having a quiet celebration at home. Let the dishes pile up, let the laundry basket overflow and let the children have take out for dinner if that means you both get a night to show yourselves how much you care for each other. Cuddle up and watch a movie and just be in the moment by focusing on eating great food, opening a bottle of wine and being merry! There is nothing wrong in acknowledging and accepting that your relationship has changed over time and for the better. It's no longer puppy love but a mature kind of love–where you and your partner prioritize your well-being and are just content to spend some quiet time at home.
Whether it's for Valentine's Day or any other simple day, there's always a good reason to show an extra bit of dedication to the relationship. We often fall into a routine and forget to appreciate our partner for all they do for us and how we feel about them. It's important to take the time to have fun and enjoy your time together.
---
---