Melanie Vogel Is The First Woman To Complete Coast-To-Coast-To-Coast Journey Across The Trans Canada Trail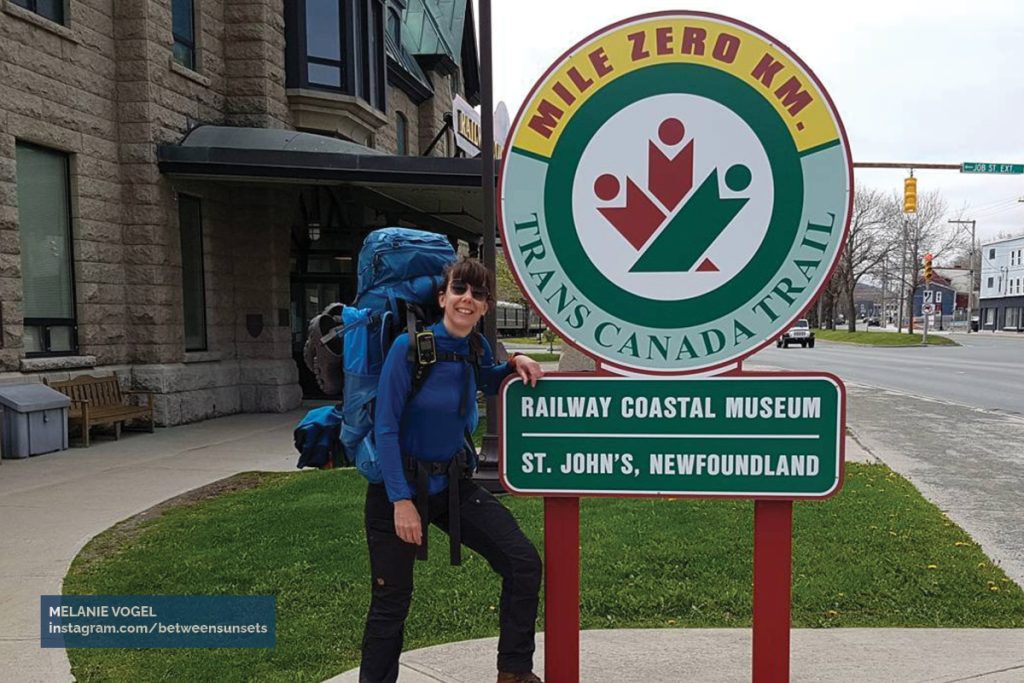 Photo: Trans Canada Trail
The Trans Canada Trail is a 28,000 kilometre trail that travels across the Canadian landscape, linking three oceans and 15,000 rural, urban and Indigenous communities. It's the longest recreational trail in the world, connecting the country from one end to the other across a vast variety of terrains.  To see it all seems almost impossible, and to travel it twice an epic no one could accomplish. Yet on Saturday, November 12, that's exactly what German-born and raised hiker Melanie Vogel did, becoming the first woman to make the coast-to-coast-to-coast journey on foot.
Vogel's unplanned, spontaneous journey started five years ago in June 2017, in Cape Spear, Newfoundland, and if not for the travel restrictions created by the pandemic she would have finished it a year and a half ago. Before her journey Vogel's longest hike had been a 10-day adventure in Nepal, which was nothing in comparison to the 20,000 km of land routes she walked across Canada. It took 26 million steps to accomplish, through weather of all four seasons. While she started the hike alone, she adopted a lab-husky named Malo while in Manitoba, who became her lone companion.
"When I set foot on the Trail in Newfoundland, I had no idea or expectation of how this walk would unfold. I did not know that kindness and my connection to nature and this land would become such major talking points," Vogel said in a press release. "People stepped up when support was needed: the repair of gear, an invitation to stay at someone's home to rest up, a sandwich handed through a car window, encouragement from afar, or sometimes just a simple hug or high five on the roadside. Those moments and the stories we shared have shown me the true soul and spirit of this country."
While she may have travelled alone, Vogel never really was alone. Her journey was followed by dedicated followers and supporters, who read about her highlights and challenges on her website  www.betweensunsets.com, as well as on her social media channels. They helped motivate her to continue going, even though she admitted in 2018 that the hike never seemed to be too much for her. She hopes that her stories she tells online, including geographical, cultural and historical facts and anecdotes, help inspire people to explore the outdoors more and live a more eco-friendly and sustainable lifestyle. Especially women.
"There exists a barrier for women to explore the outdoors on their own," Vogel said. "I wanted to be someone women and young girls can relate to: a city girl who set out on an adventure to reconnect with nature. I shared my experiences and emotions honestly and I talked openly about my failures and what I learnt from them, and shared moments of fears, and how fear finally moved to the back of my mind the more time I spent in nature. Nature invites you to push past your comfort zone, and it made me happy when I received messages from women who felt encouraged by my walk to push theirs a little further."
Vogel was aware that she needed to be prepared and cautious, but she also has a message for her followers. "My message is this: Just go," she said. "Go at your own pace and capabilities. Go and fully use your senses. Explore, discover and connect to nature."
Now that her journey is over Vogel said she is "excited to start new projects and to see family and friends back in Germany after all these years," but admits she is also "anxious as I do not feel prepared for my return to society." Still those feeling will fade, and Vogel will become a part of Canadian history for her historic achievement. She'll be honoured alongside B.C. filmmaker Dianne Whelan who in 2021, became the first person to complete both the land and water routes of the Trans Canada Trail, and Sarah Jackson who completed an east to west journey on the Trail in 2017.
---
---