Worst U.S Airports For Flight Cancellations Last Week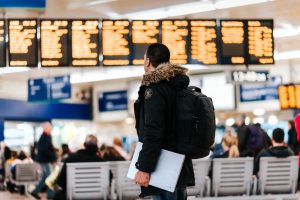 It's no secret that air travel around the world has been impacted in 2022 by a variety of factors including labour shortages, Covid-19 illness and more. It's beyond frustrating to plan a trip only to have your flight delayed or worse, outright cancelled.
According to Forbes, the surge in demand, with inadequate resources to support it, has resulted in thousands of flights delayed or canceled this summer. By July, more flights had been canceled this year than all of 2021. If you're traveling soon, it's helpful to check how your departing airport or chosen airline is stacking up in terms of delays and cancellations. Forbes Advisor compiled data from FlightAware to give travelers an idea of what to expect as they head to the airport. See below for the list of the U.S. airports that saw the most flight cancellations last week.
LaGuardia, New York
Newark Liberty International, New Jersey
St. Louis Lambert International, Missouri
Raleigh-Durham International, North Carolina
Reagan National, Virginia
Cleveland-Hopkins International, Ohio
John F. Kennedy International, New York
John Glenn Columbus International, Ohio
Boston Logan International, Massachusetts
Cincinnati/Northern Kentucky International Airport, Kentucky
---
---