Banksy Is At It Again, This Time On The London Underground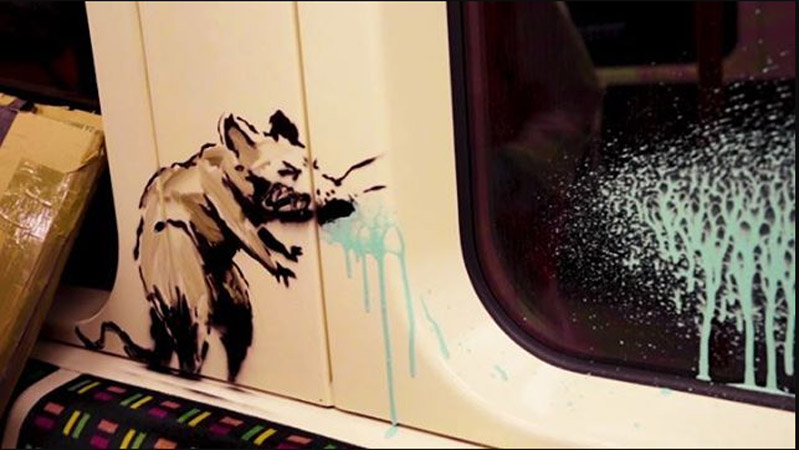 There has been a lot of debates going on about the effectiveness of wearing a mask, and whether or not people should be forced to wear them, and now celebrated graffiti artist Banksy has entered the debate.
Banksy's latest is a mask-themed work on a London Underground train, and has images of surgical face-masks and hand sanitiser, and the artist's iconic rats who don't really seem to get the point of it all. The video posted on his Instagram page has Banksy, himself wearing a mask while dressed as a member of the cleaning crew, board a train and start stenciling his work at one end. The rats he paints are using the masks as parachutes and shooting out the hand sanitizer at one another. One rat is even sneezing, with his spittle going across the window. Banksy also paints his name across one of the doors. At the end of the video you can see the words "I Get Locked Down" and when the door closes is states "But I get up again", while the Chumbawamba hit song from 1997 Tubthumping plays in the background.
The video is Banksy's social commentary on the government of England changing it's approach to making face covering compulsory in shops. Right now the debate is going back and forth, with no clear direction on if it will happen or not. At the moment it looks like it will be the case on July 24th, but it could change again. Face coverings are required on all public transportation in England though.
You can watch the entire video below:
Picture: Banksy Instagram
---
---
SUBSCRIBE NOW
Free to join! Get the hottest fashion, beauty and celebrity news, enter exclusive subscriber giveaways and be the first to receive the full digital version of REAL STYLE magazine.
JOIN NOW!