Prince Edward County Is A Hot Ontario Getaway This Summer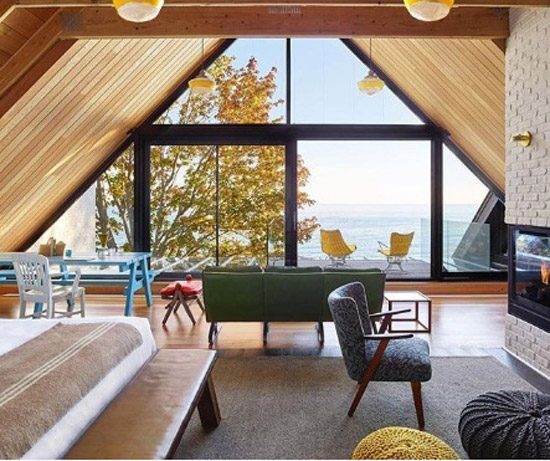 Photo: drakedevonshire on Instagram
If you're looking for a weekend escape from the city, then Prince Edward County is the perfect place for you and your significant other, family or even your group of close friends to get away from the city limits . Located on the shores of Lake Ontario, Prince Edward County offers vineyards, fine dining, and romantic accommodations. Retreat to this quaint Canadian county to embrace the summery temperatures in the weeks ahead, all while exploring the lake, art installations, and local farms. Real Style has curated a roundup of local hotspots in Prince Edward County, for anyone planning a summer getaway to this scenic, restful part of Ontario.
The Drake Devonshire
This all-season boutique hotel offers 13 uniquely decorated rooms and features art installations as well as cultural programs and events. This beautiful and peaceful hotel situated by the lake perfectly blends the old and the new. The restaurant, the Drake Commissary, incorporates local ingredients into its menu to create high-quality dishes for hotel guests. Rooms range from approximately $389.00 to $1,439.00 a night.
The June Motel
The June Motel is fairly young as it only opened last year, yet it has quickly become a popular place for visitors. This lodge is easily recognized by its bright pink doors and is located along the Loyalist Parkway. The motel offers yoga classes, breakfast, and a wine studio for guests. There are 7 different packages to choose from, which start at $205.00 a night and go up to $385.00 a night.
The Lighthall Vineyards
This young winery is one of Canada's first to make both wine and cheese under the same roof. It is well known for its Pinot Noir, Chardonnay, and sheep-milk cheeses such as brie and Manchebo. Spend the day touring the grounds, wine tasting, and munching on cheese to accompany your vino.
Public House at Jackson's Falls Country Inn
This restaurant is located inside a rustic 1870s one-room schoolhouse and claims to offer a seasonal menu of vegan, vegetarian, and gluten-free options from Friday-Sunday. The menu is First Nations-inspired and incorporates locally grown produce. The Public House also offers local brew on tap, that might just help you wash down the local eats after a long day of exploring the region.
County Cider Co.
This restaurant provides diners with spectacular views of the lake and award-winning cider collected from over 16 hectares of apple trees. County Cider Co. is also appraised for its lamb burgers and wood-oven cooked pizzas. Visitors can enjoy cider on the patio with a view of the 1830s barn on site.
Andrew Csafordi Studio Gallery and Love Nest Studios
Encaustic art, which is made from heated beeswax mixed with pigments and painted onto wood or canvas, is beautifully displayed in a barn in Andrew Csafordi's Studio Gallery. The studio also offers guided workshops open to those with little to no artistic experience and those who are highly skilled. Love Nest Studios is located on the same property and is also owned by artist Andrew Csafordi and his wife. Love Nest also features more encaustic art, as well as some other pieces. These two studios are located in Bloomfield, which is just outside Prince Edward County.
---
---
SUBSCRIBE NOW
Free to join! Get the hottest fashion, beauty and celebrity news, enter exclusive subscriber giveaways and be the first to receive the full digital version of REAL STYLE magazine.
JOIN NOW!