"Home To Win" Host And ET Canada Reporter Sangita Patel Talks To Real Style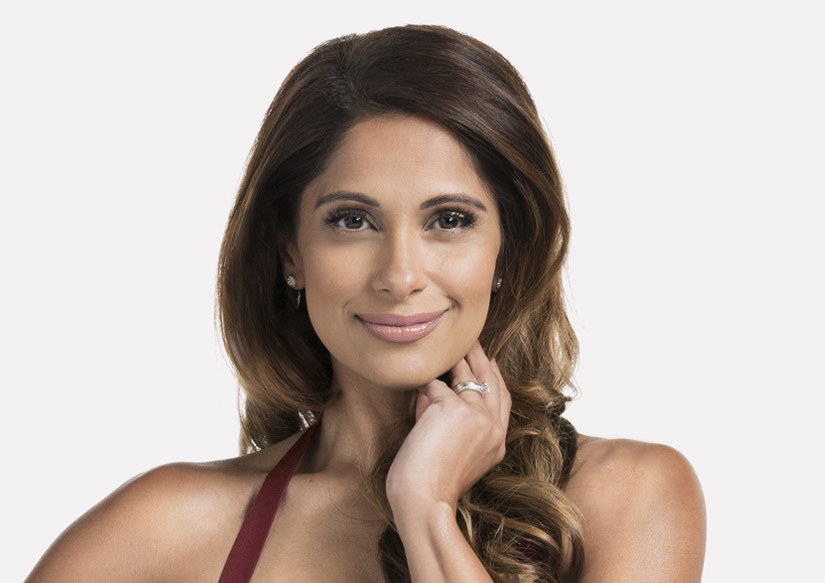 Photo: ET Canada Reporter Sangita Patel
You may recognize Canadian TV personality Sangita Patel from ET Canada, which airs on weeknights at 7:30 p.m. ET/7 p.m. PT on Global. The gorgeous and bubbly Patel can usually be spotted reporting from the red carpets, clad in some manner of elaborate frock created by a local designer. However, her latest venture is a bit different from the glitz and glamour of ET Canada, and brings her into the world of home renovation. Patel is the host of HGTV Canada's Home To Win, which just started Season 3 on April 29. The show airs every Sunday evening at 10 p.m. ET/PT on HGTV Canada, and brings viewers a team of home experts who design a million dollar dream home for one lucky family.
As for Patel herself, her journey into television started unexpectedly, once she had already trained and worked as an engineer for a few years. We spoke to the Toronto native and mother of two all about her new gig hosting Home To Win, her work with ET Canada and why she is proud to be Canadian.
Real Style: What can you tell us about Home To Win?
Sangita: Home To Win is such a wicked show. I get to host a show with some of the biggest talents on HGTV Canada and HGTV. They are all so professional, and I've become friends with all of them. I'm very lucky and blessed to have met them. Then in the last episode, I'm there as a host, I have an earpiece inside, my director connects with me and tells me who the winner is. To be able to deliver a line to a family and say "Yes, you won this million dollar house," I can't even tell you the feeling of being able to give that house away. That moment is real, and raw. Here we are on Season 3, we are shooting the finale in June.
Real Style: As the show's host, do you have any personal favourite looks in interiors or home design?
Sangita: I remember in the first season after working with them for a few episodes, I went back to my house and I was like "Okay, I need to do this, and this!" You get all revved up to do it. I've been really inspired, but I realize how hard it is to do what they do. You really need an eye. I keep my house very simple and fresh, like a cottage feel and very light colours. I want it to feel like a spa and relaxing.
Real Style: You've worked with some big HGTV stars, like Paul LaFrance. How was this experience?
Sangita: They are the best people in the world. I cannot tell you how incredible they are. They are the sweetest people, so professional, and I've made some really good friends with Sarah Baeumler, Danielle Bryk and Mia Parres. Even the guys- Bryan Baeumler, Scott McGillivray, Jonathan and Drew Scott- I'm blessed that way, there hasn't been a diva on set.

Photo: The all-star cast of HGTV Canada's Home to Win, Season 3
Real Style: With ET Canada and Home To Win, you're very busy. Do you have anything exciting coming up?
Sangita: I live for the moment. I do health and fitness on my Instagram and who knows where that can go. Inspiring women, and people in general, is important to me.
Real Style: You've been spotted wearing Canadian designers for years. Do you have any favourite names in the fashion industry here?
Sangita: I have a great stylist at ET Canada. [Designers] Stephan Caras and Greta Constantine, we are such supporters right off the bat and the designs are incredible.
Real Style: You're known for your philanthropy! What charitable initiatives are you currently involved with?
Sangita: Two years ago, I went to Haiti for Artists for Peace and Justice, and that was for work. Right after I got back from there, a woman contacted me through my website, and she was the ambassador for the ONE Campaign. The ONE Campaign started with Bono from U2, and he started the (RED) Campaign as well, that is part of Oprah. Malala Yousafzai is part of it, so this is a big campaign that has developed in the U.S. But then they started tapping into Canada, so they asked myself and George Stroumboulopoulos to become the ambassadors for the ONE Campaign in Canada. What they do is truly incredible, in terms of raising funds for international places where they need money. It's not really going door to door and asking for charity, it's more saying to the Canadian government, "Listen, we need to invest this amount in charity."
The campaign we are working on right now is called Poverty is Sexist, and we are trying to get 135 million girls into school into the next four to five years. This trip to Tanzania will show us where the money has gone, in terms of the infrastructure.
Real Style: You're also a mom to two young girls. How do you balance your family life with career?
Sangita: We went to Nicaragua for a family trip, so I got my whole week with them. I tried to put my phone down and just be with the girls. When I do have the opportunity to be with them, I'm with them. I have a husband who is just so spectacular. He is my best friend, and he is just an amazing father who is just on top of everything. We have help at home too, when I need it. I miss my kids, and I find them to need me more as they get older, so it's a bit tough.
Real Style: What makes you proud to be a Canadian TV personality?
Sangita: I love our country. To be a South Asian woman in a business like this is insane. I've dealt with racism, sexism and prejudice, and I've gone through all that. But I'm still able to do what I want to do, which is crazy. For me to have that opportunity, I am going to celebrate Canada.
Photo Credits: Corus Entertainment
---
---
SUBSCRIBE NOW
Free to join! Get the hottest fashion, beauty and celebrity news, enter exclusive subscriber giveaways and be the first to receive the full digital version of REAL STYLE magazine.
JOIN NOW!