Dig Into These Vegan Cookbooks For Spring 2018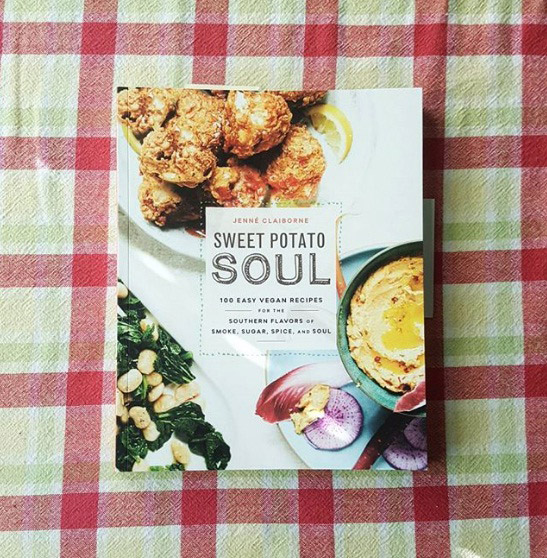 Photo: black_and_vegan on Instagram
With just a few weeks left of winter it's time to hit the re-set button and re-introduce some fresh, green foods into our diets. With all of the heavy and hearty meals we eat during winter, Spring 2018 is the perfect time to cleanse our bodies as we prepare to head outdoors. As the natural beauty empire takes over, vegan recipe collections continue to rise. From re-inventive comfort food to dishes meant to satisfy your guests, these cookbooks are guaranteed to make wholesome eating that much easier.
Sweet Potato Soul: 100 Easy Vegan Recipes for the Southern Flavors of Smoke, Sugar, Spice, and Soul
Making its debut earlier this month, Sweet Potato Soul is author Jenné Claiborne's take on Southern inspired vegan cooking. Atlanta born, Claiborne grew up indulging in classic soul food—fluffy biscuits, smoky sausage and her Nana's famous sweet potato pie.As a chef, she spent years experimenting with plant-based, glowy foods with the flavour and depth of soul, in order to recreate these Southern basics with a vegan twist. The outcome: the now 100 vegan recipes that are showcased in her cookbook. Using fresh, local ingredients Claiborne offers a broad assortment of dishes including Fried Cauliflower Chicken, Jalapeño Hush Puppies and Coconut Collard Salad. Full of nutritional benefits and plant-based superstars, these revamped recipes claim to be good for health, heart and soul.
Hot for Food Vegan Comfort Classics: 101 Recipes to Feed Your Face
Set to be released February 27th, YouTube sensation Lauren Toyota offers a bold collection of over 100 recipes where the world of comfort foot and vegan cooking collide. Determined to show readers that one never has to hold back, Hot for Food is a fun take on the vegan diet – with saucy, sweet and sometimes even deep fried. In her signature humorous voice, Toyota shares new ways to make Philly Cheesesteak, Fried Chicken and Mac 'n Cheese all with simple and clean vegan ingredients. The outcome is crave-worthy food made for sharing at weekend brunches, weeknight dinners and more.
Chloe Flavour: Saucy, Crispy, Spicy, Vegan
The much celebrated vegan chef, Chloe Coscarelli, makes her anticipated return to the cookbook world with 125 recipes that focus on simplicity. Hitting stores on March 6th, Chloe Flavour is meant to present new approaches to veganism with revolutionized dishes such as Maple Bacon Benedict, Hawaiian Teriyaki-Pineapple Burger and Cajun Jambalaya with Scallion Biscuits. Vegan since 2004, Coscarelli is here to prove that vegan can still be mouthwatering. Playful, colourful and tasty, her dishes are said to make carnivores question their love for meat.
---
---