The Head Master
In our winter 2013 issue of Real Style Magazine, we had the privilege of having Hilary Alexander interview Irish milliner, or hat designer, Philip Treacy. The interview is just as relevant today as it was then, so we've decided to repost it in it's entirety.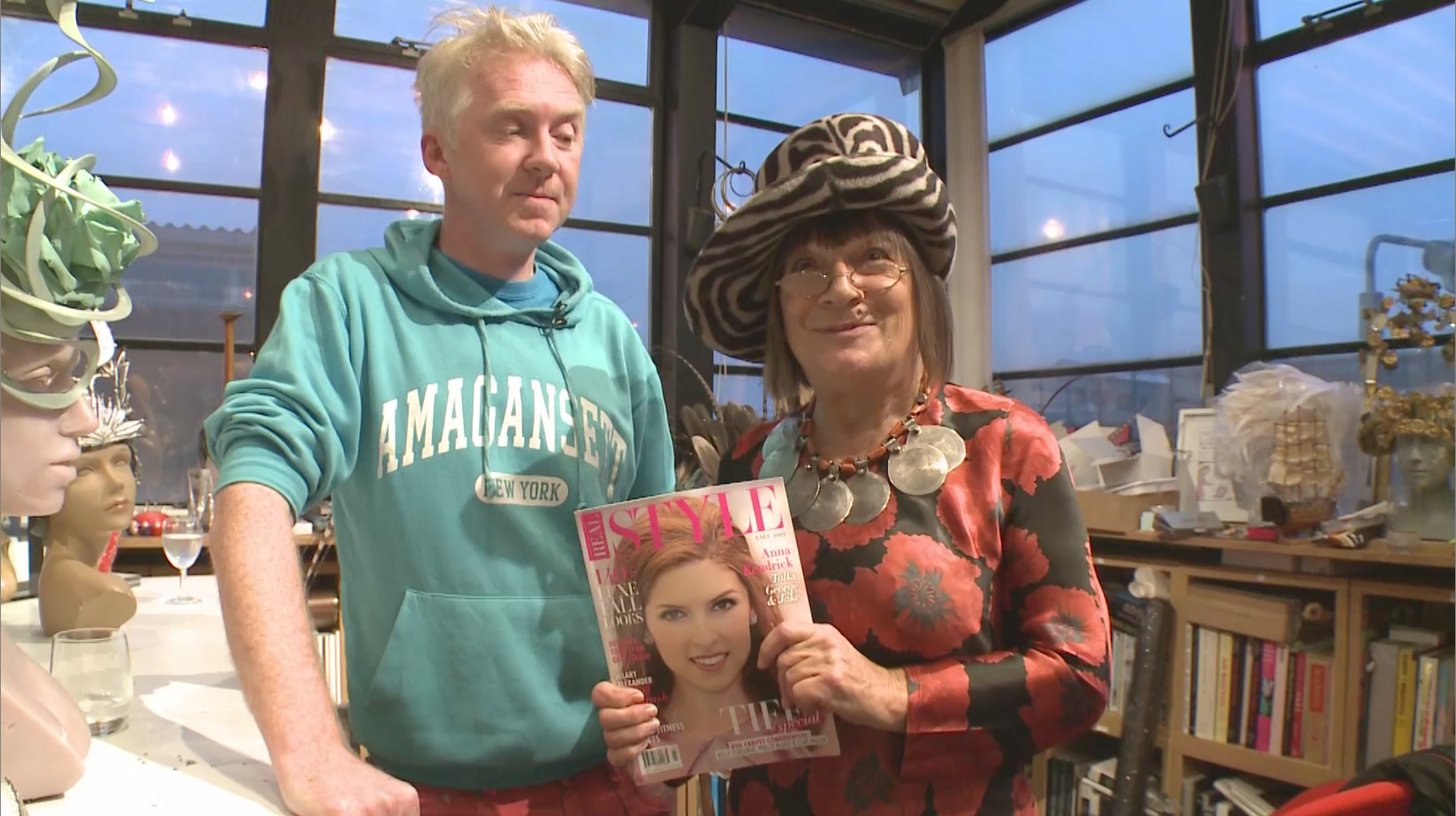 Hot on the heels of Philip Treacy's triumphant return to the runway after a 12-year hiatus, Real Style Fashion Correspondent Hilary Alexander met up with the world famous hat designer in his studio in London. From what Kate Middleton's style has done for the hat world to his love for Lady Gaga, nothing was off limits in Hilary's exclusive interview with Philip.
We've known each other for quite some time.
I met you 25 years ago when I was a student and the Royal College at the ICA. You've seen all the hats over the years. I like hats that are an event. I've been lucky to work with the most incredible designers in the world. When I met you, I was a student looking at these designers in the library, and then the following year – two months later – I was working with Karl Lagerfeld at Chanel. I didn't know whether to call him Karl or Mr. Lagerfeld or sir. It was a little intimidating because I started to work with all those people very quickly, and previously I was looking at them in a library book. It was a little alarming at 23 to find yourself standing in front of them at a table surrounded by Herb Ritts, Anna Wintour and all these people, and Karl Lagerfeld saying, "Um, what about clouds?" And I was like, "Okay."
For many seasons, I didn't know what to say to him, but then after a while I began to understand that he is fantastic, and he is the opposite of how people expect him to be. I learned a lot from him. I've been lucky to have worked with some of the greatest fashion entertainers of our time from Valentino to Karl Lagerfeld to Armani to Ralph Lauren – icon designers.
How did you come to meet Lady Gaga?
Lady Gaga appeared on the scene a couple of years after Isabella Blow died. I remember watching her on TV one night and she alarmed me because I thought, if Isabella had been a pop star, she would have been like her. It was the way she was dancing with the piano, because Isabella used to dance like that. She was wearing a little boa in her hair, and then a few months later she started to wear hats. It was alarming to look at these pictures because I thought, it's Isabella! She's the pop version – the commercial face of Isabella Blow – and there was nothing commercial about Isabella. She didn't like the word "commercial" and wasn't interested in the word "commercial." Isabella preceded Lady Gaga from that perspective because Isabella dressed for herself; she didn't dress for other people.
And she also loved to take risks.

Yes, and she thought fashion was entertaining. So Lady Gaga is sort of the successor to Isabella Blow. I was a bit intimidated by her initially. She indirectly started borrowing hats through stylists, and I'd see her at awards shows in them, and then one day she came to London and she said she'd like a hat made. I started to work with her from then on because I liked her. She's very talented, and she's also a very sweet person, and usually entertainers aren't.
She opened the show you did at London Fashion Week.
Yes. I didn't ask her to – I mean, I was delighted she did! She said, "I'm wearing a brown wig, and I'm channeling Isabella." She was fantastic. She entertained everybody backstage in a very fun way. It was a trip that she was wandering around in Isabella's burka. It's fun to work with icons. I have a very broad customer list. It's a very long distance between Prince Charles and Lady Gaga, but they still both like hats.
What was the inspiration behind your last show?
My idea was "African." I have many different customers, but I noticed over the years that white women, they look in the mirror and they go, "Do I look okay?" And black women look into the same mirror and they think, "I look great!" I liked their attitude, and so I was going with a sort of African sense of exuberance and dressing up and how they're not apologetic about it. I developed an idea for an African show, bought African tribal music from the internet and then when I got it, I found it a little bit folky. It wasn't what I was expecting. I love Michael Jackson, and I was playing him one evening and "The Way You Make Me Feel" came on, and I thought, that's tribal African! Then I have these friends who do celebrity auctions in Los Angeles. I knew that they'd worked with Michael Jackson, so I called them up and said, "Is there any possibility that I could borrow one of Michael Jackson's gloves?" And they said, "Actually, we're selling all of his clothes. Would you like them?" I said yes because I love Michael Jackson. He was the ultimate entertainer of the 20th and 21st century. He had it all: image, talent, he could dance, he could sing.
A wonderful sense of style…
Original sense of style. Nobody looked like him. I learned from these people that he had his own personal couturiers, so that they could only work with him for 25 years. They made everything – shirts, trousers, whatever he wanted! It was beyond Marie-Antoinette. The clothes arrived, and they were like an energy. We built this room in the basement because we had to get so much insurance in case somebody ran off with it all.
That has to be worth millions!
Yes, £10 million. They were in this room. We had them for a month. Occasionally, when I'd go through the room, there was just like a ray of pop relics. They were instantly recognizable clothes that you'd seen a million times in a million different magazines.
Did you feel Michael's spirit was coming through?
I felt there was energy from these clothes because we've all seen old clothes or costume clothes, and they seem so remote because it's so long ago. I like that you get a sense of somebody, whereas these clothes had his makeup on them, his perfume on them. His Billy Jean trousers that he performed Billy Jean in. His gloves covered in Swarovski. It was interesting. They were unusual these clothes because they were jumping. I thought about doing the show – just black girls – but we couldn't tell these girls that these were Michael Jackson's clothes in case they started Twittering it to people. When they found out they were the clothes, some of the girls were crying. He's a fantasy character, Michael Jackson. He's not real.
You've done hats for Sarah Jessica Parker – the amazing one she wore to the London premiere of Sex & the City.
Yes. She has a different license than most celebrities because Sharon Stone pitching up in that hat isn't really saying anything, but Sarah Jessica Parker can get away with it. It matched her — her persona on her program was extra as well. She can get away with more.
What did you do for the Harry Potter movies?
For the Harry Potter movies I made various hats for the Beauxbatons. One day it's Harry Potter, one day it's a mom going to her child's wedding, one day it's Armani, one day it's Lady Gaga, one day it's a Royal person, one day it's a collection – it's varied.
Speaking of Royal persons, how did you cope from the fallout from the famous "pretzel hat" that went viral?
The thing is, I love Andy Warhol. I viewed it from Warholian perspective. It's pop culture. I couldn't really sit at home crying. If they didn't like it, they didn't like it. It doesn't work like that when you make things. It is what it is. It's the most famous hat in the world… and nobody died.
Do you think the Duchess of Cambridge, Kate, has had a big impact on hats again?
Of course, because Royal women have always helped hats, especially young royals, because they are the new ones, and she looks fantastic in hats. The Royal family have kept hats alive in the imagination of people all over the world. They are actually responsible for that sense of wearing a hat at an ultimate moment because part of their role is an aspirational one for the public.
So after 25 years, Philip, what still has to be done and what's next?
Every day brings a new project – a new project, a new torture, but I love it, and I'm in fortunate position of being able to influence how people see hats in the 21st century. When I met you first when I was a student, people would say, "Why are you making hats? Old ladies wear hats these days." I thought that was ridiculous. Everybody has heads, everybody has the potential to wear a hat one day. I'm preaching hats worldwide. Every time we make a hat, I'm trying to say, "Hats are okay! Hats are good!"
---
---