The Fashion Industry Takes A Hit During Pandemic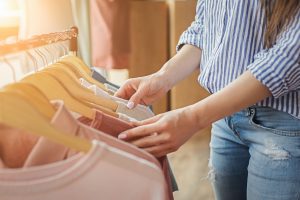 The fashion industry has taken a tremendous hit this season due to Covid-19. With all non-essential retail closed, fashion brands and retailers themselves have been forced to make due online with varying degrees of success. High end merchandise has also taken a backseat to casual clothing/leisurewear.
CBC reported that Army & Navy is closing its department store chain after more than a century in business, Reitmans Canada has warned it could fail without financial help, and international chains like J. Crew, Neiman Marcus and Aldo have all filed for bankruptcy protection. But retail is only the tip of an industry that extends to fashion designers, apparel manufacturers, textile producers and even agricultural operations, says Lori Moran, a recently retired University of Alberta professor who was assistant chair of the human ecology department."The industry really is facing dire consequences, not just for retailers but for all the people who produced those products that fashion retailers sell," Moran told CBC Radio's Edmonton AM this week. "There are millions of workers not having their jobs, factories that won't be open. There are major losses occurring for one of the world's biggest industries. And fashion retail is really just part of that."
With some provinces beginning the process of re-opening their economies, its likely that many fashion retailers will see a boost in businesses, but its too soon to say how the year will pan out for the industry.
---
---