Designer Monique LHuillier On Her Lasting Marriage With Fashion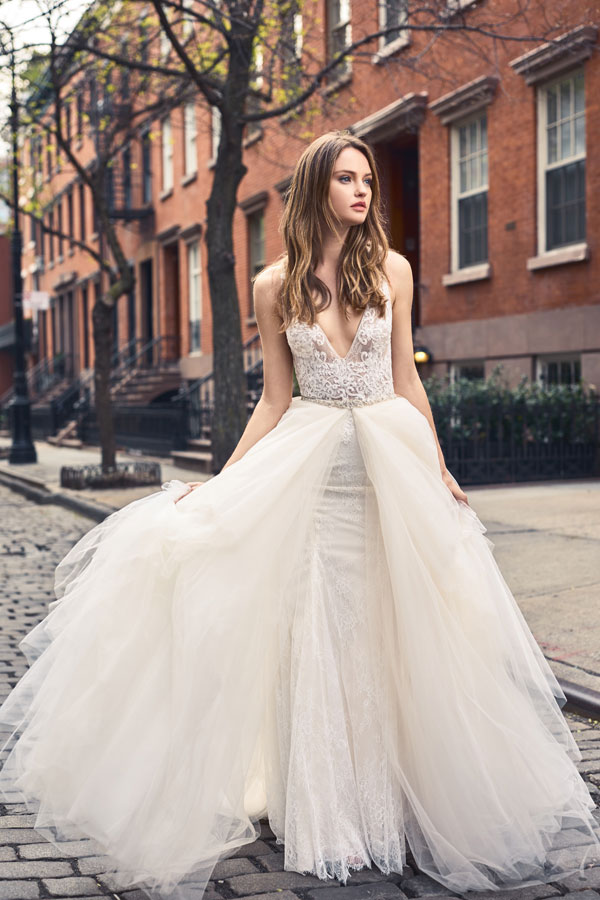 This article originally appeared in the Summer 2017 issue of Real Style magazine by writer Heidi Hofstad under the title Like A (Bridal) Boss. Become a Real Style subscriber and get the hottest fashion, beauty and celebrity news, enter exclusive subscriber giveaways and be the first to receive the full digital version of Real Style magazine every month. Click here to subscribe for free!
Let them eat (wedding) cake! Slicing through more than two decades in business, designer Monique Lhuillier's eponymous label, which started in 1996, is coming up on 21 years. Known first-and-foremost for dressing celebrities for a stroll down the wedding aisle or on the red carpet, the designer continues to expand her fashion empire into a global lifestyle brand. With bridal, ready-to-wear, accessories, tabletop, home fragrance, fine paper and collaborations with Pottery Barn Kids and, most recently, Essie—on a bridal-inspired line of nail polish (hinting at future opportunities in the beauty biz)—Lhuillier has kept us engaged (pun intended) since making dresses for her own wedding party, which launched her career in the fashion industry.
"I had nine bridesmaids and the mothers on both sides. People really liked the dresses and started asking me to do dresses for them. I decided there was a void in the market," reflects Lhuillier on how her career took off. "But I didn't set out to start in bridal—it just happened that that was where I was in my life. When I got engaged, I had graduated from design school, and looking for a dress put me in that direction," she says.
Unveiling her Spring 2018 bridal Bliss collection at Carnegie Hall during New York Bridal Fashion Week, Lhuillier kept fans and fashion types swooning over tulle, Chantilly lace and chiffon. "I'm still so passionate about what I do. For me one of the most invigorating parts is right before my fashion show begins—seeing the lineup of the girls, I still get butterflies in my stomach," she says. Her signature bejewelled embellishments and intricate embroidery added the finishing touches (and in some cases a little sparkle) to each gown. Case in point: floral motifs and a chandelier-like cape made of strands of pearls and jewels that delicately hugged a model's shoulders kept the overall feel traditional, yet on-trend.
"Since I've been doing both [bridal and ready-to-wear] I think my bridal collections are stronger; the reason being that when I'm working with whites and ivories I'm excited again, because I've had my colour palette and I've had extreme openness to just be free and create. You know, bridal has more limitations; you're dealing with limited colours and a traditional aesthetic with a little twist, whereas ready-to-wear I can just run free," Lhuillier says.
For the Spring 2017 ready-to-wear collection, Lhuiller dipped into her archives for inspiration, reworking past highlights into present outfits of the day. Pastels reigned with minty green, pale pink, lilac and blue seen throughout. A floral lamé jumpsuit and sheer pink gown with a sweetheart neckline and tiny, silver heart embellishments confirmed that spring had sprung feminine and flirty. For this year's Golden Globe Awards, Drew Barrymore slipped into a silver and white, cut-out shoulder, sparkly sheath dress from this very collection. "I dress my woman from earlier in the day to evening. There are a lot more separates in the line. There's outerwear, handbags, fur, cocktail dresses, beautiful statement blouses—there's something for everybody," she says.
After catching the attention of the who's who of celebrity, including Emma Stone, Sandra Bullock, Anna Kendrick, Taylor Swift, Reese Witherspoon, Jessica Alba and Demi Lovato, Lhuillier is still able to choose a standout look. "I have to say, when I dressed Michelle Obama multiple times throughout the White House years, I felt that was a highlight of my career," she confesses.
Making it in La La Land has certainly been a reality for the Philippines-born, Los Angeles-based designer—of course, her name written on clothing labels, rather than in lights. "I think one of the highlights in the beginning was after year three, people started to say my name right. I knew we were on to something," says Lhuillier, laughing. In 2000, the first retail store opened in Beverly Hills, followed by a second boutique in New York.
Husband Tom Bugbee is the chief executive officer of the company. The pair met while Lhuillier studied Fashion Design at the Fashion Institute for Design and Merchandising. They now have two children: Jack, age 11, and Sophia, age 7. "We didn't start our family until 10 years after we were married because our first child was our company. Once it was rooted, that's when we decided to bring children into this world, so we could manage it more and be more present," she shares candidly.
On working together all day with her significant other, Lhuillier concludes, "It's not for everybody, but the reason it's worked for us is because we started this company together very young—I was 23 and he was 24—and we really have different strengths. I graduated from fashion school and was always creative, [whereas] he graduated from business school…so we have totally different expertise."
From haus to home, Lhuillier feels that L.A. has afforded an appealing balance of work and family life. But, starting out, the choice to keep the business on the West Coast, instead of uprooting to New York City, took careful consideration.
"Twenty years ago, L.A. was not as fashionable as it is today," Lhuillier reflects before fast-forwarding to now. "There is a lot of opportunity here, but everything is so spread out—there's nothing centralized—so we all do our own thing. In New York there's a lot of crossover with everyone being in the city and you have the Council of Fashion Designers of America (CFDA) that keeps everyone involved," she says. "[But] there's so much inspiration here and so many talented people—not only in fashion, but also film, and contemporary artists. It's a very exciting time in L.A."
Lhuillier attributes the glamourous edge that is a constant in her design aesthetic, not to the lights-camera-action of Hollywood, but rather as being partially inherited from her mother. The designer describes her mother as having a penchant for dressing up and entertaining. "My mother always put a lot of attention into looking great and feeling great, and using fashion to help her do that was something that's instilled in me. That was my first introduction to fashion and I'll carry that with me throughout my life," she shares.
Looking at the possibility of further diversifying her portfolio, Lhuillier alludes to a possible crossover into cosmetics. "I'm hoping the next step will be makeup and fragrance because I feel that it fits seamlessly with what I do—beauty and fashion," she says.
Sounds like a beauty-full union to us.
---
---