Japanese Designer Kenzo Takada On Finding Harmony In Fashion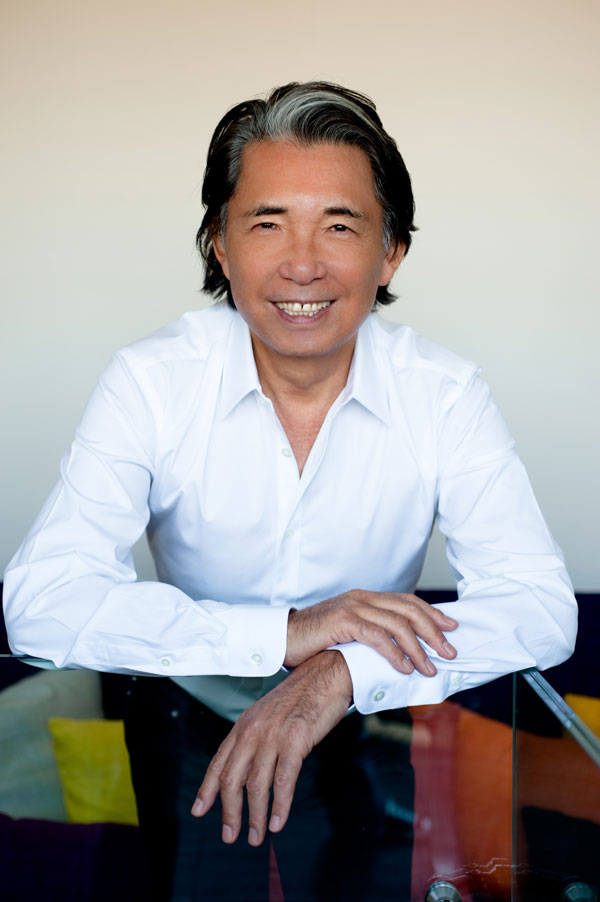 This article originally appeared in the September 2017 issue of Real Style magazine by writer Fatima Syed. Become a Real Style subscriber and get the hottest fashion, beauty and celebrity news, enter exclusive subscriber giveaways and be the first to receive the full digital version of Real Style magazine every month. Click here to subscribe for free!
When one thinks of the name Kenzo, images of bright abstract designs and an eye-catching colour palette instantly come to mind. After all, the French fashion house has long been associated with vibrant tones, zany prints and athleisure. Behind the label's reputation for neon hues and swirling patterns stands the thoughtful and practical Kenzo Takada. Born in Himeji, Japan, the 78-year-old designer moved to Paris in the 1960s to establish his eponymous label. Although Takada retired as creative director in 1999, his influence has stayed as a driving force of his namesake label. In fact, Takada recently announced a new project with French interior design retailer Roche Bobois. While the creative force's roots may be on the runway, he believes that the worlds of home interiors and fashion are closely linked.
"Both worlds work on combining different textiles and materials, and finding out how they best blend together. Fashion and interior design are about creating harmony between all the different elements," Takada says.
Takada has re-interpreted Roche Bobois' signature Mah Jong sofa, and also created a line of home accents, which includes cushions, throws, rugs and ceramics. Drawing on his Japanese background,, Takada was inspired by the craftsmanship of traditional kimonos, especially the weaving that can be spotted at the country's Nō musical drama theatres.
"I have created three harmonious color schemes that express gentleness, vivacity and depth, coinciding with three different times of the day: ASA (morning), HIRU (midday) and YORU (evening)," Takada says.
Achieving harmony seems to be one of the designer's key values, whether in business or in life. Takada graduated from Bunka Fashion College in Tokyo in 1964, as one of the school's first male students. In 1965, he shifted to the City of Light, where he initially encountered some difficulties. "The two biggest challenges when I started to establish myself in France were for me not being able to speak French and being Japanese," he recalls. However, Takada was determined to overcome cultural differences and find a place for himself in his home— and within the Parisian fashion industry.
"At that time, the Europeans mostly knew Japan through the cliché of the 'Japanese tourist.' We were not known for fashion. Also in Japan, people were telling me that no Japanese would be able to work and succeed in France. At the beginning, I was only supposed to stay for six months, but it has been more than 50 years," he says.
Takada made his mark by creating sketches and selling them to local French designers, including Louis Féraud. However, he also remained devoted to his dream of establishing his own label. In 1970, Takada launched Jungle Jap, an early line that combined his Japanese heritage with funky, fashionable elements. "I realized I had to go back to my own roots. I decided to incorporate some influence from traditional kimonos, patterns and Japanese techniques and know-how into my designs, as well as drawing on different cultures," the designer says.
Back then, Takada was trying to develop his brand identity and his own identity as a rising designer. Today, it's safe to say that Kenzo's design aesthetic has stayed true to Takada's humble origins and spirit. "I like to blend different textiles, patterns and inspiration. This is the way I work. I bring Japanese and other cultural references into my work, as well as a generous dose of happiness and joyful spirit."
At close to 80 years of age, Takada's relentless energy and passion come across as nothing short of impressive. He describes himself as "a very curious person" and somebody who is "eager to learn something new every day."
With his decades of experience, Takada also reflects on the evolving landscape of the business. Since Kenzo's brave debut in 1970, technology, social media and changing consumer behaviours have impacted the fashion industry.
"Nowadays, the fashion world is faster and more ephemeral, so it is a challenge to remain visible. You need to be more reactive, because of the "see now, buy now" model. Fashion brands have to adapt to this new business model and have to stock in advance. What you see in a fashion show needs to be available the next day for the consumers," he declares.
Takada may find contemporary inspiration from working with his "young, talented and creative team," but his creative influences also span everything from film and travel to his own fashion inspirations. These include the formidable Yves Saint Laurent, whom Takada professes a longtime admiration for that dates back to his student days. Although Saint Laurent died in 2008, Takada had an opportunity to work with the pioneering French designer and later became a close friend.
Half a decade after his move to Paris, Kenzo (and Takada) are anything but the new kids on the fashion block. The designer was awarded the Lifetime Achievement Award from the Fashion Editors' Club of Japan earlier this year, for the third time. This is an accomplishment that Takada graciously describes as "always an honour."
"I was very lucky my whole life to be able to do what I wanted and do it freely. I owe my success to the public and the media, to all the people who believed in me and supported me through my entire career," he adds.
To wit, Kenzo's designs have been spotted on many celebrity style icons over the years. From superstar Beyoncé donning the label's iconic tiger sweatshirt, to former First Lady Michelle Obama famously sporting a yellow Kenzo frock on a trip to Japan, it's no secret that the brand has a devoted fan base. However, Kenzo's versatility remains one of its greatest strengths, at least in the opinion of its founder.
"Stars have worn my designs, but I have never worked with one exclusively or had a muse. I always had a democratic approach to design. My designs are meant for everyone; this is how I pretty much initiated the concept of "prêt-à-porter" in the fashion world," Takada explains.
This becomes evident after a glance at the Kenzo Fall 2017 collection, where the label's current co-creative directors Humberto Leon and Carol Lim have presented oversized printed parkas adorned with checkered prints. Elsewhere, belted military jackets, black and white fringed skirts and reinvented windbreakers all lend a chic feel to a utilitarian, functional line. Clearly, this all pays homage to Takada's passion for comfort and colour—not to mention his insistence on wearabilily.
Musing on the definition of style, Takada's answer summarizes the mindset that has ruled Kenzo and seen its rise over the years. "For me, great style is defined by harmony," he says.
From a boy growing up in Himeji with dreams of Paris, to the modern day icon whose label has collaborated with the likes of H&M, it's clear that Takada has truly found the harmony he has searched for, both on the catwalk, and away from the spotlight.
---
---