Anna Sui Shares Her Most Memorable Moments, On And Off The Catwalk.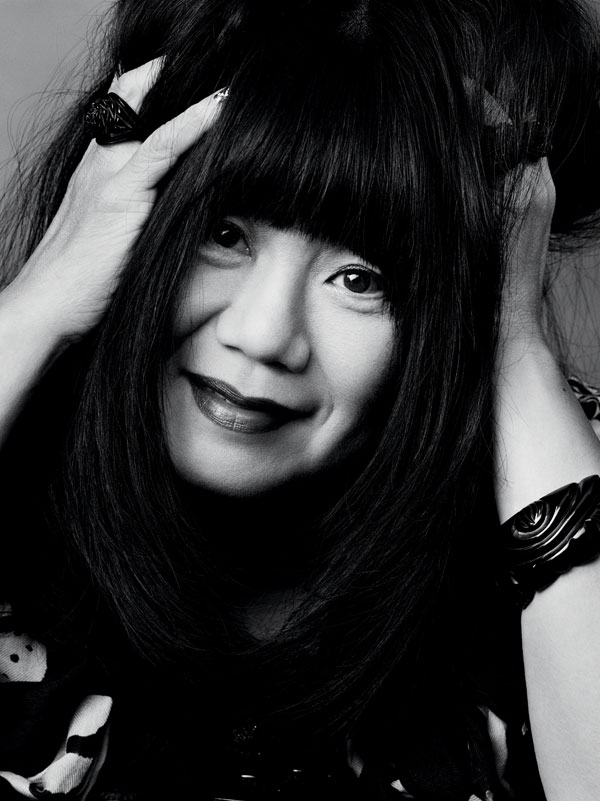 This article originally appeared in the Spring 2015 issue of Real Style magazine by writer Fatima Syed. Become a Real Style subscriber and get the hottest fashion, beauty and celebrity news, enter exclusive subscriber giveaways and be the first to receive the full digital version of Real Style magazine every month. Click here to subscribe for free!
La Nuit de Bohème doesn't just describe Anna Sui's latest fragrance; it also pretty much sums up the fashion designer's ultra-fabulous career. From famous friends to bold designs to her signature red lip, Sui is the sum of parts—a glittering past laced with a sense of adventure, a creative spirit who doesn't shy away from statement looks. She's like a storybook heroine, only her story doesn't begin in some faraway land.
Born in Detroit, Michigan, the now fashion icon moved to New York City to attend Parsons The New School for Design at age 18.
Although Sui launched her first fashion collection in 1981, she held her first runway show in 1991. Since then, she has become known for her bohemian and retro fashion looks, she has designed for Madonna, written a book and introduced a successful beauty line. In 2009, Sui deservedly won the prestigious Council of Fashion Designers of America's Geoffrey Beene Lifetime Achievement Award.
"I'm really lucky that everything I'm interested in, everything that I'm curious about and want to research, I can use in my work," says Sui. The designer's love of glamour is seasoned with hints of classic rock, art nouveau prints and art deco style—she collects 1960s psychedelic posters and gets inspiration from the vivid decades of the past. Sui considers her close friend Anita Pallenberg, an actress, model and former girlfriend of Rolling Stones guitarist Keith Richards, as one of her top celebrity style muses. "I always loved The Rolling Stones and Anita was such an integral part of their legend. My favourite memory is how beautiful she looked in the movie Performance and in photographs of her from that period," Sui says.
In the fall of 1991, Sui made her mark on the runway with her debut runway collection. Today, she describes her first show as "one of the giant breakthroughs in my career." The humble designer credits her friends in the fashion industry with helping her turn the show into a success story—friends who included industry insiders such as fashion photographer Steven Meisel, NARS Cosmetics founder François Nars, supermodels Linda Evangelista, Christy Turlington and Naomi Campbell, and celebrity hairstylist Garren. "All my friends came together to help pull everything together. I was very touched and it is my most moving memory," says Sui, reflecting on her label's earliest days.
As if the support of a group of fashion all-stars weren't already enough, Sui's breakout year actually started the season before her 1991 debut, with a stamp of celebrity approval from none other than Madonna herself. Sui had travelled to Paris with Meisel to take in the Ready-to-Wear shows for that fall. The designer enthusiastically recalls attending the show with Madonna. Once they were seated, the entertainer revealed a sartorial surprise. "When we got to our seats, Madonna said 'Anna, I have a surprise for you!' When she opened her coat, she was wearing one of my dresses! I had seen racks and shopping bags in her hotel room from all the biggest, most prestigious houses…and she chose to wear my dress!" says Sui, recalling the touching moment with pride, and emitting a gratitude and awe that still seem fresh, despite her storied career. "I was so flattered. If Madonna could pick from the best of the world and choose my dress, it gave me a little confidence that I might do a show one day too," Sui says.
Nevertheless, it took 20 years for Sui to achieve what she considers her favourite show: Spring 2011, which was inspired by the 1978 movie Days of Heaven, directed by Terrence Malick and starring Richard Gere and Brooke Adams. Featuring vintage-style sunglasses, crochet shawls and suede motorcycle boots with an urban bohemian twist, the collection's looks exhibited a passion for the American prairie, including quaint accessories such as crowns crafted from corn husks.
While the cinema of the 1970s clearly influenced this fierce and flamboyant collection, it has also left an impact on Sui's love of bold beauty, which is on full display in the designer's cosmetic line, launched in 1997. Sui cites actress Liza Minelli's look from the 1972 drama musical film Cabaret as a key inspiration. "I loved the adorable way Liza Minnelli was done up in the film, with her iconic widow's peak bangs, pale skin, false eyelashes, beauty spot and green nail polish that she called 'divine decadence.' That look sort of became iconic for me," says Sui, whose latest launches include the new lip colour range Lipstick G, set to launch this month with four girlish shades (Powder Pink, the slightly darker Paris Pink, a rich Rose Pink and the deep Valencia).
With a dazzling array of runway collections inspiring everything from wardrobes to makeup, what better way to showcase all these memorable looks than by publishing an Anna Sui fashion tome? The idea for the book came from wanting to visually represent the inspiration behind her designs. Encouraged by Meisel, who also wrote the introduction, the self-titled book hit the shelves in 2010. (Musician Jack White of The White Stripes also penned a "charming preface" to the book.) The book includes essays by Metropolitan Museum of Art Costume Institute curator Andrew Bolton, runway photos and a closer look at Sui's edgy design process. The designer calls the publication of the book one of the most rewarding moments in her enviable career. "Though a book idea had been bouncing around my head forever, I had never really explained my thought process to anyone, what actually goes into the development of each collection," says Sui.
She also recently launched two new fragrances this past fall. With notes of bergamot and citrus fruit, her fragrance Sui Dreams is inspired by the shape of a woman's handbag and features a bottle created by German packaging designer Peter Schmidt. Sui's La Nuit de Bohème, on the other hand, is a glamorous evening fragrance with top notes of champagne citrus, midnight blackberry and golden delicious apple. The launch of La Nuit de Bohème follows Sui's popular 2013 scent La Vie de Bohème. Living up to its name, La Nuit takes perfume lovers into the night with shimmering gold packaging and art nouveau inspired design. "When that same woman goes out at night, she turns into a fairy tale princess, all golden," says Sui. If the designer's fairy-dust past is anything to go by, it sounds awfully familiar. After all, there's always something exciting on the horizon when you're living "la vie de bohème."
---
---
SUBSCRIBE NOW
Free to join! Get the hottest fashion, beauty and celebrity news, enter exclusive subscriber giveaways and be the first to receive the full digital version of REAL STYLE magazine.
JOIN NOW!