DSquared2's Dan And Dean Caten Are Fashion's Visionary Duo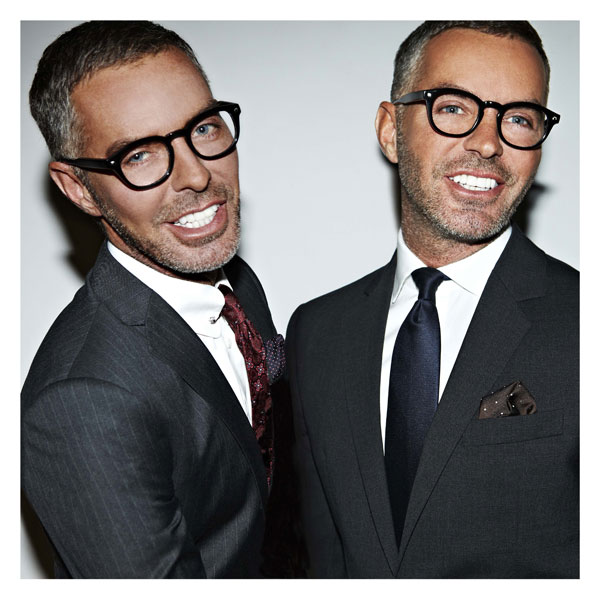 This article originally appeared in the Winter 2016 issue of Real Style magazine by writer Fatima Syed. Become a Real Style subscriber and get the hottest fashion, beauty and celebrity news, enter exclusive subscriber giveaways and be the first to receive the full digital version of Real Style magazine every month. Click here to subscribe for free!
With 21 years of runway experience, it's no wonder identical twins Dean and Dan Caten have culled such an impressive celebrity fan base. From their signature distressed denim to fur-trimmed outerwear and sharp blazers, the Canadian brothers have been combining their creative skills for more than two decades, most notably with their much-loved label DSquared2.
The twins co-founded their Milan-based label in 1995, after relocating to the glamorous Italian fashion capital from New York City. With successful menswear and womenswear lines under their stylish leather belts, the pair is known for combining Italian tailoring with a Canadian sensibility.
"All of our favourite pieces are a combination of both. There is so much inspiration from all things Canadian, everything from outerwear to colourways and our iconic maple leaf itself," says Dean.
Although they are proudly Canadian, the design talents are well known around the globe and have lived in three of the world's top fashion capitals (New York, Milan, London). Like many sartorial success stories, the Catens' tale has humble beginnings.
Born Dean and Dan Catenacci in 1964, the twins were raised in the Willowdale area of Toronto. As the two youngest children in a family of nine siblings, the Catens attribute a lot of their present day success to the hard-working nature of their Italian parents.
"We wouldn't be where we are today without all their life lessons," says Dean of their parents, who instilled a strong work ethic in the brothers that would later come in handy for keeping up with—and leading—the relentless, fast-paced world of fashion.
The aspiring designers moved to New York City from Toronto to train at Parsons School of Design in 1983, moving to the Big Apple at just 19, starry-eyed and destined for runway success.
"We always felt like we had something to say and we had a knack for putting outfits together. It's something that felt very natural and effortless—so much so that I'd say it was like a calling. It's been 20 years now and we're grateful to still be doing what we love," they say, reflecting on their journey.
The brothers' formal education at Parsons was short-lived, however. They dropped out of their studies after one semester and began designing together for Canadian fashion house Ports International. After stints with Versace and Diesel, the brothers launched their menswear label in 1995. In 2003, they officially expanded to womenswear.
"Our collections were always about a certain kind of attitude and confidence and we didn't want to have that limited to the boys," Dan explains.
Of their latest decision to combine their men's and women's shows going forward, Dan notes that the "collections feed off one another."
Their Fall/Winter 2016 womenswear show in Milan featured Victorian influences and a samurai theme, luxurious furs, lace blouses, high necklines, military-inspired jackets and cargo-print skinny pants.
The Fall/Winter 2016 menswear show in Milan echoed this sartorial sentiment. The collection merged pristine British tailoring with a traditional Japanese design aesthetic. In other words, models dressed as modern day samurais walked the runway in oversized kimono-inspired jackets and crisp black blazers.
Taking their brand to the next level, the brothers recently launched a new ski collection, featuring a mix of rustic plaids, denim and puffy parkas. "Denim and outerwear have always been staples in the brand since the beginning, and we wanted to translate these styles into more active, functional pieces—from the slopes to the chalet!" Dan says.
Despite looking forward for new opportunities and growth, the brothers are not against reflecting on their storied past. In 2015, the Catens did just this when they revealed their ICONS collection to celebrate their label's 20th anniversary. Although the line showcased some of their favourite creations, the brothers are hesitant to share their all-time top designs. "It's difficult to pinpoint just one. It's like trying to pick your favourite child. It's not possible," Dan admits. Among the honourable mentions that made it into their 20-year collection, distressed denim, skinny leather trousers and lumberjack plaids all stole the spotlight.
After making a name for themselves on the global stage from Milan, the twins have recently left their adopted home for the streets of London. The brothers first made the shift to Milan to work under legendary Italian designer Gianni Versace and for luxury denim label Diesel. "We always admired [Milan] and its sensibility. In a way we didn't see the challenges, but moved full steam ahead with the vision we had and what we wanted to accomplish," says Dan.
Nowadays, the Catens split their time between their Milan headquarters and their London home. In 2015, they opened a flagship store in London and now they fly back and forth between the two fashion cities for business. Naturally, the brothers' global journey—from Toronto to New York, Milan and London—has inspired their collections. And London, no doubt, immediately springs to mind when the duo muse over their 2017 collections.
"We've recently moved to London so there is a big influence the city and people here have had on our creative process. Our last Resort women's collection and Men's Spring/Summer collection are direct reflections of that," says Dan.
The brothers also find their inspiration "in the moment." "It can be anything from a song we hear to a place we visit or movie we see. It's that initial spark that we both feel is right and we just take it from there," Dan says.
Indeed, despite their earnest attitudes, a rebellious energy lies under the brothers' matching polished exteriors. Their enfant terrible nature becomes obvious when they list their roster of style icons, from Steve McQueen to David Bowie and Andy Warhol. When asked who they would style if they could venture into history, their answer—Grace Kelly and James Dean—is a juxtaposition of their trademark refined taste and rough-around-the-edges bravado.
"Their individual styles were so unique and impactful," says Dan of their fashion icons. "They set the stage for fashion self-expression and were a source of inspiration."
While the Catens may not be able to travel back in time, DSquared2 certainly has its share of celebrity fans. The twins have dressed Madonna and Beyoncé, and also famously costumed Britney Spears for her Circus tour in 2009. The brothers' versatile design aesthetic has even found its way into the world of athletics, with the Canadian Olympic team proudly donning DSquared2 designs at the 2016 Rio Olympics this past summer.
When asked about their differences in style and design, the Catens are quick to describe their many commonalities instead. "We have a very similar sensibility when it comes to things like shape and silhouette, but a unique perspective on certain details," they say.
Of what makes great style, the Catens respond in true DSquared2 fashion. According to Dean and Dan, style boils down to a mix of "confidence, a unique point of view and risk."
Certainly no matter how far they travel from home, or who they meet along the way, Canada is never far from their hearts, or minds, with Canadiana figuring prominently in their designs. It's fitting, then, that in 2009, the Catens earned themselves a star on Canada's Walk of Fame in their hometown of Toronto. As if a star weren't enough, the DSquared2 designers were also awarded an Outstanding Achievement Award from the Canadian Arts and Fashion Awards in 2014.
On that note, it makes sense that the Catens have a love of the Canadian fashion industry and wish to see it prosper. "The culture in Canada is so rich, diverse and beautiful. We'd love to see all aspects of it represented and brought to the forefront. Although we don't have the answer on how to do this, it is something we're proud of doing through our own collections," Dan tells us.
With their signature flair and worldwide following, these fashion talents have definitely put the spotlight on homegrown designers. And from New York to Milan and London, the boys from Toronto have truly made the world their home—and what a stylish home at that!
---
---