Designers Peter Pilotto And Christopher De Vos Venture Beyond In Search Of The Unexpected.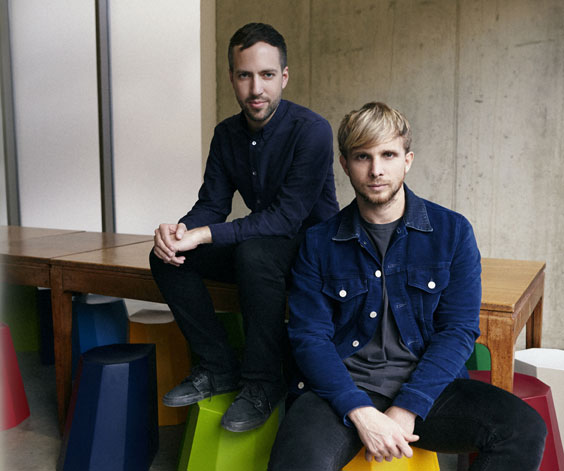 This article originally appeared in the Spring 2016 issue of Real Style magazine by writer Heidi Hofstad. Become a Real Style subscriber and get the hottest fashion, beauty and celebrity news, enter exclusive subscriber giveaways and be the first to receive the full digital version of Real Style magazine every month. Click here to subscribe for free!
"We don't look at being two creators as a challenge—it is a benefit. There is a dynamic tension at times, which is what is sometimes needed to bring a collection to the next level," says Christopher De Vos, who sits at the helm of London-based luxury womenswear line Peter Pilotto, alongside his designer counterpart and the label's namesake. "Together there is more of everything—more ideas, more energy, more support and more fun," De Vos says, describing how more is more when it comes to their partnership.
Not unlike other fashion labels where two designers run the show—Dolce & Gabbana, Proenza Schouler, Rodarte and Rag & Bone—the duo found the secret to keeping the creativity and the collections flowing is exactly that…having a better half, in haus. However, working toward one in vogue vision makes for a little drama, now and again. "That's the funny thing, it's the most irrelevant thing that we might disagree on, like whether the colour has this or that name," Pilotto dishes on their seemingly insignificant creative conflict. But on imagining the label without De Vos, who signed on in 2007, Pilotto says affirmatively, "No. It's really all about the synergy between the two of us and that dialogue that is ongoing and constant."
From their meeting as students at the Royal Academy of Fine Arts in Antwerp, Belgium, to the walls of their East London studio, the Austrian-Italian Pilotto and Belgian-Peruvian De Vos have fashioned themselves as a force on the London scene. Innovators in the digital print revolution, from the onset, the designers offered impeccably constructed pieces depicting vibrant, graphic and kaleidoscopic digital prints—their patterned, structured dresses set the trend. Although these prints would become intrinsic to their brand, Pilotto admits, "It was always clear to us that we didn't want to just stay on that level—we didn't want it to be just about the prints."
"Digital print was the best way for us to express our vision in the beginning," De Vos further explains. "It was a new and exciting technique that we were pioneering, and it was right for our designs at that time—we were able to own this as a category. As the brand has grown, we have been able to translate the same aesthetic in to other textiles and techniques, which had always been our plan."
Fast-forward to the duo's Spring/Summer 2016 ready-to-wear collection, where an ethereal quality, created by ultra light feminine textures—such as the layering of Chantilly and Macramé French laces—contrasts with a utilitarian spirit. Embellishments include Swarovski crystal surface adornments that punctuate patterned motifs. "It's exciting there is this appetite for more diversity in our collections. There's a need for pieces that really show the cut, that can exist in a plain fabric," shares Pilotto.
From the opening of the show to the last runway look, swinging skirts, crop tops, culottes and figure-hugging dresses in crisp white, pale blue and mellow yellow channelled a Mediterranean attitude. "We wanted a collection that you can wear in the city, but that makes you dream of places you might go on vacation; to have this contrast between urban and holiday was important for us," says Pilotto. The pair also opted for prestigious jacquard and embroidery mills in Italy's Como and Veneto regions, respectively, to apply new techniques to their design process, all the while remaining on brand.
Catwalk revellers witnessed another move beyond their digital print reputation with the debut of the first ever Peter Pilotto footwear collection for SS16. Open-toe ankle boots with cutouts and heeled sandals and slides accented with leather stripes in colour ways that coordinated with the clothing completed the look from head to toe. Having collaborated with British shoe designer Nicholas Kirkwood for many years, creating shoes for their runway shows, Pilotto and De Vos decided to put their best foot forward, solo. "We were heavily involved in the design process of the shoes we did with Nicholas and learned from things he would point out and pay attention to," says Pilotto. "It was really exciting to explore how to apply graphics to footwear and be playful with it. It was also quite fun to realize that often, shoe designers care most about the side view of the shoe, but we always care about the front view—how to elongate the silhouette."
Getting down to business, last year Pilotto and De Vos sold a minority stake in the label to MH Luxe Ltd. and stylish entrepreneur Megha Mittal. With this injection of capital, no doubt, comes even more possibility for brand expansion. The label is already sold in more than 50 countries and is stocked by luxury retailers such as The Room at Hudson's Bay in Toronto—where Real Style sat down with Pilotto—Selfridges, Saks Fifth Avenue and Bergdorf Goodman. "Our retail partners tell us that it's quite unusual for a young brand to have an attraction to many different customers, of different age groups and different nationalities, so that's been quite fascinating, but quite a natural thing to us," reflects Pilotto.
The pair also landed multiple mass-market retailer collaborations with other brands, including Target, Kipling, Lisa Marie Fernandez, Ancient Greek Sandals and Nicholas Kirkwood. Then there are the celebrity and fashionista followers, who pluck the label's colour-happy collections from the runway, including Lupita Nyong'o, Emily Blunt, Kerry Washington, Miranda Kerr, Jennifer Lopez and Sienna Miller. "The truly remarkable moments are when we meet some of our clients. These women are all so incredible, so sophisticated, and they love fashion. When someone comes up to us to introduce herself and expresses knowledge of our work, now that is a good memory every time," shares De Vos.
Capitalizing on the known fashion support that a London business base offers, the duo recently took part in an exhibit at the Victoria and Albert Museum (V&A) that brought the label further exposure. The V&A's Fashion in Motion series held four runway shows for the public. "The Peter Pilotto show was a retrospective and introduced audiences to the breadth of the label's output, which is far wider than just the digital print they are best known for," says Cassie Davies-Strodder, curator of Fashion in Motion. As to why the label is inspiring to both artists and fashion-types alike, Davies-Strodder says, "The V&A's focus is on leading design and craftsmanship. Peter Pilotto designs showcase an innovative use of print and textiles and an attention to detail which fits perfectly with that focus. They do not shy away from strong colours, prints and architectural shapes."
The high praise is indicative of Pilotto and De Vos' complementary skill sets. Although the creative pair work side-by-side with neither playing a secondary role, both bring distinctively different strengths to the design table. "When I first met Peter, I was very in tune with the pairing of textiles with structure, and he was doing such fantastic work with digital print and colour," recalls De Vos.
Their collaborative partnership also benefits from diverse yet complementary life experience. Pilotto paints the picture of his upbringing in the mountains of Tirol, Austria, where his family had a fashion store. In contrast, he says De Vos "travelled a lot as a kid," experiencing many different places. "We loved the same inspiration, but we extracted very different information from it," says Pilotto, offering insight into their stylish symmetry. "It is great to be able to have two strong focus points and to separate for a moment, then reunite in a new way. It's important for the collections that there is attention paid to the graphic and colour, as well the construction, the volume, the shape and the proportion on the body."
What's next for the dynamic duo? Pilotto says in the future he hopes they create "new categories every season," while De Vos conservatively decides they are taking expansion of the range step-by-step. Says De Vos, "We each bring perspective, and our visions entwine, or inform one another as we build our collections bit by bit. The process is very micro, with little adjustments along the way, which evolve along with bigger discussions about what feels and looks exciting to us in the moment."
One thing is for sure—the power of two is in their favour.
---
---