Fancy Foot Work – Sarah Jessica Parker on party shoes and why the shoe must go on.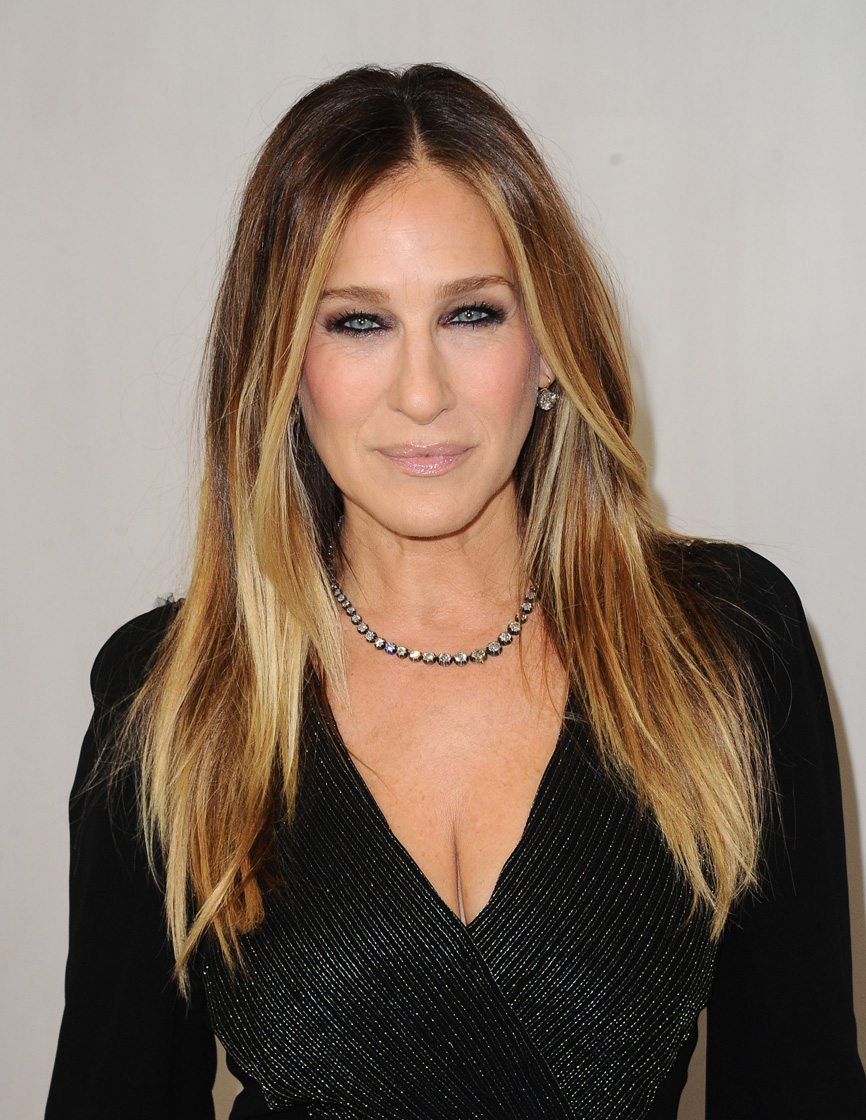 This article originally appeared in the December 2017 issue of Real Style magazine by writer Heidi Hofstad. Become a Real Style subscriber and get the hottest fashion, beauty and celebrity news, enter exclusive subscriber giveaways and be the first to receive the full digital version of Real Style magazine every month. Click here to subscribe for free!
"Oh my, gosh! You can't make me pick a shoe," exclaims Sarah Jessica Parker (sounding just like her Sex and the City character Carrie Bradshaw), when asked to choose the holiday fête-approved pair from her SJP Collection. "Here's the thing…all these must-haves…it depends on who you are. [Some] people love wearing 70 mm high heels, [other] people want a party for their foot, but they can only wear flats—I think a Christmas shoe is what makes you feel festive," Parker decides. Perhaps Nirvana, an iridescent, sparkly version of a Mary-Jane, or Trois, a milky-white leather high-heel bootie, or Fawn, a perfect pump in a pale, blush velvet, will make our gift wish list and an entrance (or two) at a seasonal soirée.
Strutting into its fourth birthday, the SJP Collection label—a partnership between Parker and George Malkemus III, who is also the CEO of Manolo Blahnik USA—delivers shoes (first and foremost), handbags, and an LBD. "It's a small company. There's only four of us, really, and we do literally every single thing ourselves," says Parker. "Every sample, every design, every market, and every sales appointment. We are in complete command of marketing and public relations with the limited dollars we have. It's a very, very, hands-on business."
Speaking of handsy, so are ladies, nabbing the handmade in Italy, single sole, eye-catching array of fabulously sparkly, vibrantly jewel-toned, or rich velvety styles. The New York City-based Parker regularly works the sales floor at Bloomingdale's locations in Manhattan—not official public appearances with glam squad and paparazzi, but rather just Sarah Jessica running to the stock room, pulling shoes, putting them on feet, and talking to her customers. "I'm well aware that I wouldn't have this experience and this opportunity if it weren't for the millions and millions of women who spent a lot of time with me for many years," she says with gratitude. "We had this relationship and I've never had an opportunity to meet them and to know them. They're a huge part of this collection. They're a huge part of what we think about when we design."
Shoe lovers can open shoe box after box at a host of retailers, including Hudson's Bay, as well as at SJP by Sarah Jessica Parker boutiques at the Bellagio Resort and Casino in Las Vegas, Nevada, and MGM National Harbor in Oxon Hill, Maryland. But it's an L.A. story (yes, Parker also appeared in a movie of the same name—couldn't resist!) that has Parker flashing back to (around) 1985 to when she met Manolo for the first time; an encounter that perhaps foreshadowed her own career in footwear.
"It was a rainy February day and very few of us showed up," Parker describes of arriving at Madeleine Gallay on Sunset Plaza for a trunk show with Blahnik; the then-emerging, now-iconic designer behind the eponymous high-end shoe brand. "We were able to sort of make our own [shoes] based on the materials that he had. I purchased more pairs than I could afford," Parker admits. "I had a green American Express card that I was entirely responsible for paying off and I used that. It was out of my league and foolish to have done it, but they were very special to me and I treated them as such," she says.
From then to now, this January, Parker will return as Frances DuFresne in the second season of HBO's Divorce. In reality, she's been married to Matthew Broderick for 20 years, and the pair have three children, 15-year-old James Wilkie, and eight-year-old twins, Tabitha and Loretta. On her current style, Parker opts for practicality. "I live in a state and city that has seasons, and I'm running around, and I'm on a subway, and I'm dropping kids off, and I'm running to a meeting. My style is really about what feels good and comfortable; what allows me to get from [point] A to B in the winter months, you know, stepping over snow and ice."
Parker also churns out best-selling fragrances, sits on the New York City Ballet Board of Directors, is a UNICEF Ambassador, and is the honorary chair for the American Library Association's, Book Club Central. In June, she will publish A Place for Us by first-time novelist Fatima Mirza, as Editorial Director of SJP for Hogarth, within the Hogarth imprint of Penguin Random House's Crown Publishing Group.
"I have no one to blame, but me," she says of her stacked schedule. "I remind myself that I'm busy because there are lots of things that I'm interested in and want to do. More importantly, I remind myself that there are millions and millions of women who are working two and three jobs, with little or no support. My version of being overwhelmed is nothing compared to most working mothers in my country and probably yours."
One thing SATC fans (aren't we all?) want for Christmas is Parker stepping into her role of Carrie in the third movie, which has been called-off. "It doesn't look like it's going to happen. I don't expect that I will be playing her in the near future," Parker says definitively. Instead of fueling the rumours around the highly publicized no-go, Parker presses on appreciatively. "I have a lot of memories that I am fortunate to share with the entire cast. It was such an enormously privileged experience…to shoot on the streets of New York, with that amazing cast and our crew, [and] also to have had this relationship with all these women, that I spoke of earlier, who gave us so much of their time and affection—you know, I share that with them," she says of SATC devotees.
And let's not forget the shoes and the city! The parade of designer footwear that filled Carrie's (shoe) closet on the show inevitably inspired Parker's shoe-love and her SJP Collection. "I played a character who spent so many hours in them, and in such a wide variety. I wore shoes from the turn of the century, all the way up to shoes that were just on a runway in Paris the day before. You develop a real admiration for the discipline, for the work involved, and for the shoe's history," Parker says. "I mean it's a different kind of affection, but I love them, and I love being in business."
As they say…the shoe must go on.
---
---