Tabitha Simmons On Shoes, Motherhood And Life In The Fashion Lane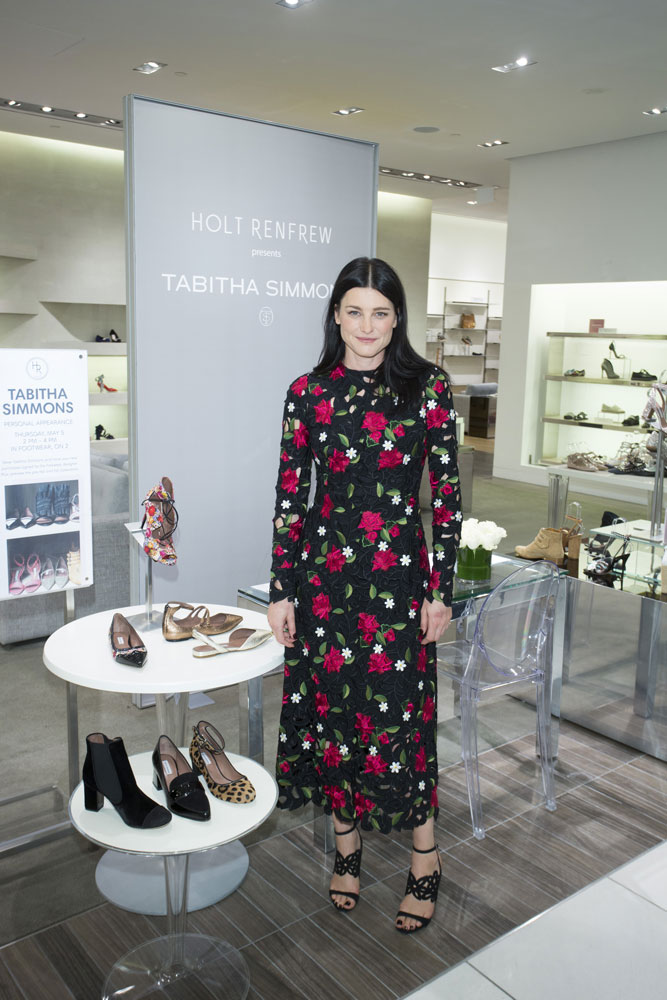 This article originally appeared in the Fall 2016 issue of Real Style magazine by writer Heidi Hofstad. Become a Real Style subscriber and get the hottest fashion, beauty and celebrity news, enter exclusive subscriber giveaways and be the first to receive the full digital version of Real Style magazine every month. Click here to subscribe for free!
"I first look at their eyes and then I might look down at the feet, but it's definitely eyes first. My mother would kill me if I wasn't like that," laughs Tabitha Simmons when asked whether shoes are the first thing she notices on a woman. The shoe designer, fashion stylist, Vogue Contributing Editor and ex-model (yes, she won the genetic lottery too!) is looking radiant and chic when we catch up with her at Holt Renfrew in Vancouver to talk shoes. For the event, Simmons had paired her floral-print, long-sleeved, midi-length Dolce & Gabbana dress with a chunky heel sandal featuring a floral cutout pattern from her own line. "I started from the shoe and worked up, which is generally what happens," reveals the style-setter of how she put her look together that morning.
Since launching her eponymous footwear line in 2009, Simmons' achievements in fashion have included winning the Emerging Talent Award for Accessories at the 2011 British Fashion Awards, the 2012 Council of Fashion Designers of America (CFDA) Swarovski Award for Accessory Design and the 2015 CFDA Fashion Awards Accessory Designer of the Year award. "When I released my collection, it was very tame," says Simmons, reflecting on the footwear creations of other designers at the time, including Alexander McQueen's wildly iconic armadillo boots. "I went in the opposite direction and took on very timeless shoes. It has worked, because people are still wearing those shoes and that seems like a good thing, where it wasn't just for one season," she shares.
Simmons' designs are known for their feminine details, such as decorative floral prints (she vocally professes her love of flora), cutout detailing, eyelet embroidery, ornate embellishments, interesting silhouettes and a dash of what she calls "English quirk." Their appearance is also intentionally opposite the conservative, far-from-fancy feet styles she succumbed to as a schoolgirl in Peterborough, England. "Because I could only wear certain shoes at school—it was either black or brown, and it had to be flat and lace-up—I had to really work within that, and then afterwards I was like, 'Ah, okay, I now want to go…'"
So far the possibilities seem endless. With her shoes handmade in Italy by master cobblers, Simmons knows this artisan approach to constructing her designs won't be around forever. "There are so many things that are dying out in Italy because they don't have that generation to learn about craftsmanship, so for me, I'm still holding on to that," she says of the unstylish truth that traditional craftsmen are on the verge of extinction in a modern world. "Sometimes the hand makes a mistake that gives the piece an extra sort of beauty, whereas a machine is so precise that you miss out on that wonderful mistake," Simmons adds.
British-born, Manhattan-based, Simmons graduated with honours from Kingston University with a degree in film and set design. "From there, I was discovered to be a model—I was a terrible model, but that's how I found styling and thought 'That's actually a great job,'" Simmons recalls. Her newfound career saw Simmons styling for glossies such as Dazed & Confused, AnOther Magazine and V Magazine, and landing catwalk styling gigs with Alexander McQueen and Calvin Klein. These experiences would give her insight into the process of building a collection, from sketch to reality. "That's when I got a really big passion for shoes, and set up my own shoe line. I still style for American Vogue and for Dolce & Gabbana, where I do the women's, men's and the Alta Moda collections. And I also consult on other brands like Tory Burch. But my main passion is my shoe line," she confesses.
For anyone running in heels (with multiple careers, for that matter), the obvious question is how does she do it all? "I have to be exceptionally organized and plan ahead, and luckily for shoes it's a really big turnaround. We have to work very far in advance, so while I'm waiting for six weeks for the shoes, I can do other things."
Regularly channeling inspiration from her travels and English upbringing, for fall/winter 2016 Simmons also had another muse. "I have an Art Nouveau table at home that has great big dragonfly legs, and I thought, 'Oh my gosh, this would be amazing to make into a shoe because it's so feminine,'" she shares excitedly. This epiphany translated into the collection's signature, original print motif of delicate dragonflies sitting amid flowers. Overall the look of the collection is very Victorian: an open-toe bootie with cutout sides and laced up at the ankle, a heeled loafer slide with tassel detail, and a round-toe slipper with a block heel and ankle strap, to name a few. "I test drive all of my shoes and you know, I'm busy—I'm a mother, I'm styling, I'm standing on set for 12 or 13 hours [a day]—so for me, I want a comfortable shoe, but it still looks very fashion," she says.
Walking in Simmons' shoes means major multitasking, as she juggles each of her roles, including that of mum. Married to prominent fashion photographer Craig McDean, Simmons has two young sons, Elliott and Dylan, and seems to have found a balance between fashion and family. "I'm really good at building Lego. Star Wars starships are my specialty," Simmons says, laughing as she shares a hidden talent. "I love my boys. However, they don't have any interest in fashion, so they tend to bring me back down to earth. For example, the other day, I took my son Dylan to a store to show him my shoe. He ended up asking me if I had made the table!"
There is, however, no confusing Simmons' popularity among models and celebrities looking well footed in her designs. Famous fans include Alexa Chung, Karlie Kloss, Kendall Jenner, Cara Delevingne, Julianne Moore and Charlize Theron. "We have very great girls wearing our shoes. It's something that I feel very lucky for," says Simmons. "Because I'm an editor, I understand there are 200 pairs of shoes on the floor and for them to pick mine, it's really an honour."
In fact, Simmons named her pointed-toe Alexa flat after Chung. "I was wearing the sample on a shoot and she said, 'Oh, I love that shoe. Where did you get that?' And I was like, 'It's mine. I made it. I'm just testing it,'" Simmons recalls. The designer then sent a pair of the flats to Chung, and since the style was yet unnamed, the model's moniker was a shoe-win. Of the process for naming her other kids with heels, Simmons says, laughing, "Each one is like a child. You sort of look at it and go, 'Oh, that looks like a…" and voilà!
But when it comes to naming a shoe Tabitha (junior), Simmons has too much love for every pair to bestow that honour. "That is the biggest question. I don't know what it would look like. I need to come up with one, but I think they are all pretty much Tabitha shoes," she concludes.
Whatever the name, in a Simmons shoe, you're sure to be stepping out in style.
---
---