Designer Yigal Azrouёl Is Leaving His Mark On The Fashion World One Creative Stitch At A Time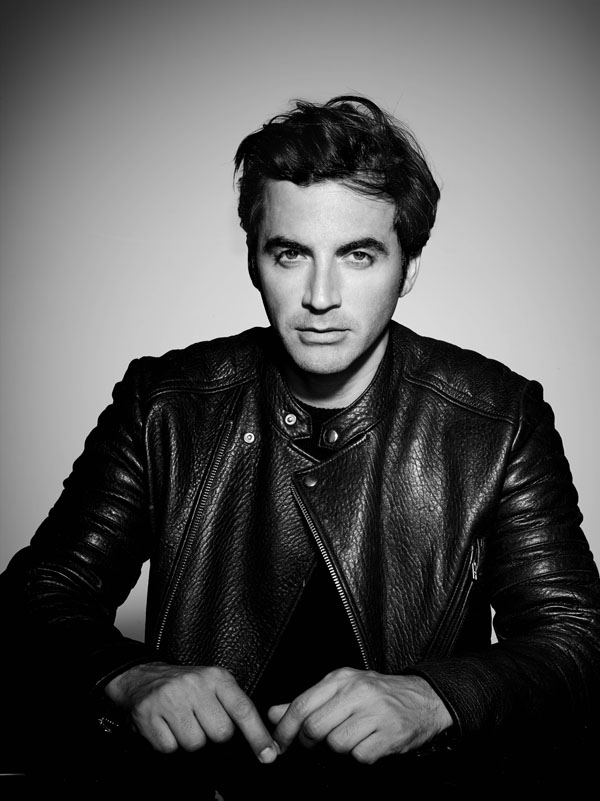 This article originally appeared in the Winter 2015 issue of Real Style magazine. Become a Real Style subscriber and get the hottest fashion, beauty and celebrity news, enter exclusive subscriber giveaways and be the first to receive the full digital version of Real Style magazine every month. Click here to subscribe for free!
The first thing you notice when visiting the clean architectural space that houses the Yigal Azrouёl flagship store on Madison Avenue in New York is exactly that—how it matches the clean architectural feel to his clothes.
Likewise, the handsome 43-year-old designer arrives at the store without much fanfare, sporting a military-style khaki jacket, jeans and hightop runners. "Hi, I'm Yigal," he says with a smile. We exchange pleasantries and then head off around the corner to The Mark Hotel to do our interview. Azrouёl is relaxed and exudes a quiet self-confidence that he tells me is not his regular mode. "I'm actually quite shy," he says with a laugh.
Azrouёl grew up in Israel, the youngest of eight children, with five older sisters to inspire his creativity. The self-taught designer launched his women's wear line in 1998 shortly after moving to the United States, and has shown his eponymous line at New York Fashion Week for the last 15 years. Azrouёl tells me that in addition to the store on Madison Avenue, his designs are sold in more than 100 retail department stores and boutiques around the world, including George C. in Toronto.
"It's really about the details," Azrouёl says of what makes his designs stand out. "Our signature is that we do structured pieces very well, such as tailored jackets, and we are known for our dresses and how the garments fit. We are also known for our leather jackets, which pretty much sell out when we get them in the store."
Since most of his clothes are made in New York City, the designer has the ability to very carefully oversee the quality of construction and the finished product—a rarity in the big business fashion world. Azrouёl not only chooses the fabrics, often designing his own, but he also does much of the initial draping for the first sample prototype. "I really love making the first sample from beginning to end," he shares, adding that he handpicks all the fabrics, and often custom prints them.
Azrouёl says that his inspiration often comes from modern art, architecture and other unexpected sources. "I like to paint and draw," he says, "that definitely influences my work." In fact, the fall/winter collection in the store, he tells me, is inspired by turn-of-the-century Russian painter Kazimir Malevich.
Azrouёl also clearly designs with his customer in mind. "The Azrouёl woman doesn't follow trends," he says. "She is confident and knows what she wants and she appreciates good design and quality. My woman also definitely has curves," he adds. "The clothes are meant to make her look good."
The clothes do more than that. With geometric prints, interesting shapes and luxurious leathers and furs, his designs ooze NYC cool.
"I really love what I do," confesses Azrouёl. "This is a hard business. If you really don't love and live this, then don't do it."
The artistic nature of the work holds a major appeal for Azrouёl. He proudly shows me a behind-the-scenes video of his collaboration with the New York City Ballet and American Ballet Theatre for Bach Interpreted, by acclaimed choreographer Emery LeCrone. Azrouёl designed the ultra-modern, sculptural costumes for the sold-out performance at the Guggenheim Museum. "My next collaboration is with Nir Hod, a modern artist," says Azrouёl. "He has beautiful paintings called Genius and we did limited-edition scarves based on those paintings. I'm very excited about it."
When asked about his business aspirations for the future, Azrouёl admits, "I would love to have a store in Toronto and L.A. and maybe some other major centres. I would like the business to grow organically."
Back at the store, his organic approach is evident as we encounter local shoppers browsing the racks. Azrouёl chats with his customers, carefully listening to their suggestions and making them feel special. It's clear that not only does the designer know what his customer wants, but he's also willing to respond to her requests.
Taking me through his fall/winter collection, Azrouёl shares the process behind it, from the hand stitching to the specially blended fabric and the specific elements of his design vision. By the time I leave, I am the proud owner of a new Azrouёl top. I am also certain that the designer has the makings of something special: Azrouёl's artist-at-work ethic and easygoing ways definitely make him one to watch. There might even be a store coming to you soon.
---
---