Designer Hayley Elsaesser Talks Diversity, Design And Fall 2018's Coolest Colour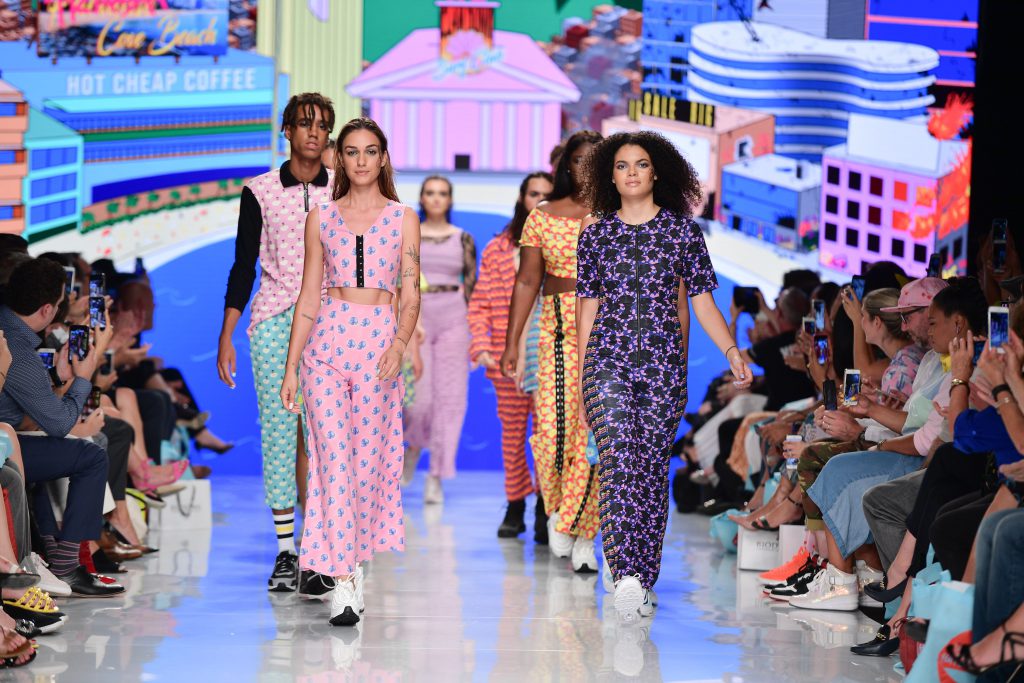 Recently, Toronto designer Hayley Elsaesser presented one of her signature vibrant, technicolour runway shows at Toronto Fashion Week Spring 2019. While Elsaesser's trademark youthful, sassy prints and liberal usage of rainbow shades hardly came as a surprise to fans of her eponymous label, her new collection certainly brightened up the Toronto catwalks. Real Style caught up with the spirited, bubbly designer backstage following her show, where Elsaesser spilled on her creative inspiration. From adapting to a world of fast, temporary fashion to embracing diversity, this design star had much to share. As well, read on to learn more about what Elsaesser's favourite Fall 2018 colour is, and her best tips for wearing this cool, vivid hue right now.
Real Style: Tell us more about what is inspiring your newest collection.
Hayley: It's inspired by being a designer in a world that is basically fast fashion, and over consumption, and kind of just seeing all the havoc around you, and not really being able to compete with that or do anything about it. So, it's just about me being conscious and putting a lot of care into what I put out into the world basically. That's what you'll see. This jacket [points to her jacket] says "Thank you, thank you, thank you, f*** you," so it's like a plastic bag. There's a print that was like a little palm tree island, and a lot of imagery that just kind of goes along with that.
Real Style: Your recent runway show had a lot of diversity, as always. How are you planning to bring diversity in fashion to the next level, with various body types and ethnicities?
Hayley: For me, all I do is make sure when I am making my samples, that I have a good mixture of samples that will suit a lot of body types, and then go from there. I'm not one of those brands that have to tick a box to make a diverse runway, I do it because that's what I'm interested in, the kind of models that I want to see. It's not like it's a conscious decision that says I need to fit some certain quota, it's just that I want a lot of different types of people on my runway.
Real Style: Do you have any favourite colours for Fall 2018? You're known for your usage of colour!
Hayley: I think probably purple. I think that pink has been around for so much, and I don't think that people want to go away from that, so purple is a nice transition
Real Style: What are your best tips for wearing purple?
Hayley: I'm wearing a purple dress right now. It's really easy to wear it as something casual, but also something dressed up too. So, you can wear it any way with any colour, it goes really well with gold. You can mix it with neutrals, like black or beige tones. There's dark purple and light purple- endless ways to wear it.
Real Style: Do you have any exciting new collaborations that we should know about?
Hayley: The camouflage [collection], that's a collection that we did with Get Fresh, that's another Toronto company. It's a nice thing that happened on the runway that will be coming out next month [October 2018].
Photo: George Pimentel for Toronto Fashion Week
---
---
SUBSCRIBE NOW
Free to join! Get the hottest fashion, beauty and celebrity news, enter exclusive subscriber giveaways and be the first to receive the full digital version of REAL STYLE magazine.
JOIN NOW!