Fashion Art Toronto Designers Bone & Busk And Steven LeJambe On Creative Inspiration
Recently, Real Style had a chance to catch up with Toronto designers Katharina Mior of Bone & Busk and Steven LeJambe of Steven LeJambe Designs. Both of these Canadian design stars have a unique aesthetic, and also recently presented collections at Fashion Art Toronto earlier this season. Mior is best known for her unconventional takes on corsetry and her passion for vampy, seductive Gothic style. Meanwhile, LeJambe creates elaborate eveningwear, which ranges from ruffled frocks to pastel gowns. Intrigued by their vibrant, diverse and avant garde shows, we spoke to both Mior and LeJambe about their respective inspirations, biggest creative challenges and dream celebrity clients. Here's everything you should know about their approaches to fashion, from their ideal fabrics to their biggest sartorial idols.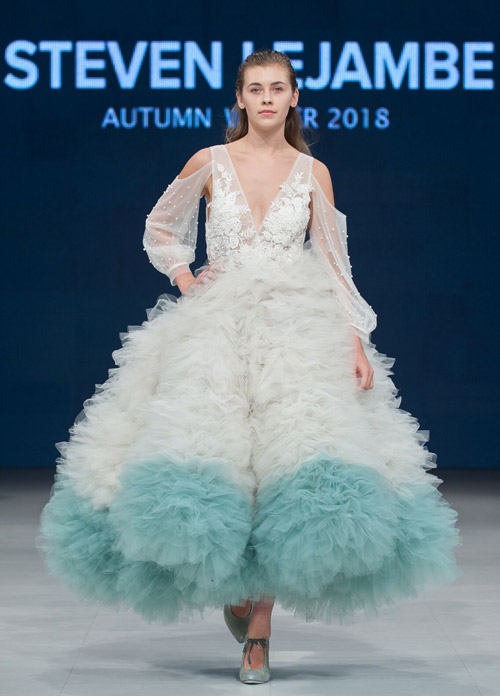 STEVEN LEJAMBE DESIGNS
Real Style: Tell us all about the inspiration for your new collection.
Steven: My new collection is emulating the passion you feel when you fall in love. I wanted to use dramatic silhouettes and bold colours and fabrics to create romantic and powerful gowns that show the passionate feeling of falling in love.
Real Style: Do you have a designer icon?
Steven: The brand that I most look up to is Ralph and Russo. Their couture is so beautiful and elegant using intricate beading, dramatic silhouettes and unique hand painted fabrics. It's very inspiring to a young designer to see such beautiful work.
Real Style: What are the biggest challenges of creating eveningwear?
Steven: One of the biggest challenges in creating evening wear is finding the balance between my creative instinct to make the most dramatic aesthetic possibly and what is actually wearable. I fell in love with fashion, because I would watch couture shows on fashion television and see big dramatic gowns. Now, I have the opportunity to do that but I have to think in the back of my mind "Will someone wear this?"
Real Style: Being involved in Fashion Art Toronto has been a big initiative for you! What sets FAT apart from other runway shows, and why do you like presenting at FAT?
Steven: Presenting at FAT is great because of the amount of creative energy in the room. Everyone is there for the same reason, to show their art in their form and it's really wonderful to see how everyone expresses that.
Real Style: Do you have any dream celebrities who you would love to dress?
Steven: I'm Lady Gaga's number one fan so she is definitely at the top of my list. I think I will have a heart attack if she ever wears one of my dresses, fingers crossed!
Real Style: What are your favourite fabrics to design with, and why?
Steven: My favourite fabrics to work with are lightweight, flowing fabrics. I love to work with different silks such as chiffon and organza, and I always love tulle. You can never have too much tulle.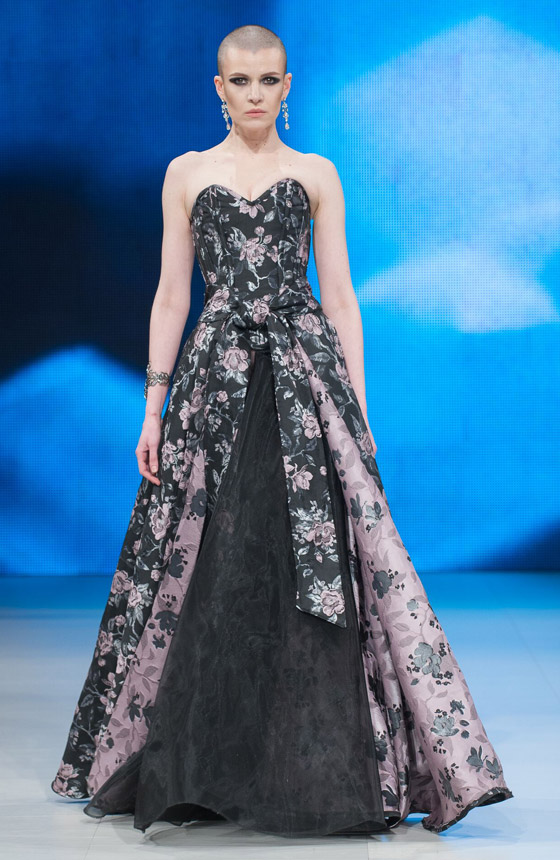 KATHARINA MIOR- BONE & BUSK
Real Style: Tell us all about the inspiration for your new Bone & Busk collection.
Katharina: This year, our collection drew upon inspiration from our fallen musical heroes and our creative resistance towards the new trends emerging in how the creative business works. The deaths of Prince and David Bowie, in particular were a pivotal moment for me as a creative, questioning my future and the world we've created for ourselves that rely on instant gratification, style over substance, immediacy over careful deliberation. I wanted to create a collection that was subtle, romantic, a reminder that we can still embrace simplicity that is layered with complexity, rather than a complex execution with no intention other than to grab attention. It was a challenge to develop pieces that were simpler and not heavily reliant on embellishment, as our work generally is known for our use of couture laces, textures and layering. I wanted to focus on cut.
Real Style: You're known for your diversity and inclusivity on the runway. How can the fashion industry take steps to be more inclusive of various body types, sizes, etc.?
Katharina: It's such a big world out there! Why should we focus on a Eurocentric aesthetic when that is not reflective of our current society? My clients in particular tend to be varied in size and ethnicity, so why shouldn't we showcase that in our runway shows? For example, I feel it's so important to always include a modest model on the runway, because the Islamic community is very underrepresented in fashion and everyone deserves to feel beautiful. Those of us in a position of privilege should use it wherever we can to resist against antiquated ideas. It does our company no service in this day and age to simply reinforce those ideas on the runway.
Real Style: Do you have a fashion role model?
Katharina: I've always been a fan of local companies like Call & Response, they are true artists and visiting their atelier is a magical experience. They were probably my biggest influences, alongside Pam Chorley from Fashion Crimes.
Real Style: What is it about "gothic glamour" in particular which you love?
Katharina: I'm just being authentic to myself. I've been an active supporter of Goth scenes all over the world since I was a teenager. There is something that has always comforted me about nihilism and creating your own meaning to your life that feels liberating. As I grow older and our company expands, we try to always include elements of that into our silhouettes while still making accessible clothing for all walks of life. You don't have to be a Goth to wear our clothing, but if you're a Goth, you wear our clothing.
Photos: Che Rosales
---
---