Montreal Designer Pascal Labelle Talks Collaborating With Canadian Olympian Phylicia George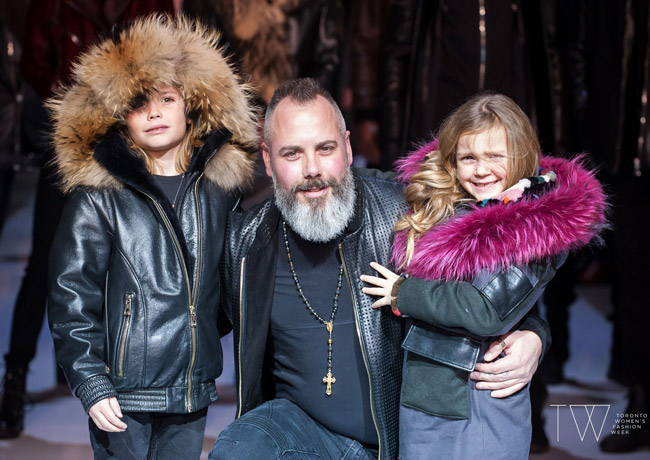 Recently, Montreal outerwear designer Pascal Labelle presented a show at Toronto Women's Fashion Week, which featured Toronto-born Olympic athlete Phylicia George. In addition to being a track and field athlete and a member of Canada's bobsled team, the 30-year-old George proved that she can also grace the runway. Inspired by this new Fall 2018 collection which merged athleticism with artistry, Real Style decided to catch up with this dynamic duo. From Labelle's fabrics of choice to George's must-have wardrobe staple for Spring 2018, here's everything that they had to share with us.
Real Style: Tell us about your inspiration for your latest collection.
Pascal: My inspiration is all the amazing people around me. I want that to reflect in all my pieces, authenticity. I try to create real things for real people.
Real Style: Do you have any fashion role models or designer icons?
Pascal: I'm lucky to have amazing people around me, just like Phylicia [George]. I always inspire myself by the people in front of me and what the energy is, and then I create it.
Real Style: What are your favourite materials to design with?
Pascal: I'm used to recycled fur and things like that. Everything is made in Montreal; I am putting a lot of love inside. At the same time, there is a price for that.
Real Style: What makes you proud to be a Canadian designer?
Pascal: We have to work hard for sure. The positive thing is that I have got no restriction of volume, and it's made in Canada, good quality stuff.
Real Style: Phylicia, tell us about working with Pascal on his new collection.
Phylicia: I've always been interested in fashion and this just seemed like a really good collaboration. I'm proud to wear Canadian designers, as a Canadian athlete. Pascal makes all his stuff in house, and I think that's really exciting. They are all unique and one of a kind. You feel empowered, and you're bringing out your attitude.
Real Style: What are your style essentials for spring?
Phylicia: I think my thing is a really good leather jacket and a great pair of heels.
Real Style: What does great style mean to you personally?
Phylicia: I feel that fashion is about your own identity. For me, I think it's your own sense of style and I just try to bring that out when I think about fashion.
Photos: Che Rosales for TWFW
---
---
SUBSCRIBE NOW
Free to join! Get the hottest fashion, beauty and celebrity news, enter exclusive subscriber giveaways and be the first to receive the full digital version of REAL STYLE magazine.
JOIN NOW!