Victoria Beckham Works The Metallic Skirt Trend Like A Pro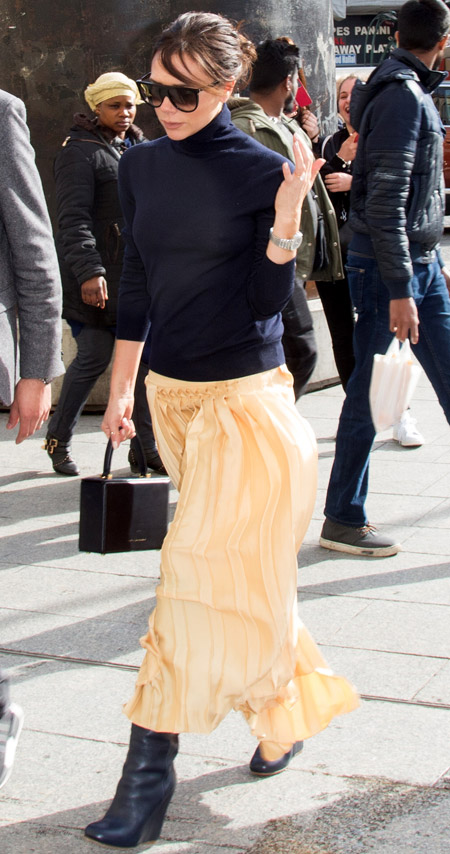 At this point, just about everyone knows that British style star Victoria Beckham is quite the trendsetter. After all, the 43-year-old designer and former Spice Girl can usually be spotted wearing any number of sleek ensembles. However, it's her most recent outfit from the streets of Paris which perfectly bridges the seasons.
Beckham stepped out wearing a fitted black turtleneck, which was suited for the très chic environment of the City of Light. Meanwhile, her pleated gold midi skirt hit mid-calf, and brought a touch of party-ready glamour to an otherwise conservative look. The petite brunette star also accessorized her look of the day with a pair of black leather boots with thick wedge heels, for an extra lift. Meanwhile, her dark sunglasses, silver watch and classic black box handbag completed her street style.
We are liking the combination of textures, with the satiny metallic skirt contrasting against the knit turtleneck. If you are trying to bring your winter wardrobe into early spring (without freezing), try adopting the look for yourself. The juxtaposition of a cozy sweater and slinky skirt is ideal for the transitional weeks of March, and can leave you feeling just as stylish as VB herself.
Photo: Instar Images
---
---