Toronto Women's Fashion Week Fall 2018 Featured David Dixon, Farley Chatto & Stephan Caras
Although the weather in Toronto has been brutally chilly the past few days, the month of March signifies the arrival of spring and another fashion season on the Canadian runways. This week, Toronto Women's Fashion Week returned to the catwalks at One Yonge Street, and featured a bevy of designers who ranged from rising stars to beloved experts. From celebratory spirit at Farley Chatto to an empowering display from emerging local talent Lesley Talent, Real Style was in the front rows for all the action at TWFW Fall 2018. Take a look at some of the most elaborate looks which we spotted during the three days of Canadian designer shows.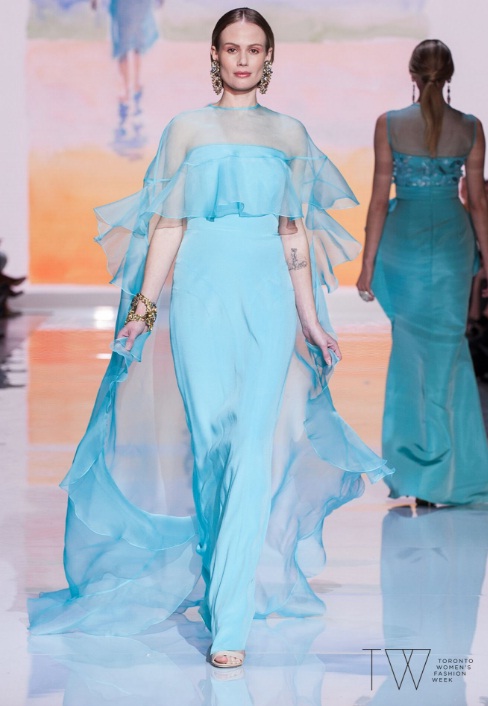 David Dixon
The established Toronto-based eveningwear designer partnered up with surgeon Dr. John Semple from Women's College Hospital, and drew his inspiration from a painting created by the doctor. Dixon's latest line paid tribute to women battling breast cancer, with colours integrated into his collection that were inspired by Semple's painting. Models floated down the runway in watercolour shades of pastel blue, yellow and coral. From dresses with dainty ruffles to strapless ivory gowns with peplum waists, femininity and grace were in the air.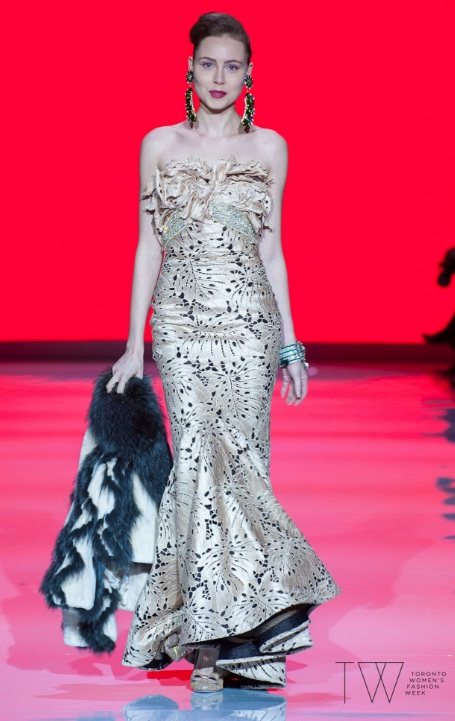 Farley Chatto
Festive energy stole the energy at Farley Chatto, where the Toronto couture designer and furrier presented a 30th anniversary presentation. The Farley Chatto runway was resplendent with figure-skimming gold gowns, sequined violet frocks and naturally, the designer's signature furs. Short fur jackets were worn over evening gowns, with embellished shoulder-dusting earrings to turn up the glamour factor. Befitting the celebration on the catwalk, models wrapped up the show by strutting the runway as they carried champagne flutes. They were joined by a jubilant Chatto, who poured champagne into glasses for two guests in the front row, his face matching the excitement and emotion of the high-drama collection.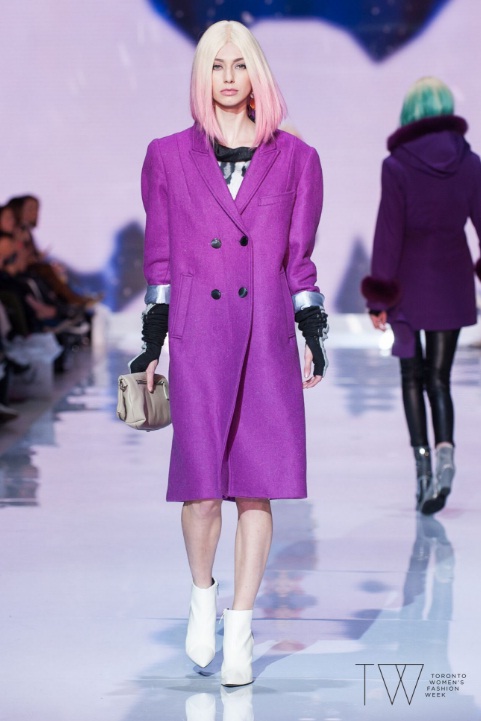 Joseph Tassoni
Montreal-born designer Joseph Tassoni is known for his outerwear, and his latest line for Fall 2018 lived up to expectations. Tossing the idea of dull autumn neutrals aside, the designer's "Winter Garden – Colours Frozen in Time" featured kaleidoscope brights. From furry blue vests to bright purple wool coats, every colour of the rainbow made an appearance.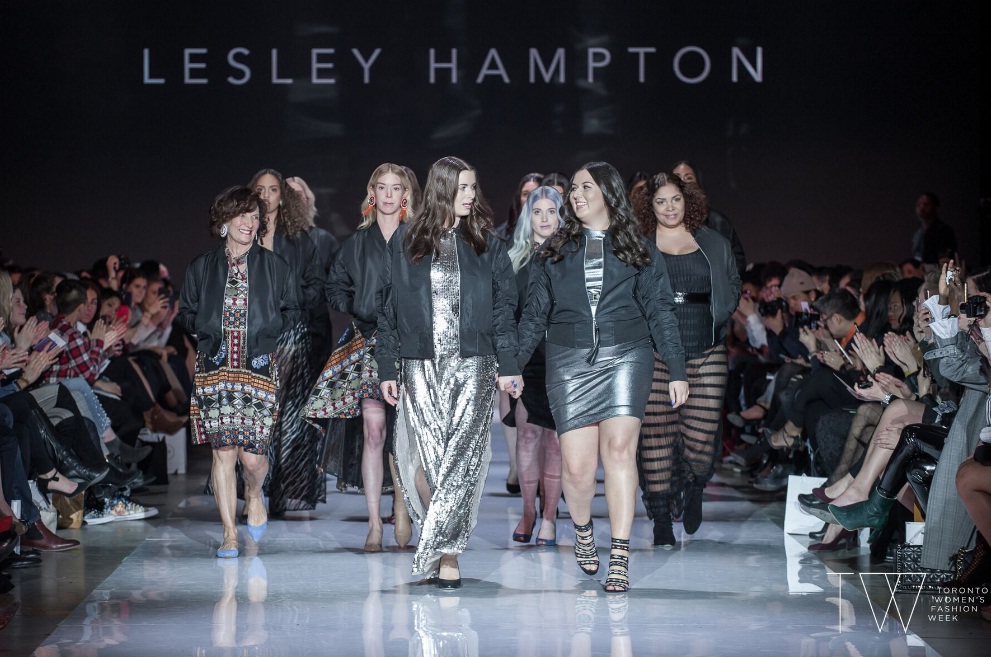 Lesley Hampton
The young First Nations designer is quickly becoming known for her focus on diversity, inclusivity and feminism. This time around, Hampton featured a theme of We Are In Control, with women of all sizes, shapes and ages and an emphasis on mental health awareness. Among these models was Margaret Trudeau, mother of Justin Trudeau, who walked elegantly in a bohemian style printed frock. Hampton's collection also featured her signature metallic sequined dress, black dresses with sheer hemlines and satin bomber jackets emblazoned with a "We Are In Control" theme.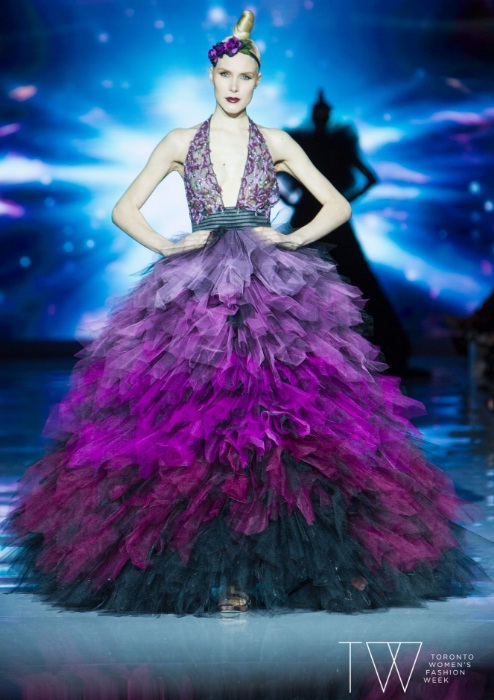 Stephan Caras
With a timeless focus on femininity, Toronto-based father and son duo Stephan and Kyriako once again returned with a series of flouncy, floor-length gowns. Shades of navy and bright magenta brought a mysterious, graceful effect to the runway. From flowing sleeves adorned with floral sleeves to sheer accents and full skirts, detail was clearly a key look. As for necklines, they ranged from plunging lace V-necks to high illusion bodices.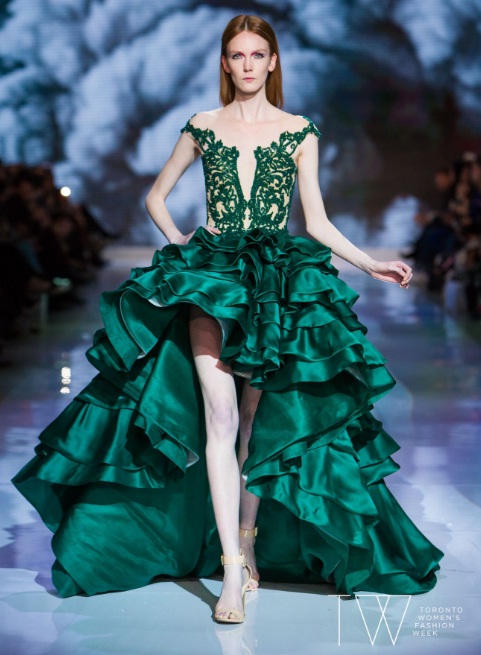 Mikael D
Montreal eveningwear designer Mikael D unveiled a "Romantic Cataclysm" line that experimented with a theme of darkness and light. As a result, audiences were treated to a mixture of cream strapless dresses and sparkly lace detail, juxtaposed against bold pops of colour. From a bright emerald green number that was finished with multiple ruffled tiers to icy blue embellished mini dresses, colour tones ranged from punchy to pastel.
Photos: Che Rosales for Toronto Women's Fashion Week
---
---