Jewellery Designer Liana Louzon Of Rocking Vibe Talks Spiritual Energy And Creativity
Although jewellery is most commonly viewed as a form of adornment, Canadian designer Liana Louzon believes that her pieces are about far more than just the outside. As the founder of London, Ontario-based label Rocking Vibe, Louzon is the creator of a line of jewellery based around the concept of positive energy.
Louzon, who is also a mother of three young children, was born in Moscow in 1980, and moved to Canada as a teenager. As a new mom in 2010, she turned to jewellery making, and later started selling her Rocking Vibe pieces online in 2015. Louzon's intricate, delicate designs are created with crystals, 18 karat gold and semi-precious stones such as quartz. Meanwhile, the inspiration behind her art comes from a theme of emotional growth and finding strength in the journey of life. As a result, Rocking Vibe's collections bear charming titles, such as Soul and Goddess. Intrigued by Louzon's spiritual message and craftsmanship, we spoke to the charismatic and enthusiastic designer about her artwork and jewellery for Spring 2018.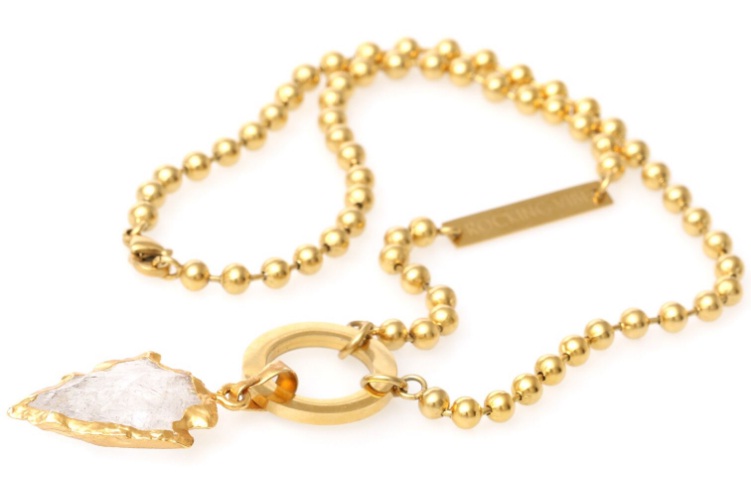 Real Style: Tell us more about your design aesthetic.
Liana: My core goal in designing is to incorporate crystals in such a way that they can be worn with lipstick and heels. The idea is to bring your crystal with you so that it can serve you during the times you need it, such as your most important meeting, presentations, first date. It is a contemporary take on mindful jewelry.
Real Style: Do you have a favourite metal or stone to work with?
Liana: I choose to use surgical grade stainless steel as the base and then I electroplate it with 18 karat gold. The reason I gravitate to steel is because it is very innate to human bodies. It's timeless and doesn't oxidize. When the crystal acts energetically, there is no interference. As far as stones go I am magnetically drawn to clear quartz. I joke that quartz is my life line. When I hold the crystal in my hands, I feel so grounded and often turn to them at times of stress. To me it has a similar effect as hugging a tree or taking a full breath of fresh air.
Real Style: Where do you gather your creative energy and inspiration from?
Liana: I have always been full of ideas as long as I remember. At times I feel like my creativity takes over and I am bombarded with ideas. I often find myself trying to tame the chaotic excitement in my head rather than gathering new ideas. And I am still working on figuring out what triggers the inspiration, but so far I haven't found a pattern. It could be anything from a look on a stranger's face, to a hug from one of my children, to a smell at a bakery. It's pretty random and magical at the same time.
Real Style: Your line has a strong spiritual message of positivity and power. What compelled you to combine this message with your creations?
Liana: When I became a mother, a need to contribute to my society in a positive way awakened. I wanted to create a community for them to grow up in that embraced individuality and empowered them to discover their potential. It really is a vessel for me to raise my children knowing how powerful they are.
Real Style: Tell us more about the most memorable piece of jewellery that you've ever created.
Liana: I would say Mystic Soul of the Soul Collection holds a lot of personal power for me. I designed it after waking up one morning, wondering how I evolved to be a jewellery designer and how if someone asked me a year ago what I would be doing a year from now the answer would not have been a jewellery designer. Although it has always been a hobby, I never had the urge to share my passion with the world until one day it was like I turned a corner and there was no going back. So with Mystic Soul, I channelled the mystery of our gifts and our passion. Its story is the reflection of my own evolution. I knew I wanted a rough obsidian so I would spend hours online in search of a miner to curate it. To this day, I get goosebumps when I put it on. It really is a monumental piece.
Real Style: Do you have any tips for new ways to style your jewellery for Spring 2018?
Liana: 2018, for me and for ROCKING VIBE, is all about breaking the mold. Most of the new pieces have a number of ways they can be worn reflecting the vibe of the day. REBEL and GUARDIAN give you a taste of what's to come. I think there is so much power in versatile jewellery. It is a conscious choice to put accessories on and they represent not only our style but our vibe. Having the ability to showcase and represent the multidimensional style that each of us embodies can be inspiring.
Photos: Liana Louzon
---
---