Real Style's New December 2017 Issue Features Sarah Jessica Parker And Christos Costarellos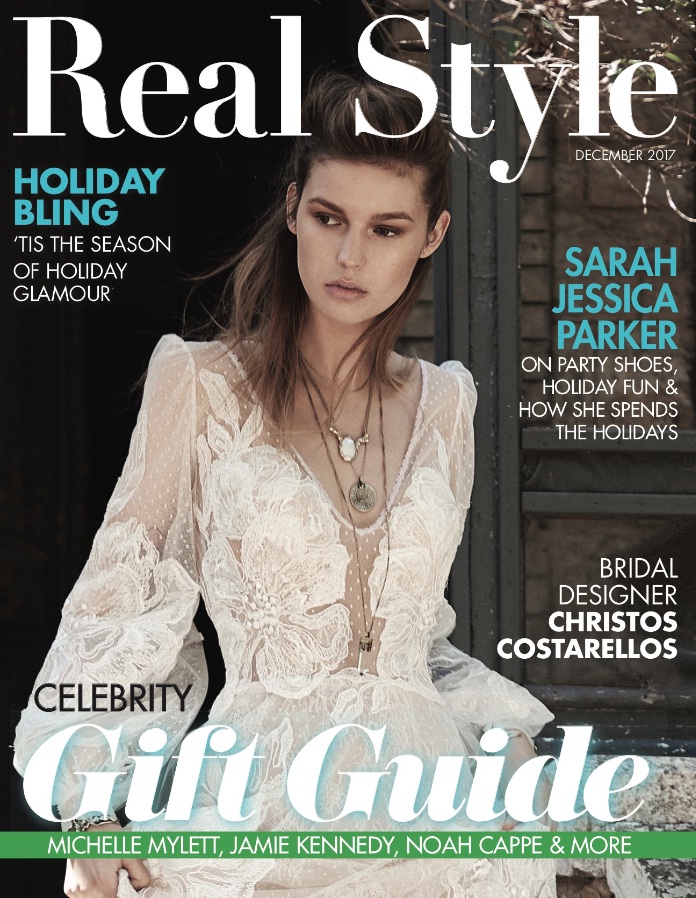 With the holidays on the horizon, we are looking forward to the month of December. Just in time for the season of Christmas cheer and festive joy, Real Style Magazine's hot new December 2017 issue is officially released. This time around, we feature an exclusive interview with the one and only Sarah Jessica Parker. The former Sex and the City star (who become synonymous with her fabulously chic character, Carrie Bradshaw) spills on her shoe line, SJP Collection. As well, you can expect to learn all about her holiday must-haves, life as a busy celebrity mom and more (page 10).
Other than the style icon herself, we also speak to Greek bridal and eveningwear designer Christos Costarellos, who visited White Toronto in Yorkville this season. The Athens-based design talent shares his creative vision, discusses his favourite fabrics and delves into this cultural background for artistic inspiration. Read this feature on page 7.
It simply wouldn't be the holiday season without presents under the tree and stockings filled with all manner of goodies! Like every year before, our Celebrity Gift Guide (page 18) is back and better than ever. For Holiday 2017, we have caught up with proudly Canadian stars like actress Michelle Mylett, chef Jamie Kennedy, Bachelorette Canada host Noah Cappe and singer Karl Wolf. As well, Canadian-American comedian and Workin' Moms star Catherine Reitman gives us her best holiday gifting suggestions.
'Tis the season for flaky nails and dry skin, but luckily, we have turned to the beauty pros for their top tips. On page 26, Real Style sits down with Dr. Soreya Dhanji from Cadence Health Centre and pharmacist Abdullah Al-Kazaz from Cadence Apothecary. These two experts tell us everything we need to know about maintaining moisturized skin and luscious locks. Keeping on top of seasonal nail trends, CND Education Ambassador Mylan Araujo also brings us the latest in holiday manicures on page 28.
Like every issue, we present you with the newest in current runway trends (page 9), the hottest accessories of the month (page 16) and essential makeup looks (page 25).
Wishing all our readers a very happy holiday! Enjoy the issue.
---
---