Rising Designer Lesley Hampton On Body Diversity, First Nations Influences And Dressing Penny Oleksiak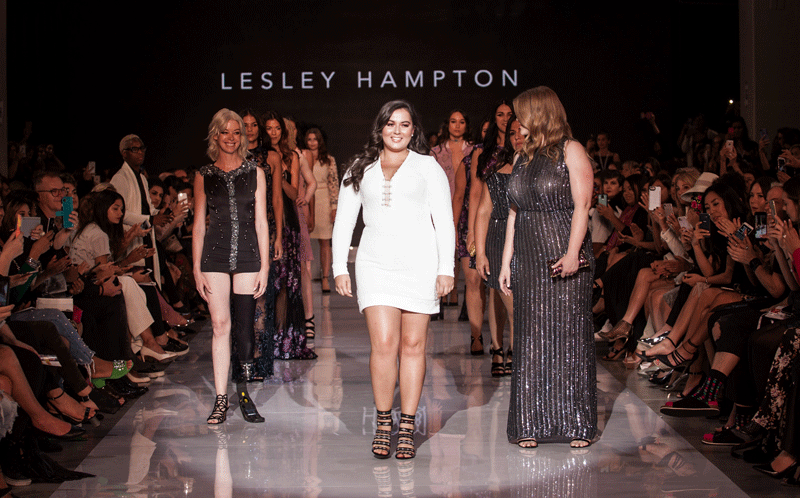 With her focus on body positivity and her gleaming, sequined frocks, Lesley Hampton is quickly making a name for herself on the Canadian runways. The emerging Toronto-based designer may be a recent graduate of George Brown College's fashion design program, but she is already earning a reputation for herself. Hampton has attired the likes of Canadian actress Ann Pirvu, ET Canada host Cheryl Hickey and Real Housewives of Toronto star Joan Kelley Walker. Most recently, the talented rising star unveiled a Spring 2018 lineup at Toronto Women's Fashion Week. Her eclectic, vibrant catwalk featured an array of diverse models, from Boston Marathon bombing survivor and amputee Adrianne Haslet to curvaceous, plus size models. Meanwhile, her designs are somewhat inspired by her First Nations heritage, which has also influenced her creations. We spoke to the designer about the powerful theme behind her latest collection, her passion for diversity in fashion and her dream celebrity clients.
Real Style: What was your creative inspiration for your Spring/Summer 2018 collection?
Lesley: The inspiration was the recovery of a bruise. The colour scheme for the collection was the transition of a bruise, from skin tone colours [like the innocence of white] to pinks, purples, blues and greys. It was supposed to represent the recovery process of someone who is going through heartache, troubling time or a struggle with body issues. The collection was a collaboration with Be Body Aware, which is an initiative to help educate the youth to be more aware of their bodies.
Real Style: Your latest show featured a lot of body diversity. What kinds of advancements would you like to see in the Canadian fashion industry, in terms of diverse models?
Lesley: I definitely want to see more curves on the runway. At Toronto Fashion Week, RESET and Toronto Women's Fashion Week, I see maybe one or two designers per fashion week who do that. I don't understand why the designer can't put in an extra week of work to make samples that fit a wide range of body types, especially when those designers are so influential to the audience.
Real Style: You draw a lot of inspiration from your First Nations background. How has your culture had an impact on your designs?
Lesley: Sometimes, I use First Nations teachings and folklore to inspire my collections. A lot of the time, I just try to be in touch with myself, as the First Nations culture teaches you.
Real Style: What kinds of materials do you use, in order to pay tribute to your roots?
Lesley: I don't try to appropriate any of the textures or anything. I do lean toward a more geometric pattern and that could have the connotation of First Nations.
Real Style: Do you have any dream celebrity clients who you would love to dress?
Lesley: Someone who I have styled is [Canadian Olympian] Penny Oleksiak, which was crazy. Just to be so good at what she does, so young, was really inspiring. Someone I would want to dress would be Ashley Graham, who is incredible and super inspiring for the movement that I am trying to put across. Also, [Orphan Black star] Tatiana Maslany, just because she is awesome at what she does.
Real Style: Who are your designer icons?
Lesley: The top designers I look up to are Alexander McQueen, Iris van Herpen and Balmain- just really anyone who is a bit edgy and elegant.
Real Style: Tell us more about your journey as an emerging Canadian designer.
Lesley: The most difficult thing is having a balance between personal life and the goals you are trying to achieve. Within the fashion industry, it's trying to figure out which platform best suits your brand and which people best represent your brand.
Real Style: What can we expect from your label next?
Lesley: I'm doing the Toronto Fashion Incubator Tradeshow [on October 19], which will be really exciting. It's my first tradeshow, so I will get the experience of reaching out to retailers and seeing how to share my brand with more people.
Photo: Che Rosales
---
---
SUBSCRIBE NOW
Free to join! Get the hottest fashion, beauty and celebrity news, enter exclusive subscriber giveaways and be the first to receive the full digital version of REAL STYLE magazine.
JOIN NOW!