Toronto Fashion Week Spring 2018 Roundup- Day 3
Last night marked the grand finale of Toronto Fashion Week Spring 2018, which took place under the tents in the city's upscale Yorkville area. While the first two evenings introduced us to high drama and tailored frocks for the season ahead, the final night of shows brought us unconventional and eclectic style. From emerging talent such as Hayley Elsaesser to established designers like Pink Tartan, the Toronto Fashion Week catwalks once again presented the newest looks from homegrown talent. Here's Real Style's runway report from Day 3 of the TFW shows.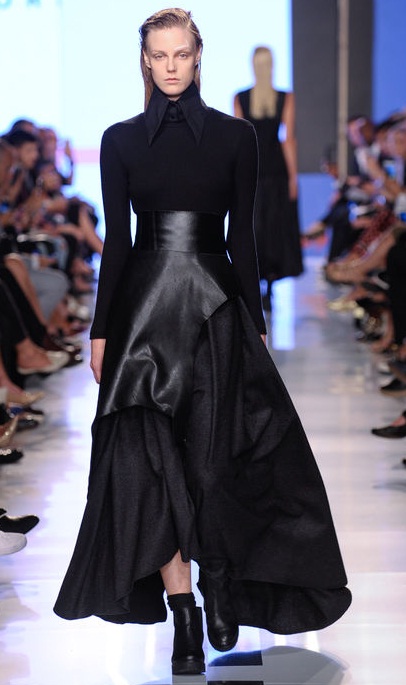 House of Suri
At House of Suri, Toronto designer Leila Zadeh stayed true to her signature motif of minimalism and fluid silhouettes. Zadeh, who creates pieces that are meant to be versatile and detachable, presented flowing dresses in subdued neutral hues. Colourblocked dark grey and black sleeveless frocks made an appearance with full, pleated skirts, while sharp white Peter Pan collars were a signature look. From textured wool to thicker fabrics, the edgy collection had a timeless elegance.
Major Looks: Dark neutrals, woolly textures, Peter Pan collars, full skirts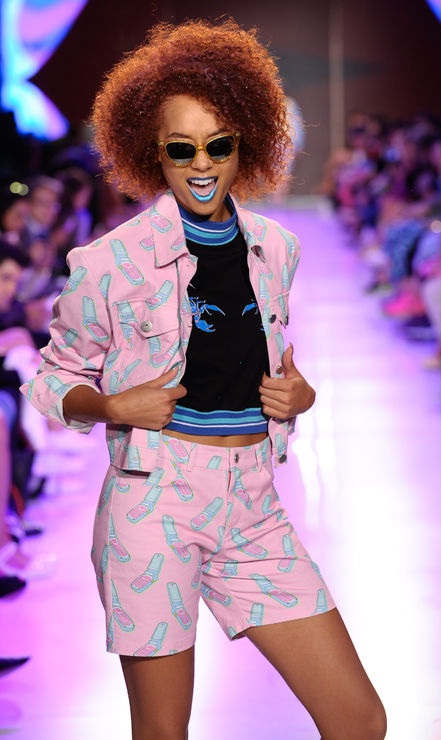 Hayley Elsaesser
Perhaps best known for her youthful and exuberant use of colour, Toronto-based Hayley Elsaesser also returned to the runway. The rising star brought a much-needed burst of patterns and neon hues to the usually refined and understated Canadian catwalks. This time around, Elsaesser's colour scheme involved powder blue, pastel pink and bold yellow, with a whimsical cellphone print dotting skirts and dresses. From matching shorts and cropped jackets to strappy metallic camisoles, kaleidoscope colour illuminated just about everything in sight.
Major Looks: Bright pastels, cellphone motif, free spirited vibes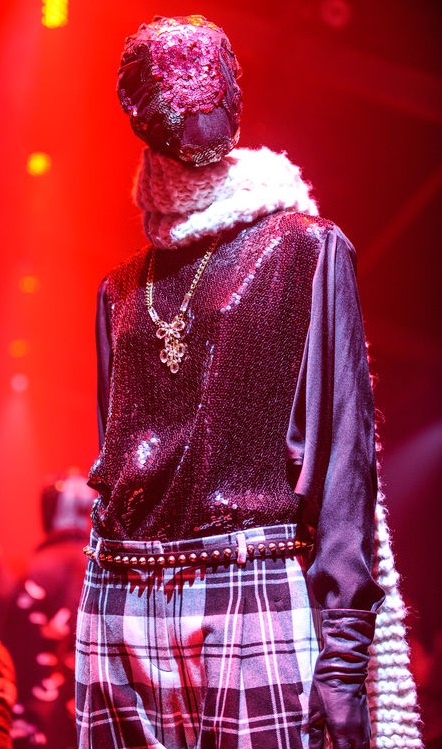 Pink Tartan
At Pink Tartan, designer Kim Newport-Mimran eschewed the concept of a traditional runway show, and turned to a funky installation instead. The presentation featured the Toronto label's Fall 2017 collection, which contrasted patterns and textures. From a blouse adorned with glimmering dark sequins to plaid trousers and thick cable knits, juxtaposition was on the agenda. Dark sweater dresses were trimmed with shimmering silver sequins, while studded belts and ornate brooches offered finishing touches. With the occasional pop of red to brighten a collection of black, white and grey, autumnal tones were in the air.
Major Looks: Contrasting textures, embellished accessories, sequins, plaid, hints of red
Photos: George Pimentel for Toronto Fashion Week
---
---