Fashion Art Toronto 2017 Runway Roundup
For the past five days, Fashion Art Toronto 2017 has been bringing eccentric, otherworldly and artistic designs to the runway at Daniels Spectrum. Day 3 centred around an Odyssey theme, while Day 4 presented collections focused on Dystopia. Meanwhile, the grand finale on Day 5 of the shows brought us a theme of Utopia. Throughout the entire week, Real Style was in the front rows for the array of shows from emerging and alternative Canadian designers. As we reflect on the leading looks at FAT 2017, we take a closer look at the latest and greatest from the runways.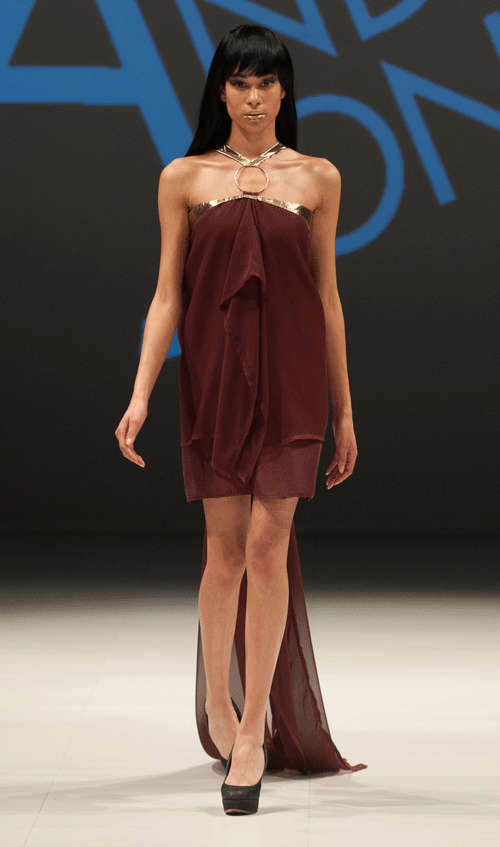 Du Larée by Andy Jones
Staying true to his passion for shimmer and glamour, Toronto-based designer Andy Jones looked to ancient Egypt for inspiration. His #Work2017 collection featured a modernized take on Cleopatra and the goddesses of Egypt, which resulted in a line of gleaming gold frocks. Models marched down the catwalk in shiny metallic skirts and dresses detailed with gold, with touches of burgundy bringing depth to the colour scheme. The silhouettes were flowing and free-spirited, consisting of floor-length hems and softly draped fabrics.
Major Looks: Egyptian influences, glimmering gold, flowing dresses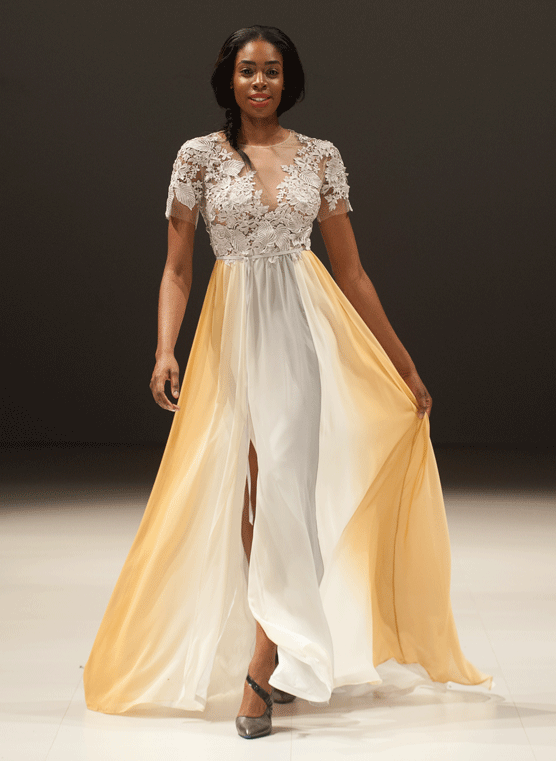 Steven LeJambe Designs
Toronto label Steven LeJambe turned to an ethereal concept of falling leaves, which was seasonally appropriate for a Fall 2017 collection. On the catwalk, this translated into floor-length gowns in a bevy of rich mustard, ivory and black hues. The autumnal colour palette was brightened by the occasional cheery rainbow floral print, which made its way onto dramatic and voluminous gowns.
Major Looks: Mustard tones, florals, decadent ballgowns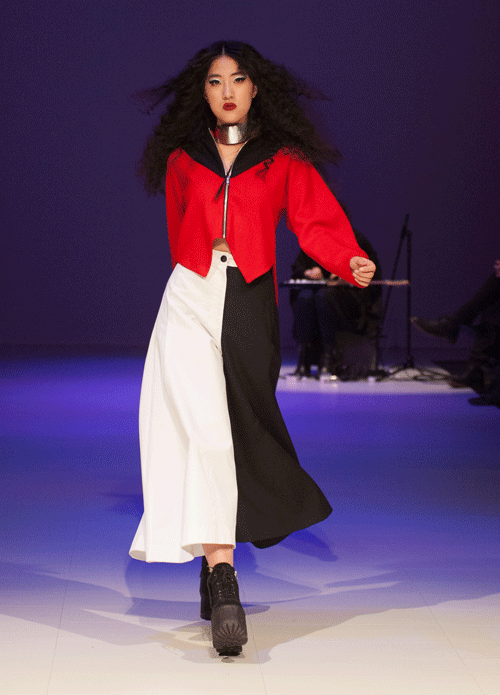 Brit Wacher
The Vancouver-trained Canadian designer unveiled her Cosmic Boudoir collection for Fall 2017. Wacher's punchy and vibrant collection celebrated the importance of the power suit, which can be used as a type of mask. Paying homage to this theme, the emerging design talent sent models down the FAT catwalk in flared trousers and turtlenecks. While there may have been an overarching theme of disguise and secrecy, there was nothing conservative about Wacher's creations for the upcoming season. Intense splashes of scarlet and yellow were colourblocked against black and white, while billowing bottoms created a slouchy yet chic silhouette. Although solids in primary shades reigned supreme, Wacher proved that she is an up-and-coming master of pattern play, with checkered prints making a grand entrance.
Major Looks: Red and yellow, black and white checks, bellbottom trousers, crafty colourblocking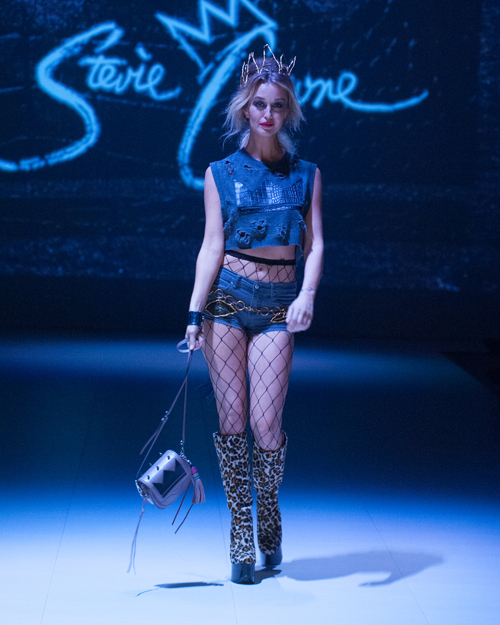 Stevie Crowne
Closing the fourth and penultimate evening of FAT shows, rising local designer Stevie Crowne presented his Ride or Die collection. Although Crowne may be just 22 years old, his youthful design aesthetic was paired with some fairly powerful social themes. The up-and-coming star was also influenced by messages of diversity, addiction and education. Crowne, who takes his cues from the world of vintage and upcycled fashion, dressed his models in distressed denim. The rebellious aesthetic wasn't just restricted to the occasional torn jean, however- patchwork denim jackets and tie-dye frocks also stole the spotlight. From fishnet stockings to metallic leather and fringed accents, the rock and roll vibes could be felt from a mile away.
Major Looks: Upcycled design, distressed denim, fringe, patchwork accents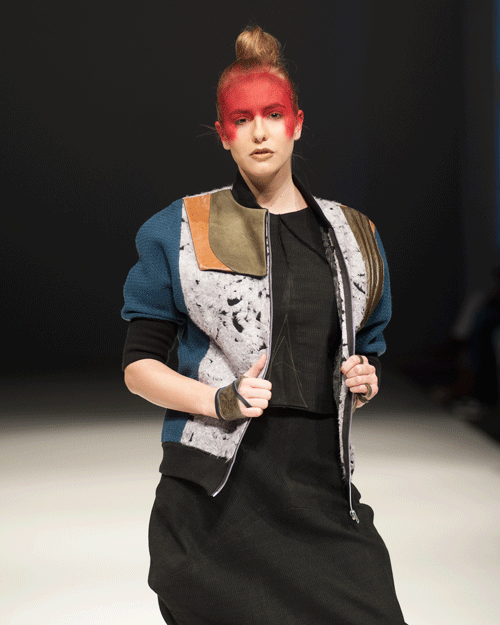 Luis Padilla
Toronto-based fashion designer Luis Padilla and his wife, industrial designer Ana Carpio, are inspired by architectural elements. With a focus on structure and geometry, their sustainable label revealed a new collection of boxy jackets, plaid prints and textured tweed fabrics. The colour palette on display was moody and shadowed, with plenty of grey and tan shades on the catwalk. Menswear style silhouettes could also be spotted, on everything from bulky trousers and loose harem pants to oversized jumpsuits.
Major Looks: Dark neutral shades, architectural shapes, loose-fitting silhouettes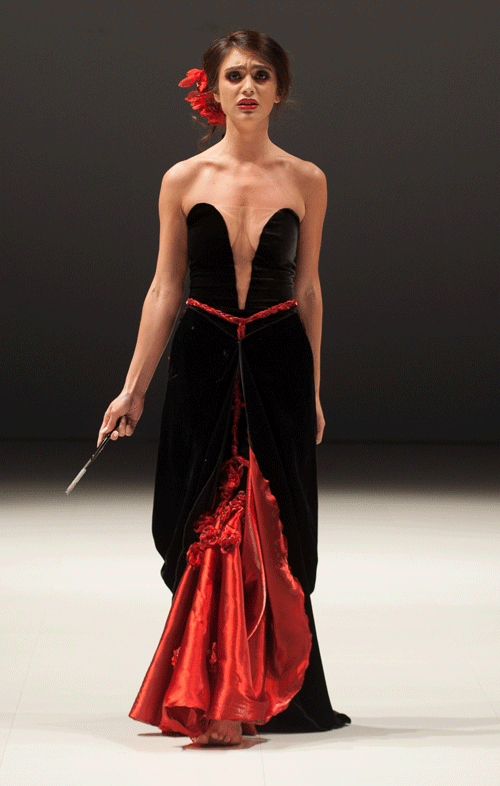 Padina Bondar Designs
Known for playing with elements of femininity and feminism, Richmond Hill, Ontario-based designer Padina Bondar showcased a striking Enshrouded collection. Bondar's latest designs took their influences from the many hardships and traumatic events endured by women around the world. From sexual violence to child marriage, Bondar told these tragic stories through fabric. Bold red and black gowns represented this darkness, with ivory used as a more innocent contrast. Some models walked the runway with their faces hidden from view, while others marched freely in airy blush and ivory dresses. Staying loyal to the label's eveningwear design aesthetic, ballgown skirts, sheer lace and floral embellishment also emphasized the female form.
Major Looks: Theme of femininity, ballgowns, vivid red shades
Photos: Jonathan Hooper
---
---