Stephan and Kyriako Caras On Stephan Caras' Sensual New Collection & Canadian Fashion
At Toronto Fashion Week in March, father and son designer duo Stephan and Kyriako Caras revealed a high-drama collection of sparkling gowns, deep navy blue shades and sequined embellishment.
Known for producing eveningwear, their established Toronto-based label Stephan Caras also focuses on elaborate hemlines. In fact, Greek-born and Australian-trained designer Stephan claims that the trailing detail helps to create a "balance" in his signature creations.
As his co-designer, Stephan's son Kyriako studied archaeology at the University of Toronto and also joins his father at the head of his label. Real Style spoke to both creative forces about the inspiration behind their latest collection, their favourite fabrics and the biggest challenges of the Canadian fashion industry.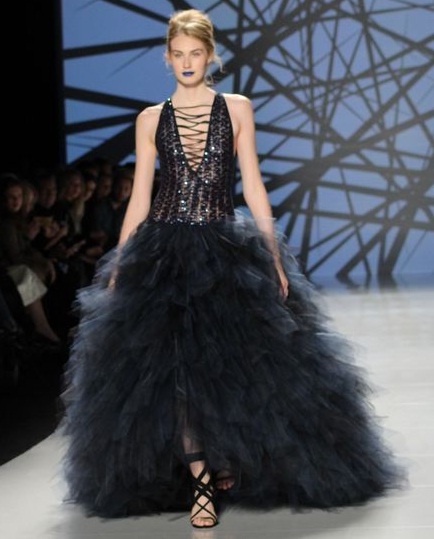 Real Style: What was the inspiration behind your Fall 2016 collection?
Kyriako: Femininity and drama! Something that exudes femininity, it's very dramatic, elegant and timeless. We just wanted women to feel very special, and offer different interpretation to what beauty and drama is. I think we achieved that.
Real Style: Do you have a favourite piece from the collection?
Kyriako: Yes, it's the one we didn't finish for the collection! *laughs* We design each piece and it kind of builds off the previous one. Each serves as a stepping stone, a block of inspiration to the next piece. The whole collection is almost a description of that emotion and that energy we put in, and our creative process. It's very hard to say which one is our favourite, because each one was the favourite at the time when we were designing it. I'm just very pleased and happy with what was out there and what we presented, as a story.
Real Style: Do you have a favourite fabric or material from your collection?
Stephan: He [Kyriako] answered it the same way I would answer it. It's like asking a father which kids he loves best. It's hard to pick. You love everything for different reasons. There are a number of dresses I like for one reason, but then there are other dresses I like for another reason. If I were going to a beautiful gala, I know that I love something different than if I were going to a club or a casino.
For me, the sensual gowns with my signature trademark (which is the jersey body gowns) are my favourites, always.
Real Style: As established Canadian designers, what are some challenges you've faced in the local fashion industry?
Stephan: The biggest challenge that designers face in general in Canada is the support from the industry. That is, retailers to really demand and promote Canadian designers. There's so much talent, but the industry has not really taken that talent to mold it and give it help, because that's what they need. Nobody else comes from outside Canada. We all need the Canadian people to buy our products.
Photos: Paul Ross for OPIQUE / Top of the Runway
---
---
SUBSCRIBE NOW
Free to join! Get the hottest fashion, beauty and celebrity news, enter exclusive subscriber giveaways and be the first to receive the full digital version of REAL STYLE magazine every month.
JOIN NOW!